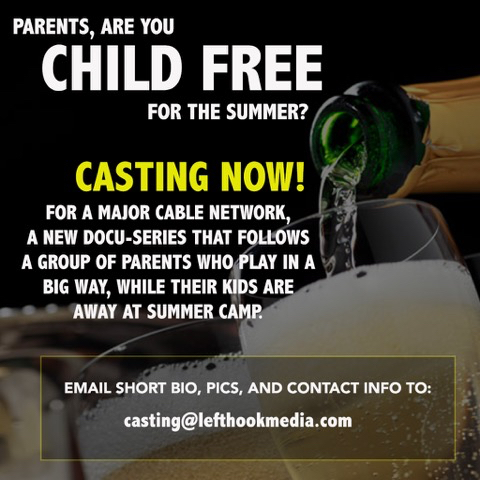 School's out for summer, and the kids are home ALL… DAY… LONG… A momentary panic ensues that may or may not (i'm not judging) have you reaching for a lonely Xanax in a dark crevice between some keys that open something important and animal cracker crumbs or that box of wine from Costco in the pantry. That's until you recall that the next stop for little Johnny or Ashley or Shaniqua (hey, i don't discriminate, either 😉 ) is **AWAY** at summer camp. It also means you or you and your significant other have just enough free time for some serious "adulting" in the most fabulous way.
The world is your oyster! Heading to Paris? Vegas? Taking a luxury cruise? If you are a parent with every intention to play when the kids are away, then apply to become a part of the latest reality TV series, for a MAJOR cable network, featuring parents just like YOU!
ABOUT THE SHOW
Left Hook Media, known for their Bravo reality TV series "Summer House," is looking for parents who plan to vacation like a boss or willing to vacation like a boss while their kids are away at summer camp. Per the casting info, "The show would take these vacations to the next level and document their experience. We feel if the kids can have the time of their lives in the summer, why can't the parents?"
HOW TO APPLY
Email a short bio, pics, and contact info to casting@lefthookmedia.com. Tell them Ifelicious® sent ya. 😉
SUBMISSION DEADLINE
Hurry! They are taking submission for the next couple of weeks. Get yours in before the end of June!