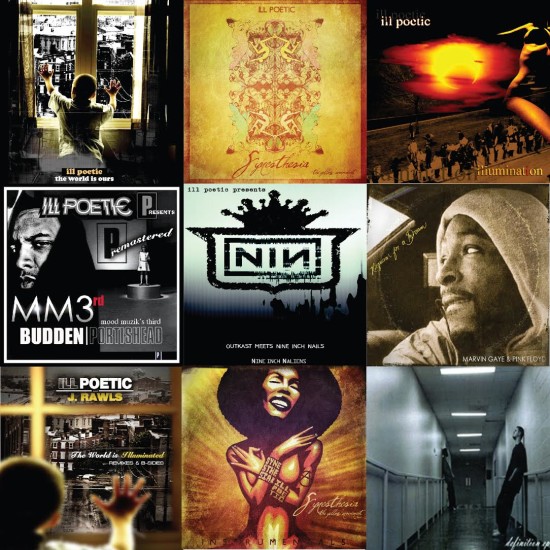 In celebration of his forthcoming — and long anticipated — EP and short film "The Silhouette Project," due to drop in April 2016, hip hop artist/producer Ill Poetic is releasing his ENTIRE discography for FREE! You have to act fast, though. This offer, announced March 24, 2016 is only available for 24 hours. CLICK HERE to get your download.
This is a perfect opportunity for fans and the hip hop curious to update your playlists with ratchet free, non-overproduced, quality flavor for your ears from an established independent artist. In my humble opinion, Ill Poetic is a true music aficionado who happens to release hip hop albums. He's the first artist I encountered who often releases an instrumental only edition of his album. To me, it means there's as much of a story to be told when the lyrics are stripped as the lyrics themselves.
Listen for yourself to how Ill Poetic creates art when he skillfully blends hip hop with genres like jazz, soul, folk, and electronic. Again, CLICK HERE for your free download of his entire discography.
In alignment with Ill Poetic's "The Silhouette Project" EP and short film release via Definition Music in April, he will be embarking on a promotional tour. For more information regarding music, tour dates, and more visit DefintionMusic.net (record label co-founded by Ill Poetic), Twitter: @IllPoetic513, and/or Facebook: Ill Poetic.
* * * *
WATCH the video of one of my Ill Poetic favorites "Gone"
(click here to view on YouTube)
* * * *
Related Links