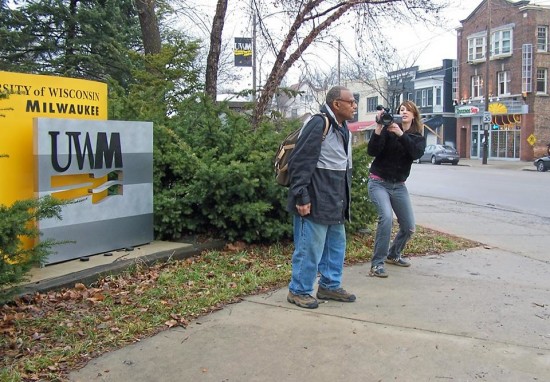 In this "up close" interview, I spoke to award winning, Milwaukee-native filmmaker Kristin Catalano who is turning heads with her debut feature length documentary project entitled "Clarence." The documentary is an inspirational and intimate portrait of 85-year old Milwaukee resident, World War II veteran, father of three college educated children, and husband Clarence Garrett who defies all odds when he returns to college, after a 30-year hiatus, to complete his bachelor's degree. Over the course of two years, Clarence overcomes a combination of generational and health related challenges while taking courses at the University of Wisconsin-Milwaukee. Additionally, his interactions with others from all walks of life further underscore this truly exceptional man. Catalano describes Clarence as "the most amazing, outgoing, gregarious, wonderful, and memorable person that you could ever meet in your life;" and there's no doubting it once you see the documentary.
* * * *
TRAILER: "Clarence"
CLARENCE trailer from Kristin Catalano on Vimeo.
* * * *
"Clarence" premiered at the Wisconsin Film Festival back in April 2015 where it received a Golden Badger Award. The documentary continues to make its rounds through the film festival circuit, most recently screening at the 2015 Milwaukee Film Festival as part of the Cream City Cinema series- a category showcasing local Milwaukee filmmakers. Those residing in the Austin area will also have the opportunity to see the "Clarence" documentary at the upcoming 2015 Austin Film Festival on October 31 and November 4.
* * * *
Interview with Kristin Catalano about "Clarence"
Ifelicious®: What inspired you to take a leap into documentary filmmaking?

Kristin Catalano (KC): When I was getting my master's at UCLA, my major was screenwriting; but I chose to take a documentary course. I made a short documentary in that class, but I knew I wanted to make a feature; and Clarence was the first person I thought of.
Ifelicious®: Why Clarence?
KC: He was just the most amazing, outgoing, gregarious, wonderful and memorable person that you could ever meet in your life…When I asked what his biggest regret was, he said that it was not finishing school and that he was thinking about going back. The story just kind of took off from there. A few months later, he went back for his transcripts; and I came back [to Milwaukee] from LA to start filming.
Ifelicious®: How did you and Clarence first meet?
KC: When I was 8 years old, he started working as a part-time mechanic on the big trucks at our family grocery store…So, I'd known him throughout my whole life…He would always ask, even when I was a little kid, 'What are you learning in school?' Always asking about my education.
Ifelicious®: The Milwaukee Film Festival recently wrapped up, and 'Clarence' had three screenings there. I know that one of Clarence's sons Matthew came out to support the documentary; but there were also some unexpected yet welcomed guests in attendance, as well. Who were they?
KC: Brooks, Clarence's best friend, made a surprise visit to the Thursday screening…Someone in his family heard about it and brought Brooks. Matthew, Clarence's son, was also surprised [to see Brooks]. We were all trying to get in contact with Brooks for years with no success…And Dr. Raj [was at the Saturday screening]. That was another funny story. On that Thursday screening, my sister-in-law's father said he knew Dr. Raj and asked if he was coming. I told them that I had been trying to get in touch with him over the years but only had the name Dr. Raj to search under…They ended up telling him about it. That was another really great surprise.
Ifelicious®: It was really neat for me to get to meet Dr. Raj on that Saturday, too.
KC: I was a little nervous for him to see [the documentary]…He's a really big part of it; and I didn't think he expected that he was going to be involved that much, but he loved it.
Ifelicious®: How did Brooks and Clarence become friends?
KC: Clarence used to work at a drug store in Milwaukee; and Brooks would come in there as a customer. They formed a bond; and that's when Clarence introduced Brooks to the idea of joining the Army.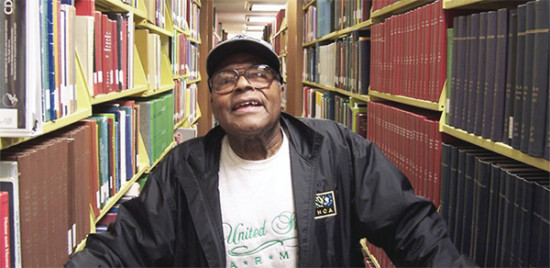 Ifelicious®: How do you stay true to your art, as a documentary filmmaker, and not interfere when you observe Clarence struggling with walking or trying to find things?
KC: I definitely wanted to help, but I watched the documentary 'Hoop Dreams;' and there was a director commentary on that [topic]. It was a really really long time ago; but it always stuck with me. In that film, the family's electricity got turned off; and I remember the filmmakers talking about how there's such a fine line of when you step in and help…It would be interfering with the story. You just have to let the character do his or her own thing.
Ifelicious®: I know I have a weak stomach; and I know that those hospital visits and doctor's appointments with Clarence were pretty graphic. Were any of those times particularly hard for you to film on a personal level?
KC: Yes, in the hospitals I did not want to film…but whenever I went to visit Clarence, he would always ask me, 'Where's your camera?' So, I knew he wanted me to film…You could tell somebody about it, or you could put titles up and explain it; but you have to actually see it to appreciate what he overcame…I would be like, 'Oh, my God! I can't believe that you are walking around and saying you're fine. You are not ok, Clarence. You should be sitting at home and resting.' But he wouldn't. That's just who he is.
Ifelicious®: What's been your most validating moment or compliment that you've received so far?
KC: Actually, it's the reaction to one particular part of the film…This was something that I edited in later…and every time 'Clarence' screens, in that part, people always applaud. **SPOILER ALERT** When he's talking about the plane going up and down and the guy next to him asks, 'Aren't you scared?' And he says, 'What am I going to do about it? I can't do anything about it. Why worry? Die happy.' I think that kind of encompasses Clarence's whole character and his whole outlook on life. It made me think of the message of the film in a whole different way…and it was very unexpected.
Ifelicious®: Knowing Clarence most of your life and even getting to know him better while you were filming the documentary, was there a lasting legacy that he left with you?
KC: Yes. Everything is a decision in life. If you want to be happy, you have to decide to do things that are going to make you happy. Likewise, if you want to complain or be depressed, you can put yourself in those places in your mind. Clarence chose to go the positive route. He didn't let anything stop him…When he says, 'You can do anything you want if you put your mind to it,' he really really believes that.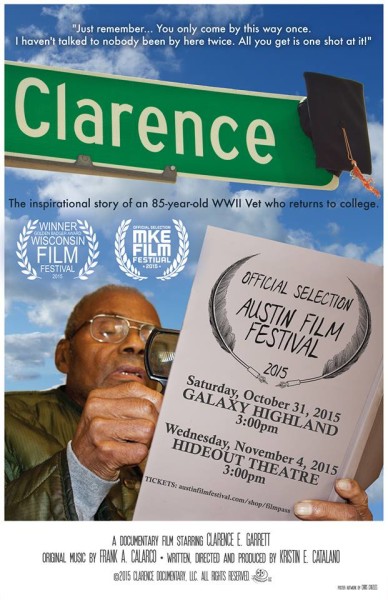 Ifelicious®: What's next for your 'Clarence' documentary?
KC: It'll be shown at the Austin Film Festival on October 31 and November 4; and then hopefully, it will get into more film festivals.
Ifelicious®: Are there any other projects that you are currently working on or are on the horizon?
KC: Right now, I want to write a script…a feature narrative script. At the same time, I do have little ideas for short documentaries or a short film.
* * * *
For more information about the documentary "Clarence," visit the film's website and Facebook page.
Related Links