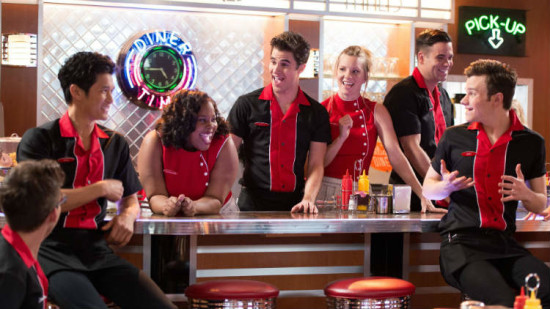 After six seasons, "Glee" wrapped up taping in February 2015. All is not lost for the Gleeks out there. Invaluable.com is an online auction of some pretty cool "Glee" swag beginning on Thursday, September 17 at 2pm ET/11am PT and Friday, September 18 at 2pm ET/11am PT. After seeing Lea Michelle's instagram post of her carrying out Finn's (Cory Monteith) framed jersey last February, I figured that the cast scooped up most of the good stuff from the set. Maybe they did, but there is still a lot more available to us Gleeks. The auction will include over 1500 items. They are mostly costumes worn by the cast and props used over various seasons like Cheerios uniforms, Finn Hudson's football helmet, and Artie's wheelchair. You're definitely want to take a look at what is being auction. Just think, fellow Gleeks, you can own a memento from your favorite cast member or from your favorite episodes. How cool is that?!!
I went through the entire list of Day 1 and Day 2 online auction items and made my own Ifelicious auction wish list. They are ordered as they appear on the site and not by my personal preference ranking. I did, however put an asterisk and blurb by items that would be at the top of my list.
Need more info about how this auction works and/or sizing of the costumes? Head over to the FAQ page for more info.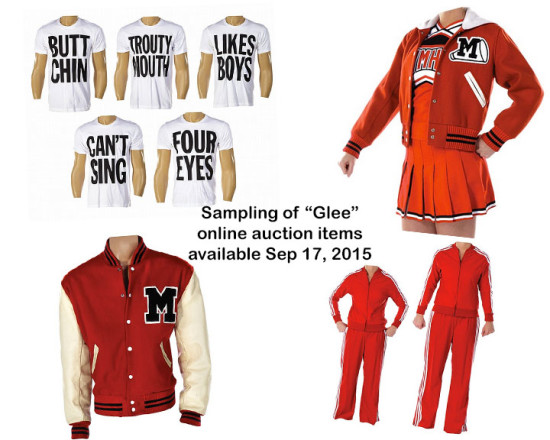 Day 1 – September 17: Ifelicious Auction Wish List

Link to full list of Day 1 Auction Items — CLICK HERE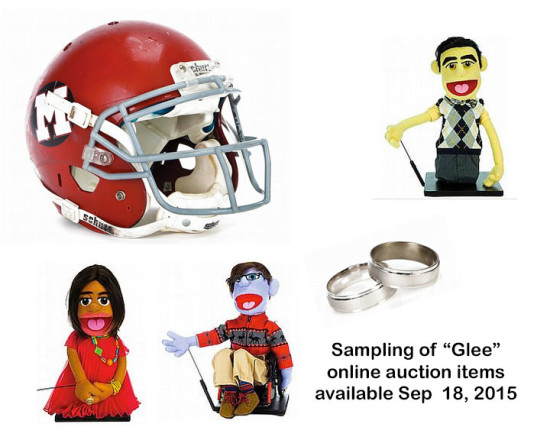 Day 2 – September 18: Ifelicious Auction Wish List
Link to full list of Day 2 Auction Items — CLICK HERE
Lot 948: "Finn Hudson" tribute episode props *

"The Quarterback" episode tribute to Finn Hudson was very special to me. Cory Monteith's (who played Finn) real life passing struck a personal chord having lost an immediate family member, also gone too soon, around the same time. I found solace in watching the episode and immediately downloaded the soundtrack which stays in a special playlist to this very day. Any of the memorabilia tied to his character or that episode is instantly high on my list. And, in case Ryan Murphy ever stumbles across my wee little blog here, I want to thank him and anyone else who put together that episode along with all of the musical selections. It gave me a space in the TV world to grieve for both a celebrity's loss and my own.

Lots 1018 to 1032 (see this page): Any of the cast puppets that were used in Season 5, Episode 7 "Puppet Master"
Lot 1317: "Lord Tubbington" prop collection (and i don't even like cats! but this was one of Brittany Pierce's [Heather Morris] funniest themes)
What would you bid for in the upcoming auction?