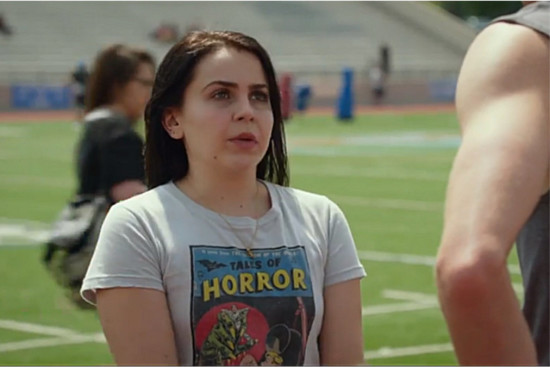 Your girl Ifelicious® (me!) was on HuffPost Live during Caitlyn Becker's segment again today and got a chance to ask "The DUFF" star Mae Whitman ("Parenthood," "Arrested Development") about her real life Bianca moments. You may recall that I was on Caitlyn's show back on July 1, 2014 when E! "Fashion Police" co-host and celebrity stylist Brad Goreski was on the show to offer his expertise on summer fashion — click here to watch.
"The DUFF" starring Mae as character Bianca premieres in theaters today (Feb 20, 2015), I'm super excited to check it out for myself. I've read a lot of reviews that compare "The DUFF" to "Mean Girls" which is still one of my all time favorite flicks about the glorious high school years. Below is the film summary, and you can check out the trailer by clicking here.
Bianca (Mae Whitman) is a content high school senior whose world is shattered when she learns the student body refers to her as 'The DUFF' (Designated Ugly Fat Friend) to her prettier, more popular friends (Skyler Samuels & Bianca Santos).  With her universe turned upside down, she ignores words of wisdom from her favorite teacher (Ken Jeong) and enlists Wesley (Robbie Amell), a slick but charming jock, to help set her apart from the pack and erase her label forever.  In doing so, she hopes to land her crush Toby (Nick Eversman), and find the confidence to overthrow the school's ruthless label maker Madison (Bella Thorne) by reminding everyone that no matter what people look or act like, we are all someone's DUFF… and that's totally fine. (source: Press Release)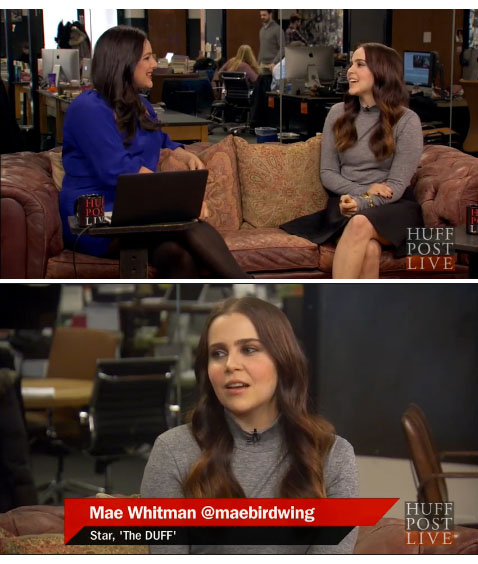 Watch the whole interview with Mae below. I come on with my question at 11:58 into the segment. 😀
* * * *
VIDEO: HuffPost Live, Feb 20, 2015 — "The DUFF" actress Mae Whitman LIVE
* * * *
Ugh! I need to find a spot in the house with lighting that is better suited to Google Hangouts, but here's a screenshot of me during the HuffPost Live segment.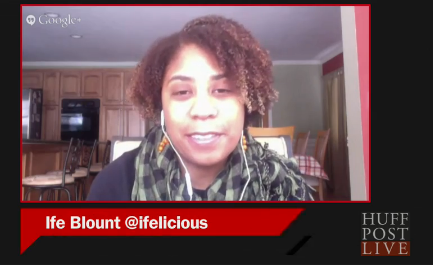 Interesting fact that I stumbled upon while writing this blog post, Mae graduated from Whitefish Bay High School which is literally down the street from where I live. We could've totally been besties…if she didn't go pursue a super successful acting career. 😉
How "The DUFF" will fare among moviegoers remains to be seen, but I'll tell you that DUFF as a term is quickly growing in popularity. Kylie Jenner was recently spotted sporting a t-shirt that read "I'm Somebody's DUFF." There's nothing like some free…or staged…publicity from someone who represents the film's target demographic.
Related Links