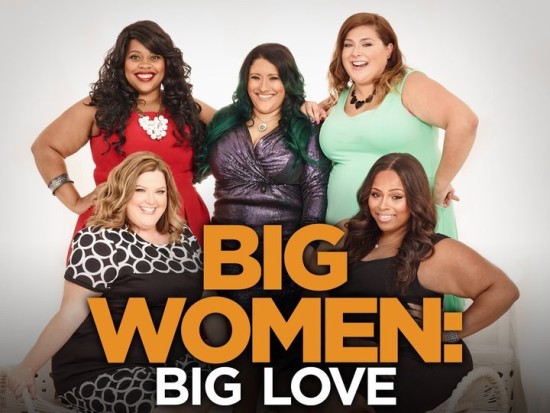 Tonight at 10/9c is the season finale for the new Lifetime docu-series "Big Women: Big Love" about five curvy girls trying to find true love in a society that values skinny as one of its prevailing beauty standards. It's a really fun docu-series to watch, and it made me – who is married, neither plus-sized nor skinny, and full of of my own body image issues – more aware of some of what curvy girls experience when dating. If you've missed the season so far, do not fret because you can stream the episodes from the "Big Women: Big Love" homepage on Lifetime's website.
Recently, I had the pleasure of interviewing Sabrina Servance from the cast. Sabrina lives in Brooklyn and works as a visual fashion merchandiser. On "Big Women: Big Love" she describes herself as one-date wonder and having a particular affinity to nerdy, white guys. Her personality is mostly jovial, confident, comical, and a natural mediator; but we do get to see her vulnerabilities show as the season unfolds. When I asked Sabrina how she would describe each of her cast mates in one word, she gave the following responses: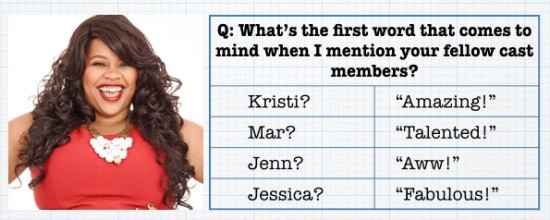 And now onto my interview…
~ ~ ~ ~ ~
Ifelicious: How did you end up on the show "Big Women: Big Love"?
Sabrina: I was dating someone…He ended up breaking my heart really bad, and I was super pissed…I use Twitter like it is my job, and I was spewing out my usual "men are bunch of butt-heads" kind of stuff, and somebody I knew sent me the casting information…I read the whole thing and thought "Oh my God!" It's a show that relates to me, literally. It's about being curvy. It's about my dating life. I filled out that application as honest as possible…and they called me a week later.
Ifelicious: You've had a lot of firsts this season: first time going on three dates, first time on a double date. Do you think the show pushed you out of your comfort zone?
Sabrina: Right before I was casting for the show, I was really putting myself out there more than I usually do…but, definitely, the show helped me. I'm a really confident woman, but when it comes to dating, I'm like a freakin' deer in the headlights.
Ifelicious: Had you met the rest of the cast prior to the Supersize Your Love Life seminar in LA?
Sabrina: We had never met before…I didn't know what to expect…and as you see there was all this drama, and it was on the first night.
Ifelicious: Is Jessica as difficult of a personality as we see on the show? I mean, I hate to use the "B" word, but she sure seems like one.
Sabrina: Not at all! When you have the pressure of having cameras in your face and you're around a bunch of people you don't know, everyone reacts to a situation differently. Everyone's defense mechanism is different…They didn't show a lot of it, but I spent a lot of time with Jessica that weekend. I got to understand who she is; whereas, everyone else didn't get that side of her; and, obviously, America didn't either at the moment. As the episodes progress, everyone sees that that's just how she was reacting to the fact that she was with a bunch of random-ass girls that she doesn't know.
Ifelicious: Well, Jessica and Jenn really did not get along.
Sabrina: I think that Jenn and Jessica have different personalities…I might've been the same way if I was in a different point in my life. Jessica and I have a lot of similar thoughts. We both wanted Jenn to feel like "Hey! It's OK to be the way you are. It's OK to want to change."
Ifelicious: What were some of your takeaways from the Supersize Your Love Life seminar?
Sabrina: My takeaway from the seminar was that I'm much stronger than I give myself credit for, and I never realized my ability to be there for other people…The seminar was great. I loved all the advice we got. The mirror challenge was hard. It's hard to look in the mirror and say things like that to yourself, but I feel like we should all do that more often. Honestly, it opened up a side of me that I didn't even know existed.
Ifelicious: What do you have to say to those who are critical of you preferring to date nerdy, white guys?
Sabrina: I like nerdy guys, and they don't have to be white…I've had that conversation a thousand times…I think everybody has a type. Everybody should be able to be with whoever they want to be with. Just because I'm on a television show doesn't make that any different. You like who you like.
* * * *
TRAILER: "Big Women: Big Love"
(click here to view directly on YouTube)
* * * *
Ifelicious: Did it bother you when Mar called you a prude while on that double date?
Sabrina: It didn't bother me at all. Actually, I was laughing…Being called a prude doesn't really bother me because sometimes I kind of am…I do get kind of uptight in those situations because I don't want to come on too strong…Some guys will assume "You're desperate. You're big. You're going to have sex with me because no one else will." I don't want to come across like, "I'm gonna give it to you." I'm more like "I'm not gonna give you nothing, so don't go looking at me."
Ifelicious: What's been the best part of being on "Big Women: Big Love"?
Sabrina: My whole favorite part of this experience has been people messaging me and telling me that I'm inspiring them to be themselves. I get so many messages from young girls telling me "I never felt pretty, and when I look at you…I can be myself. I can love myself," and I love that so much because growing up that's not something I had. I didn't have people saying things like "It's OK that you're chunky. It's OK that you dress like this. It's OK that you're kind of nerdy." The people I grew up around were like, "Don't talk like that. Don't be like that," and I was always like, "Well, why not?" and no one ever had a reason.
Ifelicious: How have you evolved as the result of being on the show?
Sabrina: One thing that has evolved for me is my confidence. I would never have done this show if I wasn't in a place where I couldn't handle being myself. There's no other show like this on television, especially because it's focusing on what we look like. This is the first time in my life where people are listening to me instead of looking at me…It goes to show you that you can go past how someone looks and get to know them as person.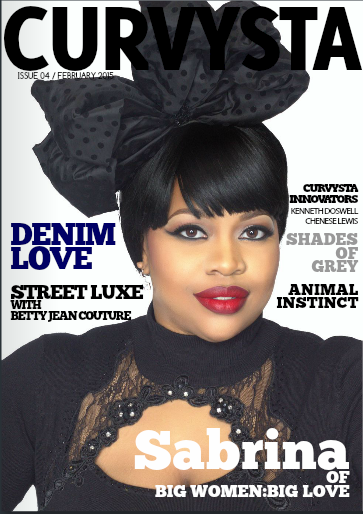 Ifelicious: What new doors have opened up for you?
Sabrina: I got a modeling contract recently…I don't want to say too much. There's a lot of really great things coming that I can't wait to show people what I've been up to.
~ ~ ~ ~ ~
At the time of this posting, I hadn't seen an announcement on whether or not the docu-series has been renewed for a second season or if they'll do an end of season special. I would like to see at least an end of season special and it definitely should also include the guys the cast dated. I'd love to see Matt again who Sabrina met online and went on a date in Central Park. He's the one who shared a peculiar love poem that ends with "and matching cemetery plots." LOL!
Connect with Sabrina online: Twitter | Instagram | Facebook. As pictured above, Sabrina was also just featured on the cover of Curvysta's February 2015 issue.
Share/View online conversations about Lifetime's "Big Women: Big Love" by using the hashtag #BigWomenBigLove.
Related Links