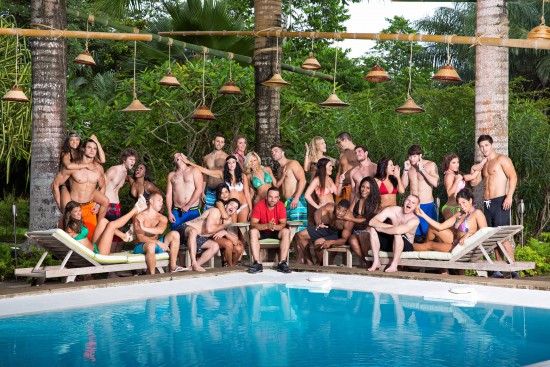 It took me a week-and-a-half before I could get myself to watch the first episode of my favorite reality TV competition series "The Challenge: Battle of the Exes 2" from start to finish. Knowing that two members of the cast, Diem Brown and Ryan Knight (aka "Knight"), passed away from very different circumstances but within weeks of each other has me catching feelings of a different kind than I normally would for my favorite reality TV competition series.
Every time I see Diem, I actually see her differently, and my heart sinks. She appears thinner than in previous Challenges, and I can't tell if her face is darker/slightly discolored because of makeup or an underlying health issue. When TJ Lavin tells the cast that the winning pair gets an unprecedented $350,000, Diem's response was that she'd love to win the money to pay for surrogates to carry her children. Here's an excerpt from a 2012 Daily Mail article with a little context to Diem's comment:
"The Real World/Road Rules Challenge contender, 30, had one of her two ovaries removed during the initial operation to remove a tumor comparing in size to a two-litre bottle of Coke.
This time around, the athletic and ambitious entrepreneur is racing to harvest and freeze healthy eggs before the final ovary is removed and she goes through premature menopause."
On "The Challenge: Battle of the Exes 2," Diem is again paired with her on-again/off-again beau Chris "CT" Tamburello. Diem is hands-down one of the strongest female Challenge competitors and the same is true for CT. In the first Battle of the Exes season, they finished second behind Johnny "Bananas"Devenanzio and Camila Nakagawa. In the first two episodes of "The Challenge: Battle of the Exes 2," Diem and CT are again proving to be a formidable pairing, but my heart sinks knowing that Diem left early due to health issues. We begin to get a glimpse of her health scare in episode 2 that aired earlier this week with more to be revealed next week. This past summer, US Weekly reported in an article that I referenced last fall when announcing her MedGift registry, "Brown, 32, was filming the upcoming season of The Challenge in Panama last week when she collapsed on set, an insider tells 'Us.' She was airlifted to New York City and underwent two emergency surgeries."
Knight's passing was unexpected and not to be overlooked, but it's affect on me is to a much lesser degree. He and Diem are completely different people, and I was just more drawn to Diem's life story, love story, and competitive spirit that she brought to the Challenges. Nevertheless, I'm glad that MTV has been flashing both of their photos side-by-side in each episode so far announcing that "The Challenge: Battle of the Exes 2" was dedicated to them.
* * * *
SNEAK PEEK: "The Challenge: Battle of the Exes 2" episode 3
(click here to watch directly on MTV.com)
* * * *
Switching gears but still on the topic of catching feelings, what's up with adding exes, Adam/Brittany and JJ/Simone, to the cast from "Are You the One?" I'm not a fan of that decision, and I don't watch "Are You the One?" At the same time, I understand there needs to be an influx of new contenders on The Challenge, and I think pulling them from another MTV show is a smart move compared to when they brought in "fresh meat." It'll be interesting to see how they fare in competition and interaction with the rest of the Challenge cast.
What are your thoughts on the season so far?
How about that twist on the exile?
Who do you think will win?
I predict the top three exes pairs will be Wes/Theresa, Bananas/Nany, and Jordan/Sarah. My hope is for Sarah to finally get a win, but she's got a cocky partner who might get them into trouble, and they're going up against some strong competition with my other two couples I mentioned. I'd also like to see at least one of the couples from "Are You the One?" do well this season so I can warm up to the thought that I'll be seeing them again on future Challenges.
Read all of my posts over the years from the Challenges including exclusive photos, videos, and exclusive interviews with contestants — CLICK HERE.
Follow and discuss The Challenge on social media. Twitter: @ChallengeMTV (there's also a lot of activity on a fan page Twitter handles @MTVChallenge26 and @TheChallengeMTV …not sure who the person is/people are behind these accounts), Facebook: The Challenge , and using the hashtags #TheChallenge, #TheChallengeBattleOfTheExes2, and #BattleOfTheEXiled. Learn more about the cast, watch video clips and full episodes on MTV's "The Challenge: Battle of the Exes 2" show website.
Related Links