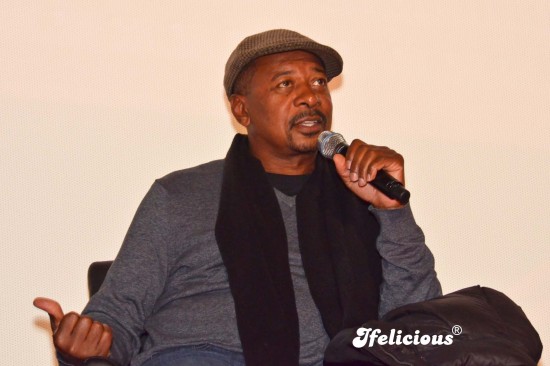 Best known for films such as "The Five Heartbeats" and TV series such as "The Parent 'Hood," writer, actor, director, producer, and Chicago native Robert Townsend attended the 2014 Milwaukee Film Festival to support the newly added Black Lens category to this year's programming. In the spirit of celebrating the role African-Americans have played in front of and behind the camera, Robert Townsend's first film "Hollywood Shuffle," released in 1987, had a special screening on Friday, October 3 at The Oriental Theatre. Townsend spent the entire evening in Milwaukee, attending a private meet and greet at The Hotel Foster prior to the screening of "Hollywood Shuffle" and stayed after for a Q&A with surprise guest Bobby McGee ("Hollywood Shuffle," "A Soldier's Story"). For years, Townsend has been an advocate for black film through his involvement with the American Black Film Festival in several capacities including on the Advisory Board. On Friday, Townsend continued to show his support by coming to Milwaukee and sitting alongside Black Lens series coordinators Sojourner Family Peace Center's Geraud Blanks and St. Lawrence University's Dr. Donte McFadden.
When Townsend was asked by Dr. McFadden how "Hollywood Shuffle" came into existence, he responded:
"It started because of all roles that [Bobby McGee and I] were auditioning for…so many negative roles. I just remember auditioning for pimps, auditioning for slaves, the illiterate basketball player…the snitch in the pool hall that knew everything, so it was all those negative roles. And then, when I did 'A Soldier's Story,' that was the first time I played a human being and it affected my life, and I was like, 'I want to do more movies like that'…'Hollywood Shuffle' came out of that."
Townsend also shared a little known fact that he had also auditioned for "The Color Purple" as Harpo and was rejected; and that was another inspiration to try his own hand at filmmaking. McGee added that it was getting to work on "A Soldier's Story" that led him to reach out to Townsend for a part in "Hollywood Shuffle."
* * * *
SLIDESHOW: Robert Townsend at Milwaukee Film Festival
This slideshow requires JavaScript.
* * * *
If you missed the screening of "Hollywood Shuffle" at the Milwaukee Film Festival, you can always screen it on Netflix. It is a satirical look at being an aspiring black actor in Hollywood that has become a cult classic from the late 80s that featured then little known entertainers at the time such as several of the Wayans family – Keenan Ivory Wayans, Kim Wayans, and Damon Wayans – as well as John Witherspoon and Paul Mooney among many others.
* * * *
TRAILER: "Hollywood Shuffle"
(click here to view directly on YouTube)
* * * *
During the Q&A, Townsend also shared a few new projects he is working on at the moment. One is a TV series that he did not name; and the other is a film "Playin' for Love" that is currently in post-production. Check his Twitter feed @Robert_Townsend for any additional announcements and updates.
The Black Lens series continues this week at the Milwaukee Film Festival. For a list of films, showtimes, and ticket information, visit mkefilm.org. To share/view more news and footage from Milwaukee Film Festival use the hashtag #MFF2014 on social media.
Related Links