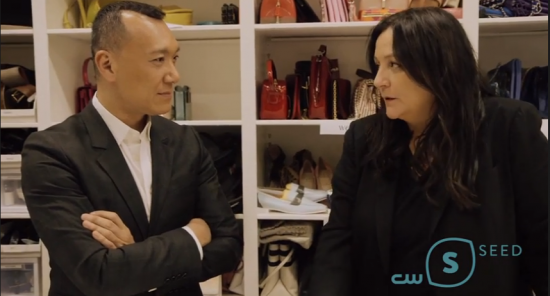 Give me a Type A alpha female at the helm of a top notch fashion industry PR firm named People's Revolution who released a book "If You Have to Cry, Go Outside," has starred on hit series' "America's Next Top Model" (CW), "The Hills" (MTV), "The City" (MTV), and "Kell on Earth" (Bravo) and I'm hooked for life on all things Kelly Cutrone. Now, she's gracing us with 10-episode web series on CW Seed premiering September 6 entitled "The Kelly Cutrone Project." The show will cover a range of topics from fashion to pop culture as well as feature celebrity guests such as Joe Zee, Perez Hilton, Tyra Banks, and Jared Leto.
In a press release, Cutrone offered insight on her new web series:
"I wanted to create a show that would thrive and live on the internet that spoke directly to young people, and CW Seed was the perfect place to open that discussion…'The Kelly Cutrone Project' will run the gamut, from insider advice on fashion, beauty and how to build a brand, to priceless insights on same-sex relationships, buying the perfect sex accessories, and even measuring male models' nipples — basically any and all topics young people want to explore!"
Sneak Peek #1: "The Kelly Cutrone Project"
In this clip, Kelly Cutrone asks new Editor-in-Chief of Yahoo Style Joe Zee about advice on how to break into the fashion industry.
* * * *
* * * *
Sneak Peek #2: "The Kelly Cutrone Project"
In the clip below, Kelly Cutrone asks Editor-in-Chief of Yahoo Style, Joe Zee, for his top fashion must haves in a woman's wardrobe.
* * * *
* * * *
I'm salivating in anticipation! 😀
For more, follow Kelly Cutrone and CW Seed on Twitter and use/search the social media hashtag #KellyCutroneProject.
Related Links