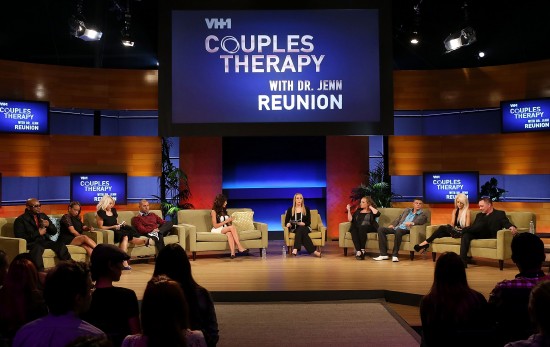 Four of your all time favorite VH1 "Couples Therapy" couples…and "Teen Mom" Farrah Abraham who somehow managed to qualify for the show's third season and now a reunion without a boyfriend…reunite with Dr. Jenn Berman for the "VH1 Couples Therapy with Dr. Jenn Reunion." The two-part special premieres September 3 at 9:00 PM ET/PT and wraps up on September 10 at 8:00 PM ET/PT. Note the two different air times and set your DVRs. I had a chance to preview part 1 of the reunion, and it is off the heezy!
"VH1 Couples Therapy with Dr. Jenn Reunion" Cast
This slideshow requires JavaScript.
The couples you'll see on the reunion special are listed below. Apparently, being on season 2 or on MTV's "Teen Mom" seemed to be the secret password needed to land a chair on the two-part reunion.
Doug Hutchinson who…barf!…, at age 51, married 16 year old Courtney Stodden. They were in season 2 of "Couples Therapy" and were asked to leave the season early when Courtney continued to wear skimpy outfits even after Dr. Jenn set a dress code for her.
Joel "JoJo" (from 90s R&B group Jodeci then later K-Ci & JoJo) Hailey and his wife Tashaunda "Tiny" Hailey. Jojo had a hell of a drinking problem at the time so this reunion should be very revealing in that regard. They were also from season 2 of "Couples Therapy."
Nik Richie and wife Shayne Lamas who were married in Vegas eight hours after they met. Shayne is best known from the twelfth season "The Bachelor" which is a reality show that I do not watch. Nik is a blogger like me, but I've never heard of TheDirty.com until I had to do my homework to write this post. So, y'all will have to comment with why this couple is a big deal. They are the third and final couple from season 2 of "Couples Therapy" featured on the reunion special.
Then, there's the MTV original "Sixteen and Pregnant" followed by spinoff "Teen Mom" cast contingent. Sidenote: Even though the original cast had been retired by MTV within the last year and then flirted with a comeback with the "Being…" specials, it has been confirmed that they will be back for another "Teen Mom" season airing in 2015. More importantly, it will not include Farrah Abraham (read FOX News article and interview "Farrah Abraham: MTV made a big mistake by firing me from 'Teen Mom' reunion"). You know you have got to be a hot mess when MTV will not deal with you even in the name of Jesus reality TV. 😈
Tyler Baltierra and his sister-wife…ok, well his step sister who almost became his wife (they're engaged)…Catelynn Lowell. One of the best episodes of "Couples Therapy" season 3 was when they called off their wedding. It was another wise move from these two kiddos that came from some major family dysfunction. My cheers were silenced a couple of weeks ago when I read that Catelynn is six months pregnant with a girl. I was a fan of them finishing school, getting their careers off the ground, marriage and then kids. It would've been the one exception to the "Teen Mom" series rule.
Farrah Abraham who, like Tyler and Catelynn, is also from the original MTV "Sixteen and Pregnant" and spinoff "Teen Mom." Of course, her phantom boyfriend magically didn't show up for season 4 of "Couples Therapy" because that girl can lie her way (and I don't mean the horizontal mambo…although that may also be true, LOL!) into any show to stay relevant.
Why you want to watch this two-part reunion
Here are my top 6 reasons to watch this two-part reunion. Note, this is based only on having previewed the first of the two episodes.
* * * *
Watch a sneak peek of the 'Couples Therapy Reunion' special below:
* * * *
You will cry within the first ten minutes.
JoJo is off da chain. I don't know how else to describe him. The reunion would not be worth watching without him.
Dr. Jenn gets real to contain her eclectic panel of crazytown aka "Couples Therapy" cast. When I get to meet her again, I want to teach her how to roll her neck, suck her teeth, and wag her finger like a black girl, LOL!
Farrah is predictably self righteous.
Courtney Stodden. Enough said. Well, I'll also add that I bet she and Farrah will probably become besties if they aren't already.
And last but not least is the moment when Tiny says, "Girl, boo!" I'm still cracking up!
Couples I wished were in the reunion
Jon Gosselin and girlfriend Liz Janetta. Forget Liz, aka Kate Gosselin,Jr., I just want to know what Jon is up to. Does he still quietly jerk off under the covers and then denies it? What's the deal with his custody battle for his six kids?
"Girls Gone Wild" creator Joe Francis and girlfriend Abbey Wilson. Ugh! That Joe gets under my skin even at the thought of typing his name in this blog post. Misogynistic f*ck. Just in the past few hours, news broke that there's yet another warrant for Joe's arrest. As far as arm candy Abbey, she is carrying twin girls by Joe. Two more girls under the care of Joe! Just what the world needs… On a serious note, I hope Abbey has her eating disorder under control during her pregnancy.
Flavor Flav and wife Liz Trujillo. They are really really good at keeping certain aspects of their life out of the tabloids. We learned that Liz was pregnant during "Couples Therapy" season 3 last year. It would be nice to know if she had the baby, if they're both staying sober, and if they are still together. I did read that Flavor Flav's mother Anna Drayton passed away on New Year's Eve 2013 and Rolling Stone reported he is working to develop a "rock and funk cover group called the Flavortronz."
Reichen Lehmkuhl and Rodiney Santiago. This choice is purely selfish because I followed them from their reality TV rise on Logo TV's "The A-List: New York." They are very much not a couple anymore, but it would be fun to see them grace my boob tube again.
* * * *
UPDATE September 5, 2014
Social media action from this blog post:
I got a retweet and a reply from Dr. Jenn. 😀 I will certainly teach her the head roll, finger wagging black girl approach to keeping her unruly cast in mind. 😉
As a result of tweeting her this blog post (i know…don't ask), Farrah Abraham is now following me on Twitter! 😀
While it's not a retweet, I'll take Farrah Abraham favoriting my blog post on Twitter. 😀
* * * *
Related Links