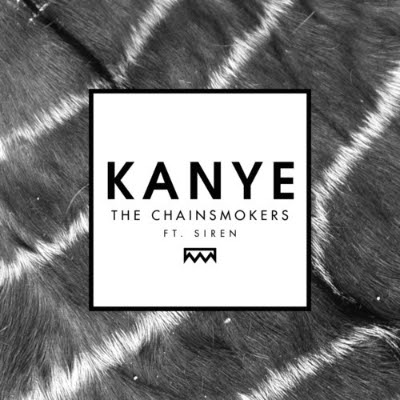 EDM DJ duo Andrew Taggart and Alex Pall of The Chainsmokers did a spot on mirroring of 20-something pop culture with their hit dance track "#SELFIE," and now they're back with a new single "Kanye" featuring indie band out of LA named Siren. The song turns Kanye into an adjective basically translating to being anything you want to be. I wonder if that term will stick in pop culture.
I've taken a listen to "Kanye," and it's a far cry from the mega hit "#SELFIE" that sold over 1 million copies and landed Andrew Taggart and Alex Paul of The Chainsmokers in contention for DJ Mag's Top 100 DJs of 2014. The more I listen to it, however, the more it's growing on me. Regardless, I wanted to share the single with you so you can judge for yourself.
LISTEN: The Chainsmokers "Kanye" featuring Siren
(posted from Soundcloud)
TAKE MY POLL: How does 'Kanye' compare to '#SELFIE'?
"Kanye" was released today, August 5 on Dim Mak/Republic Records and is available for download via iTunes. You can also stream it on Soundcloud and Spotify.
From the press release:
"Provocative in both its name and stirringly gorgeous sense of melody, 'Kanye' fuses Siren's divine delivery and uplifting lyrics with The Chainsmokers entrancing and enigmatic production. Moreover, there's a very special and ultimately inspiring message at the heart of this anthem. The word 'Kanye' insinuates that only you can define what makes you individually happy. What other people think doesn't matter, and do not let anyone take that happiness away from you. If you believe in yourself, anything is possible and no judging allowed!
Pall elaborates, 'We look at the word 'Kanye' as an adjective. The song is about what it means to be like Kanye. It's about just owning it no matter what you're doing. Whether you're on top of the world partying in a penthouse or you're driving an old car playing your favorite song, it's about enjoying the moment you're in and feeling like you're the king. You embrace that confidence. We didn't want to do something to left field after '#SELFIE,' but we wanted to show another side of ourselves. What Siren does is just beautiful, and we built the production around that. It gets the message across. Own your shit, be self-assured, and remain confident in everything you do.'
In addition, the boys have launched an Instagram and Facebook campaign with the hashtag #BeLike. They've included a fun quiz that you can take here!"
Connect with The Chainsmokers online:
Connect with Siren online:
Related Links