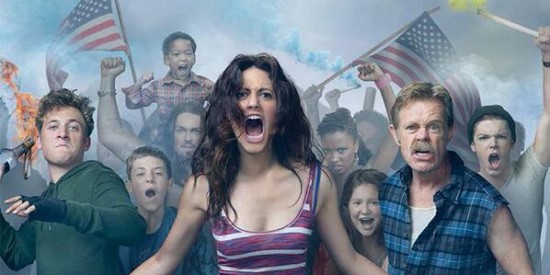 Preface: Why I Love "Shameless"
The Showtime series "Shameless" became an instant favorite of mine from the very beginning. The show premiered at a time when things were dark and uncertain and dysfunctional for me. Watching "Shameless" let me escape into someone else's chaos and laugh a little when this innately goofy gal's laughter had been momentarily silenced. Shows like this remind us that we're not alone. While the characters are fictitious and often extreme representations of the genus-species known as Homo sapiens, I identify with so many of them: Fiona being the oldest child and one everyone counts on to make things happen, coming of age Debbie with her endless optimism yet forced to be wise beyond her years, and Ian's identity crisis and insecurities.
To top it off, by the end of Season 1, I was preparing to move to Milwaukee which is about a 2-hour drive away from Chicago's South Side where "Shameless" takes place, and little things like the scenery began to have a new meaning to me as this east coast gal settled further into the midwest.
I blog about a lot of things, but I don't typically blog about shows that are "mine." By "mine" I mean that I watch it purely for my own enjoyment without taking notes or doing research or contacting publicists for interviews. Fellow writers and people in entertainment, you feel me? But ehh, it's 2014 so why not break a rule or two to get the year started? After all, it's the Gallagher way. 😉
Favorite Quotes from "Shameless" Season 4, Episode 1
"I haven't abused marijuana like the rest of you, so yes, I remember." -Debbie Gallager
"Honey, I was still doing coke when I was pregnant with you, and you worried about me eating cheese." -Carol Fisher
"Frank's a cockroach. You can stomp on him, spray him, try and drown him, but he always comes crawling back up out of the toilet bowl." -Kev Ball
"You take the one in the autopsy hoodie, and I'll take the one with the wallet chain." -Holly
"The best way to stay ahead of it is to masturbate a few times a day…But never in the shower. It can get into the washcloth and into your sisters. That's how incest babies are born." -Frank Gallagher
"Gallagher clan is flush. We're creeping up on the poverty line. Haven't quite dragged ourselves over it yet, but at least we can see it from here." -Fiona Gallagher
VIDEOS Featuring "Shameless" Cast Members



Shameless Season 4: From the Beginning – Frank Gallagher

Shameless Season 4: From the Beginning – Fiona Gallagher

Shameless Season 4: From the Beginning – Lip Gallagher

Highlights from "Shameless" Season 4, Episode 1

"Simple Pleasures"
Read all of my "Shameless" episode recaps — CLICK HERE.
Fiona Gallagher (Emmy Rossum) has held down her first desk job at Worldwide Cup for 90 days now and dating her supervisor Mike Pratt (Jake McDorman) with whom she hasn't had sex with yet- a departure from Fiona's usual relationships. She gets a glimpse at "normal" middle class family life juxtaposed to her own while tailgating at a Chicago Cubs game with Mike and his family. They celebrate her 90 day milestone by having sex, and to Fiona's surprise he's a true gentleman.
The Milkovichs continue to rival the insanity of the Gallaghers and are shown running some sort of hustle of stealing mail from mailboxes and whoring out Mickey's wife, a Russian whore, whom he was forced to marry after Mickey's father Terry (Dennis Cockrum) caught him with Ian last season.
Lip Gallagher (Jeremy Allen White) is in college, taking classes and has a work-study job busing tables at the school cafeteria. He's still a rebel and it becomes clear that he's not adapting well into campus life.
Police raid a crack house and Gallagher family friend/Fiona suitor in past seasons, Tony Markovich (Tyler Jacob Moore), notices Frank Gallagher (William H. Macy) and brings him home. The only one excited to see Frank is his psychopathic son Carl Gallagher (Ethan Cutkosky) – the only one in the house that regards frank as an actual father figure. Agoraphobic, mysophobic and somehow ex lover to Frank, Sheila Jackson (Joan Cusack) helps Carl clean Frank up. Frank returns his gratitude by educating Carl on wet dreams and the proper way to jerk off. I nearly fell out of my chair when I saw Carl come return home with a mega tub full of Vaseline that he brought from Costco. Even though drinking is literally killing him, he convinces Carl that rectal intake of alcohol is what he needs and Carl comes to his aid again.
Debbie Gallagher (Emma Kenny) shows she's coming of age and mirroring her big sister Fiona. Donning makeup, heels, and slutty clothes she is convinced that "fast girl" Holly Herkimer (Danika Yarosh, Twitter: @danikayarosh) will teach her what she needs to know about getting boys to like her. Ultimately, it's what we love about redheaded, freckle faced Debbie that wins the affection of an older guy, presumably in high school, named Matty (guest star James Allen McCune). She musters a kiss on the cheek in Matty's car at the end of their first date to Panda Express.
Stan (Jack Carter) who owns the bar, The Alibi, where Kevin "Kev" Ball (Steve Howey) works dies.
Presumably infertile Veronica Fisher (Shanola Hampton) finds out she's pregnant. Last season, she agreed to an unconventional arrangement of having Kev impregnate her mother Carol Fisher (Vanessa Bell Calloway) so they would have a child that resembled them both. Now, Kev has two babies on the way.
Who We Didn't See in "Shameless" Season 4, Episode 1
Ian Gallagher. We left off in Season 3 with him running off with Lip's ID and joining the army after his true love Mickey Malkovich marries a woman per his father's "punishment" for catching Ian and Mickey making out in Season 3.
Absolute confirmation that "Jimmy Steve" was killed by drug lords, and if Fiona will ever know the full story.
* * * *
Showtime's "Shameless" was created by Paul Abbott who collaborated with film producer John Wells to adapt his original UK version of the series for US audiences. John Wells, Andrew Stearn, Mark Mylod and Nancy Pimental serve as the show's producers. "Shameless" airs on Sunday nights at 9pm ET/PT on Showtime. Find more about "Shameless" online via the official website, Facebook, YouTube, and Twitter (@SHO_Shameless, and hashtag #Shameless). They've also launched a "Shameless" Tumbler page that includes a blog written through the eyes of the character Ian entitled "Private Gallagher."
The "Shameless" Film Fest Contest is wrapping up where applicants created original video content in the spirit of the series. Go to the contest website and vote for your finalists as there is a $3000 Voter's Choice Award. The remaining cash prizes will be selected by a jury with the first place winner receiving $10,000. Must be 18 years or older.
Related Links
MORE VIDEO
Shameless Season 4 Photo Shoot: Behind the Scenes