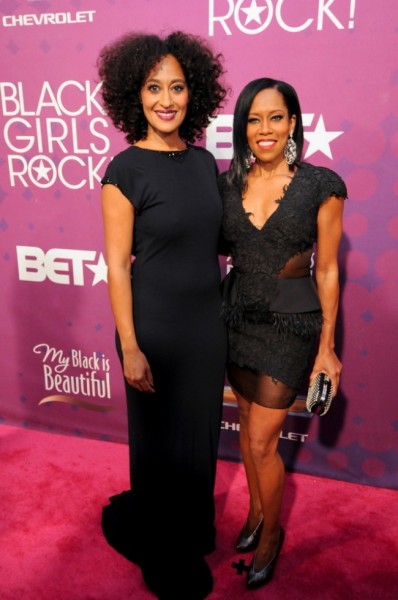 BLACK GIRLS ROCK! is a non-profit organization "dedicated to the empowerment of girls aged 12 to 17 years old through mentoring, enrichment programs and opportunities that place special emphasis on personal development through the arts" (source: BLACK GIRLS ROCK!). The organization's founder is Maryland native, philanthropist, DJ and former model Beverly Bond. BET has partnered with BLACK GIRLS ROCK! to host an annual awards show honoring black women who have made a positive impact on the world. This year's awards show will air on Sunday, November 3, 2013 at 7pm ET/6pm CT in the US. BET will be rebroadcast the show in the UK an Africa on Tuesday, November 5, 2013 at 8pm GMT. It is being held at the New Jersey Performing Arts Center in Newark. The awards show hosts are Tracee Ellis Ross and Regina King. Among the night's presenters are Soledad O'Brien, Nia Long, Tatyana Ali, LaLa Anthony, and Marsha Ambrosius.
VIDEO: About BLACK GIRLS ROCK!
BLACK GIRLS ROCK! 2011 from BLACK GIRLS ROCK on Vimeo.
This year's honorees:
Living Legend Award- Patti LaBelle, singer
Rock Star Award- Queen Latifah, rapper/actress
Star Power Award celebrated by Chevy- Venus Williams, pro tennis player
Community Activist Award- Ameena Matthews, community organizer
Young, Gifted & Black Award- Misty Copeland, ballet dancer
Social Humanitarian Award- Marian Wright Edelman, children's rights activist
BLACK GIRLS ROCK! also awards several black women entrepreneurs under thirty who are "Making A Difference" (MAD Girls). This year's honorees are (source: press release):
Brooklyn Wright, 11, of Atlanta, GA., is an award-winning "earth saver," who travels from school-to-school to share her passion for litter prevention. Wright will donate learning gardens to 10 schools this year and will have her first annual Earth Saver Girl day camp.
Mary Pat Hector, 15, of Atlanta, Georgia founded "Youth Action USA" in an effort to take a stand against gun violence, bullying, and youth issues. She also serves as the National Youth Director of National Action Network Youth Move, an organization founded by civil rights pioneer Reverend Al Sharpton.
Ty-Licia Hooker, 22, of Stockton, CA, is the president and founder of not only one but two community outreach programs. She influences at-risk youth through her programs STORM and the Summer Success and Leadership Academy, where an emphasis is placed on youth development and maturation.
For more information about BLACK GIRLS ROCK, visit www.blackgirlsrock.org. On Twitter, use the hashtag #BlackGirlsRock and follow @BlackGirlsRock. Go to www.facebook.com/BLACKGIRLSROCK for Facebook updates.
Also, visit BET's website www.bet.com and follow them on Twitter @BET.
Related Links