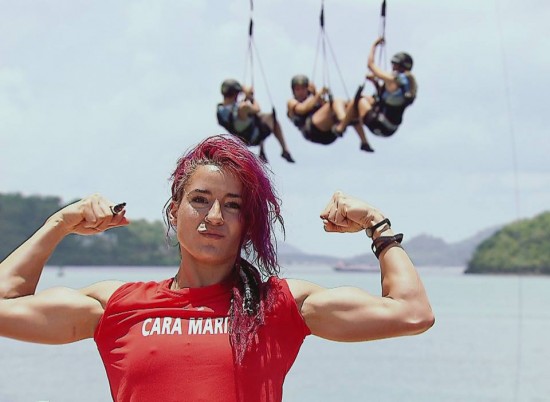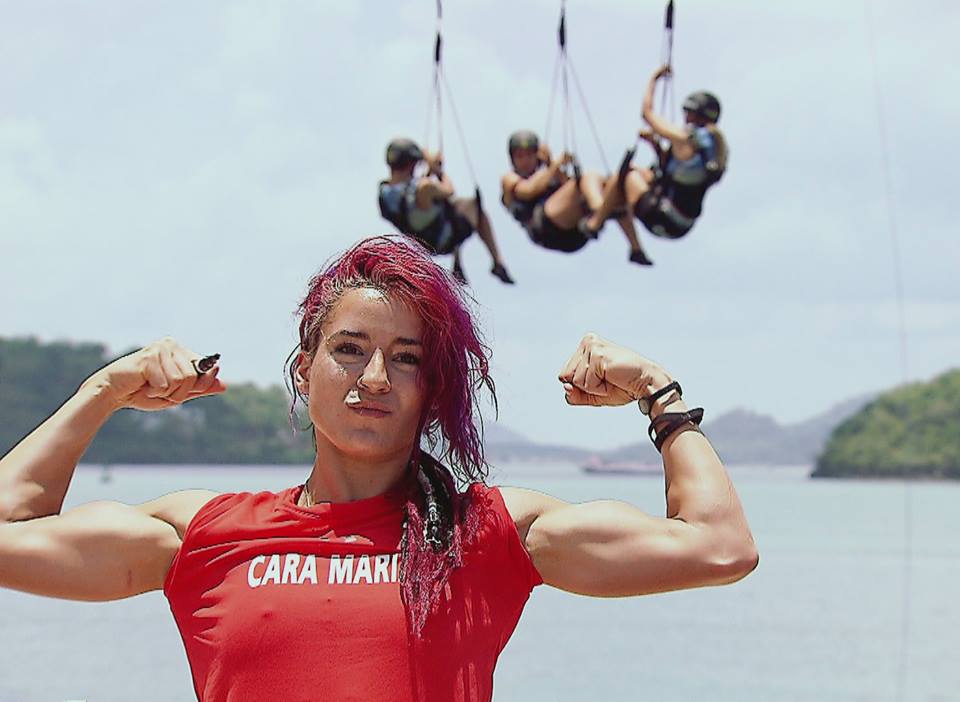 Cara Maria Sorbello might as well have been nicknamed "The Answer," in the likeness of Allen Iverson, as Heather Cooke's ("Cooke") fate was hanging in the balance in the first episode of "The Challenge: Rivals 2" on MTV. Cooke's original "Rivals 2" partner and fellow cast member from "The Real World: Las Vegas," Naomi Defensor, decided to go home after getting a phone call that her father was gravely ill (RIP). Rather than send home Cooke as well, the producers sent in Cara Maria to take Naomi's spot. The two became the season underdogs for the girls and battled their way out of two Jungles. Ultimately, their teamwork and ability to solve puzzles under pressure led them all the way to the "Rivals 2" finale where they placed second for the girls behind behemoth team Emily Schromm and Paula Meronek.
As fans of the MTV Challenges know, "The Sh*t They Should've Shown" and "Reunion" episodes are fun to watch, but there's always so much more you want to know about the cast. With that in mind, I caught up with Cara Maria to get more of the scoop on her life on and off "Rivals 2."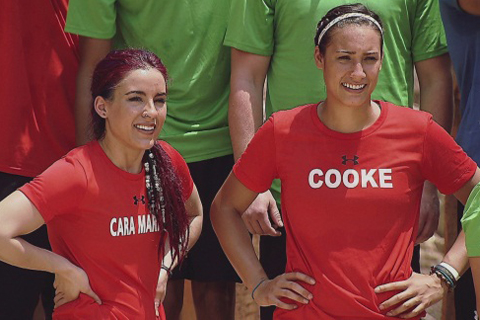 About Competing on The Challenges
Ifelicious: Have you learned to swim since 'Rivals 2' ended?
CM: I have learned to swim since before 'Rivals 2.' I've paid for private lessons as far back as before 'Exes 2.' I've had friends teach me in the pool as far back as 'Rivals 1.' I've had cast members show me multiple times…everyone from Sarah, Camila, Abram, Cooke, etc. Just because I suck at swimming doesn't mean I haven't been working on it. I panic in water. Water is not my thing. Swim lessons or no swim lessons. I am constantly trying to be better though and will continue to work on my weaknesses.
Ifelicious: In the 'Rivals 2' reunion episode, you referred to yourself as an upgrade to Cooke having Naomi as a partner. Has Naomi responded to that comment in any way?
CM: No, she has not. I'm not trying to be a jerk. Naomi is a great girl with her own strengths. However, from the confessionals alone, it was apparent that no one wanted me there as Cooke's partner because I am a strong player. Cooke is a strong player. With me as her replacement partner, I gave Cooke a shot at the winnings. Everyone, rightfully so, would have rather just had Cooke gone home. She's a tough girl and no one likes real competition.
Ifelicious: Who are some female competitors that you would like to go up against in an elimination round?
CM: Whoever is the easiest for me to beat. The object of the game is to stay in the game.
Ifelicious: Name one veteran male and one veteran female Challenge competitor that you haven't been teamed up with yet and would like to on a future Challenge?
CM: CT (originally from 'The Real World: Paris') and Evelyn (originally from 'The Challenge: Fresh Meat').
Ifelicious: Name one rookie male and one rookie female Challenge competitor that you have haven't been teamed up with yet and would like to on a future Challenge?
CM: Ashley (originally from 'The Real World: San Diego'). She's a sweet girl and a strong athlete. Doesn't cause waves in the house. Not an obvious target for elimination. I need that! Zach (originally from 'The Real World: San Diego') [as my rookie guy choice].
Ifelicious: Knowing that you could be called to do a Challenge at any time, what do you do to train physically and mentally when you're not on a Challenge?
CM: Always training. However, I go harder after I get 'the call.' Otherwise, work and normal life gets in the way of all out training.
Ifelicious: Do you see yourself retiring from the Challenges anytime soon?
CM: I'm on the Paula boat. I wouldn't pass up a free exotic vacation and money at any age.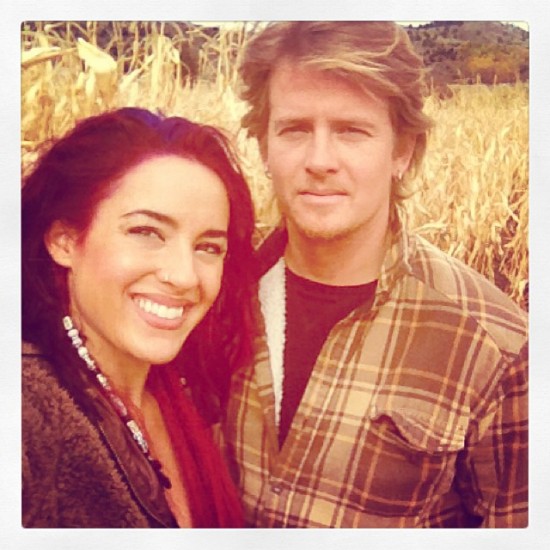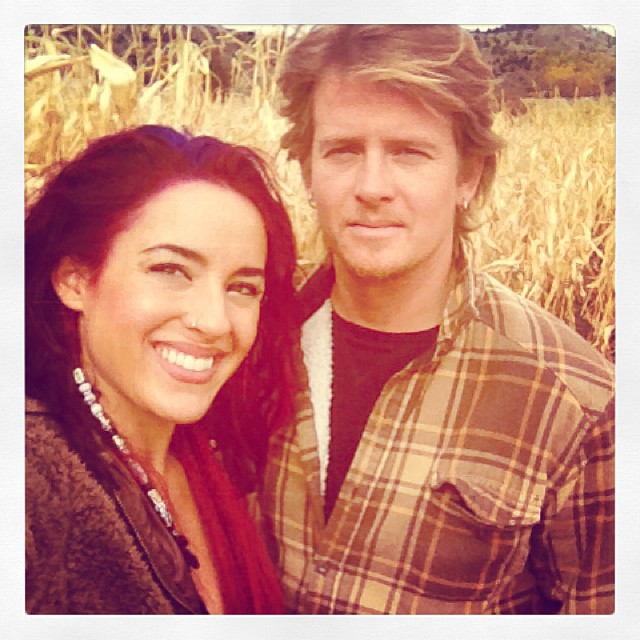 About Relationship with Abram Boise
Ifelicious: Is Abram 'the one?'
CM: He's 'the one' I want to sleep with at night. 'The one' I want to cook with. 'The one' I want to go fencing with, trapeze flying with, mountain climbing with, camping with, horseback riding with, painting with, vacationing with, etc. He is tells me I'm beautiful when I feel like crap. He encourages me and supports me. He is down for anything and never makes me feel bad about myself. He's my perfect weird little match. We enjoy each other. one day at a time.
When Not Doing Challenges
Ifelicious: When you're not on one of the Challenges, what jobs or projects have you taken on to make a living?
CM: I take DJ gigs and sell my own art on Etsy. For fun, I take fencing lessons, ride my horse, cross fit, sew things, work on my art, etc. I always want to try new things. There aren't enough hours in the day!
The Future Cara Maria
Ifelicious: What do you want to be when you grow up?
CM: Find me in Never Never Land.
Keep up with Cara Maria online: Twitter "@CaraMariaMTV," Instagram "@MissCaraMaria"
* * * * * * * *
Read previous interviews I've conducted with or about Cara Maria:
Related Links