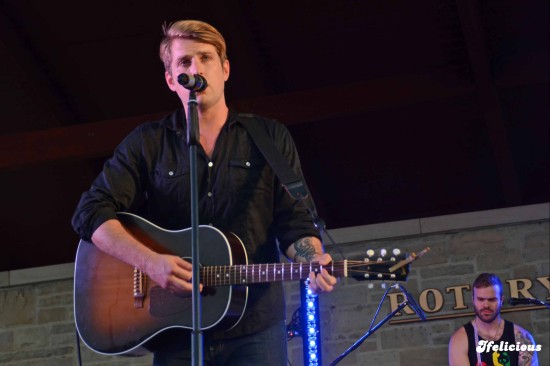 Satellite returned to the Milwaukee area for a second time this year but as a full band ensemble and for a good cause. On Saturday, August 24, 2013, Satellite was the headlining act for the second annual PaxFest that was held at Hart Park in Wauwatosa (or "Tosa" as us locals call it), a suburb of Milwaukee. The music festival is in honor of Paxton Andrews who died as an infant from a rare form of cancer (for more info, go to teampaxton.org). In an interview in OnMilwaukee.com's Brian Kramp, Satellite's band leader Steven McMorran shared, "I used to want to be a pediatric oncologist growing up. I graduated from college to do that and then whenever I was to go to med school, I decided not to do that. I decided to go into music."
Satellite performed songs from their debut album "Calling Birds" (download on iTunes and Amazon) that was released on March 5, 2013 including my favorite "Ring the Bells." Their performance also included a few covers like Bruce Springsteen's "I'm On Fire" and Bryan Adams' "Oh My Sweet Carolina." Festival goers stayed until well after sundown and demanded an encore to which Steven re-emerged alone with a piano and performed the yet to be released track called "Vagabond." In an interview I conducted with Steven after their performance, I asked if he has plans to release "Vagabond" to which he replied, "Absolutely! There's no question. I'll beg, steal, or borrow to get that song released one day."
The benefits of Steven McMorran's touring for nearly 2 years nonstop definitely shows. He's developing into a consummate performer, and I enjoyed his performance with Satellite this time more than Shank Hall- Milwaukee's show with Tristan Prettyman. In part, it was nice to see a full band, but mostly it was because I noticed Steven took more care to preface the songs with inspiration and context, something I think is particularly helpful when an audience is not yet familiar with your music. For example, I learned "Come and Get Me" was inspired post somebody made on To Write Love on Her Arms, and as a result I listened to the song differently.
To my perpetual glass half full readers, Satellite's music isn't completely laced with depression and forlorn. At the same time, "Calling Birds" does have a level of gravity to it. It's definitely music you would play in your more quiet moments.
The song "Silhouette" from "Calling Birds" made its way into pop culture when became part of the soundtrack to the most dramatic episode of the VH1 series "Couples Therapy" season 3, episode 5. This was the episode where "16 and Pregnant"/"Teen Mom" couple Tyler Baltierra and Catelynn Lowell called off their engagement (read more about this zany cast in my blog post — CLICK HERE). Steven remarks on the episode in my exclusive interview. During PaxFest, Steven shared that he wrote "Calling Birds" when he was 3000 miles from home and family.
SATELLITE BAND MEMBERS
Steven McMorran– vocals, guitar, piano
Darren Rayl– drums
Kyle McCammon– bass, backing vocals
Vince DiCarlo– guitar
VIDEO: Interview with Steven McMorran of Satellite
Below is an interview I conducted with Satellite's band leader, Steven McMorran backstage at PaxFest. It also includes some live concert footage and fun outtakes.
CONCERT PHOTOS
Check out the photographs I took of Satellite's performance at 2013 PaxFest Milwaukee:
Related Links