Hollywood will fuck you up. Famous dad. Famous child star. That's why I'm willing to forget the Miley Cyrus's performance and focus on what was really good at the MTV VMAs this year. Oh, but I will say that it was a little creepy to see Robin Thicke letting Miley Cyrus twerk all up on him. It allowed disturbing thoughts of Robin Thicke as a child predator enter my mind, and that's just not a good look.
With that said, I really enjoyed the performances at this year's MTV VMAs. Justin Timberlake stole the show, but Lady Gaga and Katy Perry were probably the other two performances that I think were the most memorable.
Lady Gaga "Applause"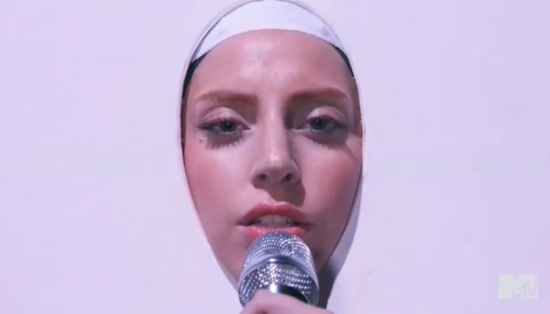 I don't know what to make of Lady Gaga. She's like many reality TV shows- weird and fun to look at. I do like some of her music, but I can't tell if she's wants to sell us her music or her fashion sense. If I were ever having a Halloween party, something I've never had in my life…hmm, I would invite her to scare the children and then break out into song and some oddly appropriate moment.
I have to give it Lady Gaga. "Applause" is hot! It was hard to turn away from her costuming to digest the lyrics beyond the word "applause," but this is what she told Ryan Seacrest in an interview about what the song meant:
"I was in a lot of pain, but didn't know where really. I have a strong threshold for pain, so I kept slapping myself saying, 'Get it together.' The only thing that kept me going was the applause…and I was able to drown out the pain and finish the show."
Performance-wise, I loved choreography of her costume changes once she shed that white straight jacket slash kind of nun outfit slash kind of graduation gown with the hat on wrong and no tassel. Welcome back to the spotlight, Lady Gaga, and what a perfect way to kick off the 2013 MTV VMAs.
Robin Thicke "Give it 2 U"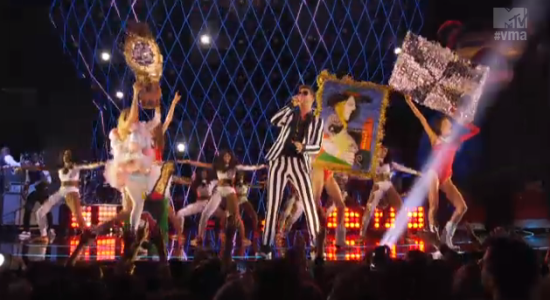 If you block out the parts where they kept flashing to Miley Cyrus ratchedness that included "fingering" herself and her uncle Robin Thicke with one of those foam "Number 1" fingers that you'd bring to a basketball game, I liked the part of Robin Thicke's performance when he got to "Give it 2 U." The song features 2 Chainz and Kendrick Lamar who were also there, although not getting any Miley action…which is probably a good thing. It's one of my hype songs that I play when I'm at the gym or motivating myself to mow the lawn…ya, that's my life, LOL. Style-wise, Robin Thicke rocked the Beetlejuice inspired black and white striped suit, too, and that's no easy feat.
…PAUSE…WTF??!!!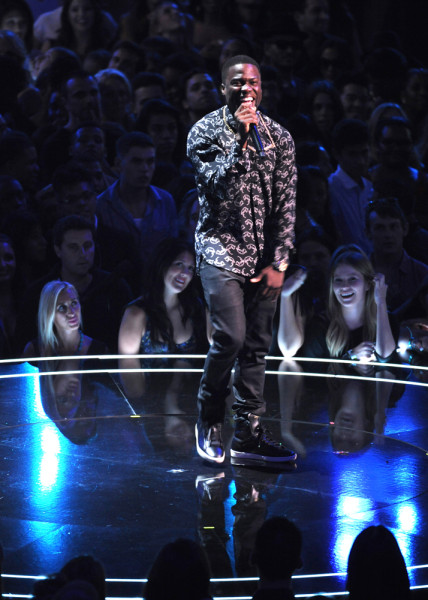 What was the point of Kevin Hart getting on stage? Was that just to kill time? So pointless and annoying. He did tell the truth when it came to Miley Cyrus and Robin Thicke.
…NOW CONTINUE…
Kanye West "Blood on the Leaves"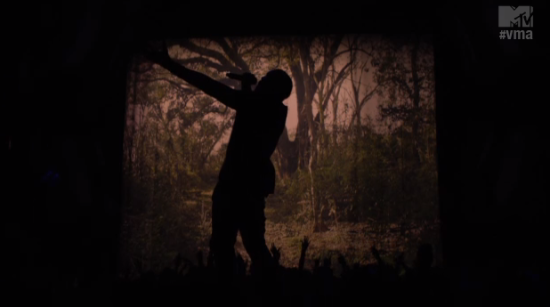 LOL! What a strange place to pick back up on my commentary.  😛 Kanye West brought his usual uncomfortably odd but also artistic – at least I think so – but also entertaining flavor to his performance of "Blood on the Leaves." After the MTV VMAs ended, however, I honestly nearly forgot he performed. He was upstaged by so many other artists. Yes, I said the man who calls himself "Yeezus" since he can't claim "Hova" because Jay-Z already took that spot on the hip-hop heavenly throne, wasn't all that memorable but still good.
Justin Timberlake wins Michael Jackson Video Vanguard Award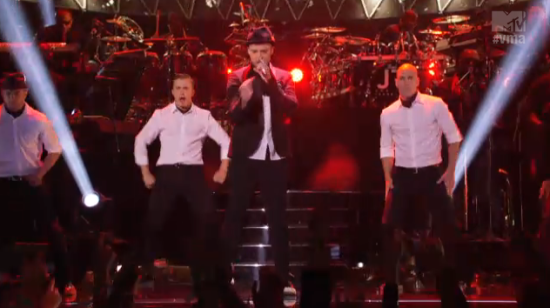 First of all, hands down, Justin Timberlake's 15-and-a-half minutes of awesomeness was the best performance of the night! I don't know if I'd consider Justin Timberlake a "video vanguard," but he has a shit ton of hits in his arsenal as both a solo artist and with *NSync. I honestly think that Michael Jackson was entertained by Justin Timberlake's MTV VMA performance all the way from the land of after life. JT can dance his ass off and command a stage!
I loved his slow spin on "Sexy Back" that erupted to its familiar form. It made me want to jump on Ticketmaster and buy tickets to his 20/20 Experience Tour with Jay-Z, but then I remembered how crazy expensive those tickets were and how quickly the good seats sold out.
"My Love" is one of my favorite Justin Timberlake songs. He did it enough justice in the medley except that his falsetto was a little off. What am I saying?!! JT then went into "Cry Me A River," and that song was super hot, too. Ha! It's funny to think he once dated Britney Spears, and that song was about her. Basically, we were treated to a mini concert that took us through his musical career ending with his most current songs of the "20/20 Experience" album. I would have LOVED to have been there to see it live. Sighhhh… One day, MTV. One day…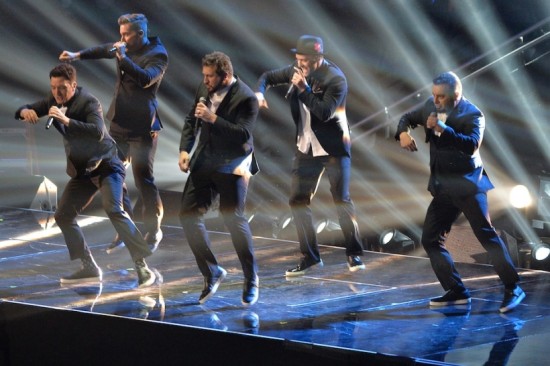 As anticipated, *NSync made their cameo albeit brief. They launched into typical boy band dance choreography while singing "Girlfriend" which is my favorite song by them. Predictably, they also performed "Bye Bye Bye." I always thought that song was corny, but it is also quintessential *NSync.
All that was missing at the end of Justin Timberlake's performance was him exclaiming "sexual chocolate" and then dropping the mic. 😕
Macklemore and Ryan Lewis "Same Love"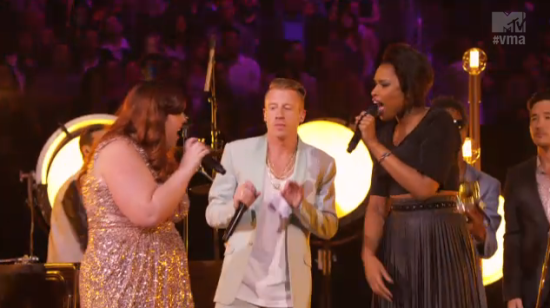 If you don't have Macklemore and Ryan Lewis' album, go download it right now, listen to every lyric of every song, and then come back and read this part of my blog post. I applaud Macklemore for pioneering a shift in hip-hop towards embracing the LGBT community rather than shun it. I absolutely love "Same Love." It speaks to my inner activist. Oh, and kudos to Macklemore for bringing Mary Lambert onstage. That didn't have to happen, but he made it happen. We seldom make exceptions for heavyset women, especially background vocalists, in entertainment. We omit them from music videos. During live performances entertainers have been known to bring in a "prettier" singer or just play the vocals. I hope Mary Lambert's career skyrockets even faster as the result of her VMA performance and being endorsed by Macklemore.
The icing on the cake was Jennifer Hudson doing a cameo at the end, going head to head with Mary Lambert. Who are we kdding? J-Hud trumps Mary Lambert, but she kept it balanced so as not to take away from her moment. So does that mean J-Hud openly embraces the LGBT community and stands for marriage equality? As if we didn't love J-Hud enough already!
Drake "Started from the Bottom"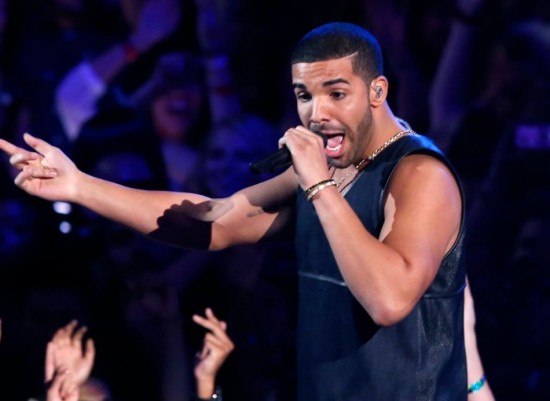 Barring Drake's opening snooze-fest with "Hold On, We're Going Home" he closed out strong with "Started from the Bottom." Talk about an anthem! This song is undoubtedly a hip-hop classic! Mark my words, in 20 years all you 20-somethings will be at your college reunions, weddings, and grown folks parties shaking your tailfeathers to this song and telling your kids about the good old days of hip-hop…and blaming your rusty dance moves on your pending knee replacement surgery.  😛 I'm not sure Drake really had to "perform" this song, and he didn't, really. It kind of carries itself. Everyone can relate to or dreams of the notion of overcoming a struggle and coming out on top. Plus, don't we all "wear every single chain even when I'm in the house?" LOL!
Bruno Mars "Gorilla"
Many of you know that Bruno Mars is my favorite current day artist. With that said, he really can do no wrong. I loved his performance, but it wasn't really MTV VMA flashy. Rather, it was authentic and soulful. Go figure! 😉  I'd like to see Bruno Mars win that Michael Jackson Video Vanguard award someday. Side note, "Gorilla" isn't one of my favorite Bruno Mars songs, but he can "sing the phone book and still be entertaining" as Simon Cowell would say.
Katy Perry "Roar"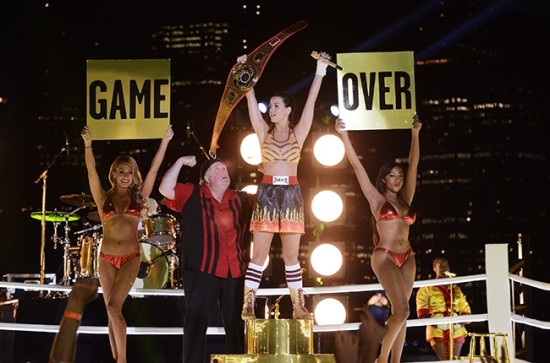 Well, what can I say? Katy Perry has come a long way since "California Gurls." Watching her perform "Roar" made me bump the song up on my favorites list. I loved the boxing theme. It really gave emphasis to "Roar." What a great anthem for girls! It was a perfect upper cut to the Miley Cyrus's debacle. Katy Perry's "Roar" performance could take on a title bout against one of Beyonce's or P!nk's power anthems any day. What a perfect way to the the MTV VMAs. Fist bumps to Katy Perry.
Other Stuff I Wanted to Say and/or See
This year's MTV VMAs was heavy on hip-hop and pop and devoid of rock.
fun. should've gotten an award or performed.
I thought Steven Colbert spilled the T on Daft Punk potentially performing at the MTV VMAs, but they just appeared, literally, with Pharrell and Rick James Nyle Rodgers when presenting the Best Female Video.
Macklemore and Ryan Lewis' song "Same Love" should've been nominated and won in one of the categories.
Who would you have liked to see perform?
What was your favorite part of the MTV VMAs?
Sound off in the comments!
Related Links