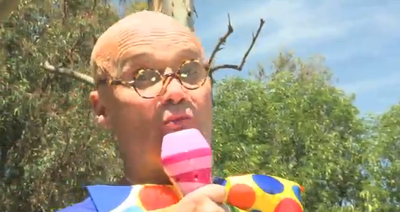 Leave it to Beaver Creed Bratton, best known as that suspicious elder fellow on NBC's "The Office," to premiere the first video from his "Tell Me About It" album on Funny or Die. The song "Move to Win" is from "Act III- A Funny Thing Happened on the Way to Obscurity" of his 3-part audio biography called "Tell Me About It" (see my blog "Interview 1/2: Creed from 'The Office' releases album 'Tell Me About It,' alien chickens, and more") is pure comedy to watch.
The video features the star of NBC's The Office, Creed Bratton and his band playing at a kids birthday party. (Hey, a gig is a gig!) Through the silliness, a message of inspiration shines brightly. While rocking a giant polka dotted bow tie, Creed and his bandmates headline at a 10 year old's birthday party. Watch as he shamelessly hits on the mothers, pushes kids in the pool, sets the piñata on fire, and steals a motor-scooter to make a quick exit. (source: Press Release)
Watch the video for "Move to Win" by Creed Bratton below:
All silliness aside, I interpret "Move to Win" as a song about life and taking an active part in the life that you are given. I love the lyrics in the chorus where Creed sings:
You better lace up your gloves.
You better cover your chin.
The hits will surely come in.
"Tell Me About It" is available for download via iTunes. The vinyl format of the album was released on June 1, 2013 and can be purchased by clicking on the "Music" tab of CreedBratton.com. He is even offering autographed vinyl copies for purchase!
Follow Creed on Twitter @CreedBratton.
Related articles on Ifelicious
Related Links