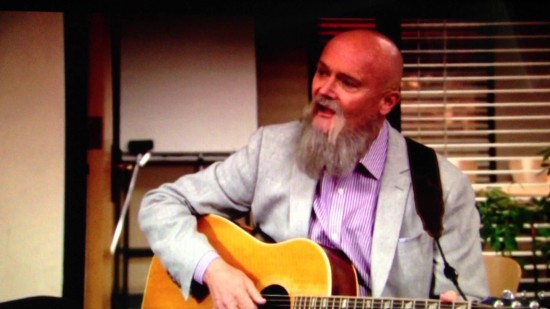 Time flies, doesn't it? On May, 16, 2013, "The Office" aired it's final episode after nine seasons on NBC. It's only been a month, and I still feel the void on Thursday nights. That's true sign of a classic.
Writing a series finale episode has got to be one of the most difficult things to do. NBC's "The Office" writing team handled their series finale with just the right level of humor and sentimentality. As Creed Bratton, who starred as his namesake on the show, shared with me in an exclusive interview, "We're going to punch the buttons, and we'll tie a little ribbon around the whole thing, and people will laugh. The will get a little emotional, [too]." At the time, I didn't know what he meant, but I kept going back to his comment as I watched the final episode.
My favorite line from the episode was when Andy Bernard (Ed Helms) says, "I wish there was a way to know you're in the good ole days before you've actually left them. Someone should write a song about that." Appropriately so, the final minutes do just that. The cast walks into the Dunder-Mifflin office to an underwear clad Creed, brushing his teeth and donning a long gray beard that is normally clean shaven. Then, they cut to all of the office cast gathered around a now dressed Creed holding a guitar and singing a song that starts out with:
I saw a friend today
It had been awhile
We forgot each other's names
But it didn't matter 'cause deep inside
The feelings still remained the same
A sentimentalist at heart, this was the moment I began to get emotional just as Creed promised.
The song is called "All the Faces" and is an original tune by Creed. It was released as a single on iTunes on the day after the finale (May 17, 2013). Check out the videos for it below.
"All the Faces" by Creed Bratton with a photo montage from "The Office"
Here he is performing it at Jon Chattman's A-Sides Music Series
Find Creed online: CreedBratton.com and Twitter @CreedBratton.