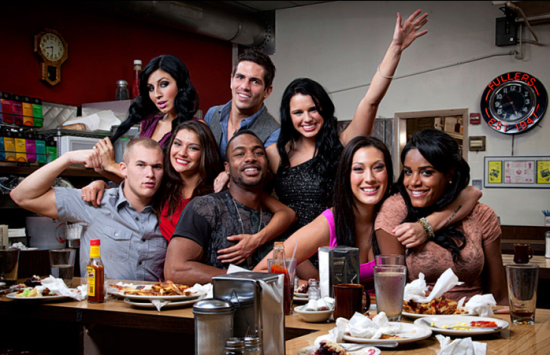 First of all, I know MTV's "The Challenge: Rivals II" has already filmed, cast revealed, and we'll be watching beginning July 10, 2013. I just wanted to pause and write this blog post since "The Real World: Portland" just ended, and I have my own thoughts on who I'd like to see on future Challenges. By golly, it's virtually the only reason I struggle through seasons of "The Real World" even though the series would qualify for hospice care at this point.
So, I decided to create a fantasy team of girls and guys from the Portland cast. At the end, you'll see who didn't make the cut on my fantasy team and why.
Ladies first… 😉
Girls from Real World: Portland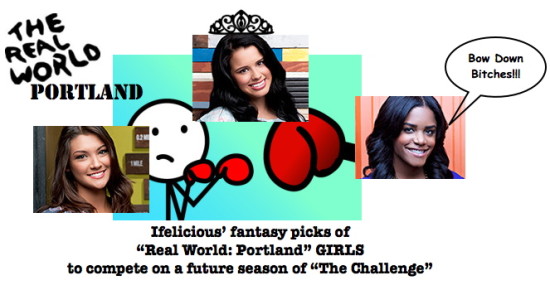 For the girls, Nia Moore and Averey Tressler could be fierce. I'd toss in Jessica McCain just because I think her southern belle, pageant girl (not sure if she did them but i wouldn't be surprised) ways would be fun in the especially hard challenges. Plus, you know she'd be pending marriage in the first episode to the first guy who paid her any attention…probably Wes, lmao!!!
Guys from Real World: Portland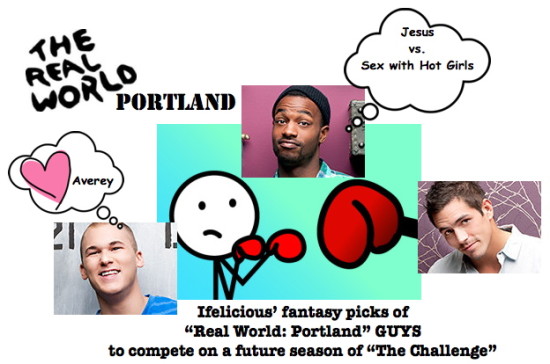 If I only had to pick one guy, it would be Jordan Wisely since his reason for living is to compete, overcompensate for his hand defect, and always be right. Johnny Reilly would be fun only if he's still dating Averey so that I could watch the other Challenge cast members plot how to get at least one of them to go home which would probably end their relationship as they're torn by cash versus love. I'd pick Marlon on a challenge if he ends up being a good competitor and also goes through a series of Challenge hookups followed by confessionals where he's repenting to Jesus. So, ultimately, all of the guys in some way from the "Real World: Portland" would work on a future Challenge.
Didn't Make the Cut
Anastasia Miller didn't make my fantasy team because I'm so over her whining about how everything is unfair and how people should get along. I know she means well, but she needs some actual "real world" experience to shed those rose colored glasses.
Disqualified
We didn't even get to know Joi Niemeyer because she bailed after like the second episode. Doing a season of the Real World is a cake walk compared to her decision to pose nude for Playboy. In my mind, she's disqualified forever.
Who from the "Real World: Portland" cast would you choose for your own fantasy Challenge team?
Read all of my blog posts about "The Real World" — CLICK HERE
Read all of my blog posts about "The Challenge" — CLICK HERE
UPDATE June 21, 2013: I just created a really comprehensive blog post about the cast for "The Challenge: Rivals II." Check it out!
MTV 'The Challenge: Rivals II'- trailer, cast, read my commentary, and vote in my polls