VH1 hasn't totally given up its roots in favor of shows like "Basketball Wives" and "Hollywood Exes." It's also harboring a sleeper hit worthy of a better than blurry-eyed time slot of Monday nights at midnight. I'm talking about the reality competition series "Smirnoff's Master of the Mix." Scooped up from Viacom sibling networks BET and Centric who aired the first couple of seasons, the reality series showcases some of the hottest DJs in the US nightclub and music scene. Kid Capri has been holding it down as a judge since the first season and is joined this season by judges Ben Maddahi and DJ Mia Moretti. This season takes place in one of the nation's hottest party cities, Miami, and hosted by an even hotter Amanda Seales. The show has also featured guest judges such as the EC Twins, DJ Irie, and Cut Chemist.
One of the show's finalists battling it out for a $250,000 grand prize is MC turned DJ Fly Guy (Fly Guy). He now represents Miami but is a Guyana native who has also lived in New York and Canada. In episode 6, Fly Guy rebounded and bypassed a double elimination that sent DJ Tina T and DJ Brian Dawe home after nearly "being scratched" in the previous episode where he was one of the bottom two alongside DJ Dimepiece.
Fly Guy took a moment to talk to me about his experience so far on "Smirnoff's Master of the Mix" and some of his other aspirations in the following interview.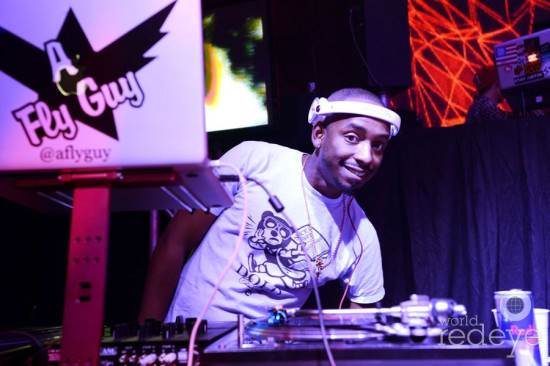 INTERVIEW WITH DJ FLY GUY
Ifelicious: I watched episode 5, and you were in the bottom two. What happened?
Fly Guy: Basically, there was this behind the scenes added pressure of, 'You're the hometown hero…You can't let the city down'…I think I went into the situation a little overconfident…instead of really focusing and putting more practice into the set that I wanted to do; and then because I went so late in the order, some of the songs that I wanted to use, other DJs used them before I had a chance to. So, kind of last minute, I kind of had to adjust my set.
Ifelicious: I always wonder, in any of these competition shows, in those last few seconds before they announce who's going home, what's going through your mind?
Fly Guy: We know if we did well and if we didn't do well because we get critiqued right afterward…In a situation like me…when you didn't get that positive feedback, you stand there. Your heart beats fast…It's a little nerve-wracking. It seems like on my face that those are fake expressions, but that's genuine relief.
Ifelicious: What made you decide to audition for 'Master of the Mix?'
Fly Guy: A friend of mine told me that they heard about the audition they were having in Miami…so I went. They basically told you, 'Do something hot in two minutes. Go'…If you were to ask me a year ago did I think that I would be on national television, especially on a DJ show, I wouldn't think so.
Ifelicious: I read that you were an MC before now and then got into DJing in more recent years. Do you think you would ever go back to being an MC?
Fly Guy: I'm actually working on a mixtape right now called 'Fly Code' which is a play off of the MTV show 'Guy Code'…The only reason why I stopped creating music back in 2009, anyway, was because I didn't like the direction that hip hop was going. Now, you've got artists like Kendrick Lamar and Joey Bada$$ this young kid out of Brooklyn putting out good music…There's still an audience for intelligent hip hop.
Ifelicious: I checked out a little of your old 'Georgetown' album. You're good. You're multi-talented. Do you think you'll always keep the DJ thing going as well?
Fly Guy: Ideally, I would like to put out an album like a DJ Khaled puts out where it's like a compilation of a whole bunch of different artists. The only difference is that I would actually be rapping on the tracks also.
Ifelicious: What has been the toughest challenge so far?
Fly Guy: [Episode 6] when we're DJing in pairs. We each have our own individual styles and techniques…Normally, when you have two DJs DJing together, there's usually two sets of equipment, two sets of turntables. You snake one turntable to the other one, but now you've got both DJs using one set of equipment.
Ifelicious: They've had a lot of guest judges and the judges themselves are notable in the industry. Was there anybody so far that you've been excited to meet?
Fly Guy: Kid Capri, the main judge…He is the epitome of what a DJ is and should be. He's iconic not only in the hip hop world but in the DJ world…I watched Kid Capri as a child, 11 or 12 years old, on 'Def Comedy Jam' on Friday nights on HBO…Now, to have an interaction with him in the same craft in the same world is unbelievable.
Ifelicious: You just released a mixtape 'Art and Soul.' Tell me about it. Is it all R&B?
Fly Guy: Yes, it's all R&B. It's geared towards ladies. It's all clean versions so that it can be played at the office or anywhere. I wanted to do something that's not quote-unquote 'ratchet.' Something mellow, something mature because I have series of mixtapes called FUC Tapes…Fun Under Covers…People know me from those, and I wanted to do something a little different.
Ifelicious: Who are some of your favorite R&B artists?
Fly Guy: I'm more into the 90s R&B…Jodeci, R. Kelly, Aaliyah. I even go back to like Anita Baker. Because I play so much rambunctious music at work every night, when I'm not at work, I listen to…real mellow stuff.
Ifelicious: I'm originally from Maryland and went to school in Baltimore. I read that you're into playing Baltimore house music as well. How did you get introduced to that sound?
Fly Guy: Me and a few friends of mine from New York…this is before I moved back to Miami, would throw parties in DC every weekend…and that's how I got exposed to Baltimore club music. Since then, I've always done it. I love the energy in it. Being Guyanese, our native music is called soca. It's a very high energy music, so it's kind of the same thing with Baltimore club.
Find out where DJ Fly Guy will be playing, listen to his mixtapes, and chat with him by checking out his website, Facebook page, SoundCloud page ("iamaflyguy"), and following him on Twitter (@AFlyGuy). Also, cheer for Fly Guy and the rest of the contestants each Monday night at midnight ET/PT, 11:00 PM CT during "Smirnoff's Master of the Mix" on VH1.
For more on "Smirnoff's Master of the Mix," check out the official website by Smirnoff, VH1 show page, and YouTube Channel.
UPDATE May 14, 2013: Sad to see DJ Fly Guy go. Here's his exit interview.
Related Links