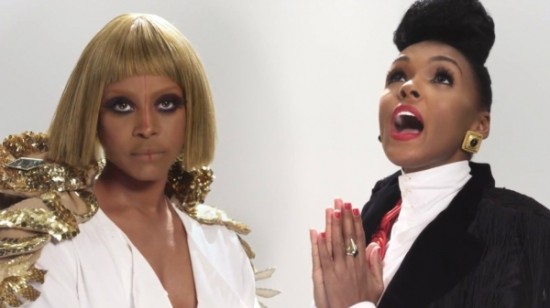 If you pair funk/soul/punk divas Janelle Monáe and Erykah Badu in a single track, the result is an instant hit. Not only are they great vocalists, their sense of style is something I admire and would emulate in a heartbeat if I could pull it off. Well, Janelle Monáe premiered the video "Q.U.E.E.N." on the May 1, 2013 episode of BET's "106 & Park." Within a day, it's at over 160 thousand views on YouTube, and I'm sure that number will grow exponentially as it climbs the music charts as well.
Janelle shared the following about her friendship with Erykah Badu and the song "Q.U.E.E.N" on "106 & Park:"
Erykah [Badu]…I just love her. We call each other twins…I talk to her on the phone at least three, four times a week…Q.U.E.E.N. It's an acronym, and I'll reveal what the acronym later on. Not today. Just later on because I want you to keep chantin'. It was really inspired by our private conversations. Dialog that she and I had and continue to have. The song poses a lot of questions. You can listen to the lyrics and you'll understand where I'm coming from…I think it's very important…that female appreciation remains…That more females collab, and we collab about things that inspire people and take people higher. -Janelle Monáe
I can't wait to find out the meaning for the Q.U.E.E.N. acronym!
Any guesses for what you think "Q.U.E.E.N." means? Share them in the comments section.
Check out the video below:
= = = =
VIDEO: "Q.U.E.E.N." by Janelle Monáe featuring Erykah Badu
(click here to view directly on YouTube)
= = = =
Here's an excerpt of the lyrics:
Hey brother can you save my soul from the devil?
Say is it weird to like the way she wear her tights?
And is it rude to wear my shades?
Am I a freak because I love watching Mary? (Maybe)

Hey sister am I good enough for your heaven?
Say will your God accept me in my black and white?
Will he approve the way I'm made?
Or should I reprogram the programming and get down?

Even if it makes others uncomfortable
I wanna love who I am… (source: DirectLyrics.com)

Watch the Janelle's full interview on "106 & Park" below:
"Janelle Monae stops by 106 to talk about the world premiere of her video, "Q.U.E.E.N.", working with Erykah Badu and her upcoming album, 'The Electric Lady.' Season 2013 (05/01/2013)"
This single will be on Janelle's "Electric Lady" album planned for release later this year (2013). I've seen Janelle Monae when she toured with Bruno Mars on the Hooligans in Wondaland tour, but I haven't seen Erykah Badu in concert yet. Shame on me! Maybe they'll tour together when Janelle's album is released.
Do you like the song and video for "Q.U.E.E.N." or not?
Related Links