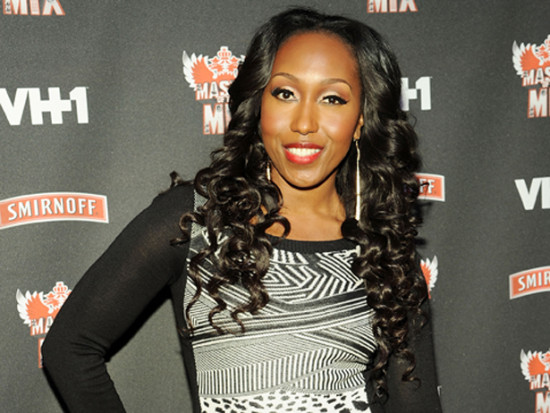 A great DJ takes us on an escape from their everyday reality, moves our feet, and moves our soul. Now in its third season and on a new network, "SMIRNOFF's Master of the Mix" is a reality competition on VH1 that seeks to award a single DJ possessing the skills to captivate the crowd with a $250,000 reward and "SMIRNOFF's Master of the Mix" title. Each week the DJs are presented with a challenge that they convert into a three-minute set in front of a live audience at Miami's Club Frequency. Their performances are critiqued by renowned industry judges Kid Capri, DJ Mia Moretti, Ben Maddahi, and special guest judges while Amanda Seales serves as show's host. At the end of each episode, the lowest performing DJ of the night is sent home.
= = = =
VIDEO: SMIRNOFF's Master of the Mix – Meet DJ Dimepiece
(click here to watch directly on YouTube)
= = = =
In the first episode, the judges made a cut from 19 DJs to 12 finalists. Among the finalists, is Chicago-based WGCI 107.5 radio personality DJ Dimepiece ("Dimepiece").  This "Mixen' Vixen" is one of only two female DJs who made the top 12 (DJ Tina T is the other female DJ) and represent in a male dominated profession. In the past two of the first four episodes, we've seen Dimepiece encounter technical issues during live competition, shed some tears, and learned a little of her backstory having lost both of her parents within the same year. Still, Dimepiece perseveres as one of the nation's greatest DJs, entrepreneurs, and role models for women. Oh, and don't get it twisted, either; the "DIME" in "Dimepiece" stands for Dedicated to Inspire and Motivate Everyday.
In my interview with Dimepiece we talked about her life on and off the show including her first single that just dropped called "Where my D.I.M.E.S. at?" (download via iTunes). If you haven't been watching "SMIRNOFF's Master of the Mix," set your DVRs for midnight on Monday nights ET/PT (11pm CT) and/or stream episodes on the "SMIRNOFF's Master of the Mix" homepage on VH1.com. Also, follow the show on Twitter @MasterOfTheMix and using hashtag #MasterOfTheMix. While you're at it, make sure you're following DJ Dimepiece on Twitter as well @DJDimepiece.
Interview
* * *
SMIRNOFF's MASTER OF THE MIX
Ifelicious: What made you decide to try out for 'SMIRNOFF's Master of the Mix?'
Dimepiece: I've never really been like a reality TV kind of girl, but I've always said that if I did, it would have to be about DJing. I didn't want to do the typical reality shows with the cattiness with the girls fighting with each other or the girls looking for love…I was going to try out last year. They had auditions in Detroit, and I'm in Chicago. I ended up having to work…This year, they had [auditions] here in Chicago. I auditioned, and now I'm here…A lot of people don't know what we have to do and go through, so I always thought it would be a great opportunity to be on this platform…showcase your skills and what you do and just your journey, your story on TV for the world. That's why I'm doing it. I'm just grateful to be on the show. It's been a dope experience thus far.
Ifelicious:  Who do you see as some of your toughest competition, given where we are at this point in the season?
Dimepiece: Honestly, and you can see that even on the show up until now, I can probably say it's me…Being on TV…you're being exposed. You're DJing in front of a crowd…You've got three judges staring you down…At the end of the day, it's a competition for a quarter of a million dollars…I'm always wondering, 'How am I going to perform when I hit that stage?' There's a lot of talent, obviously. I'm competing against the nation's top deejays, but I know I'm capable of doing it.
Ifelicious: Did you form any bonds with the other female deejays, either from the selection rounds or now that's it just you and DJ Tina T?
Dimepiece: There were five of us [girls] when we started, and then we learned that they were going to knock out seven DJs in the first episode. We got a chance to kind of chance to bond, but then again we were focused on the challenge at hand because we knew that it could be one of us that would be going home…Going into the second episode, Tina T and I connected because we were the only two girls left in the competition…but me Tina are literally like night and day.
Ifelicious:  DJ Hohme home was the first finalist to go home. I'm honestly surprised that they didn't send him home before that, but he does represent a new generation of DJing. Do you think what he brought to the show is a good representation of the next wave of DJs?
Dimepiece: DJing is becoming digital. Look, we're DJing with laptops. I mean, we still deal with the traditional turntables and records, but we're no longer only DJing with vinyl. It's controlled records that we use to manipulate mp3s from your laptop that you're able to play. So, it's definitely on that road towards digital…In his case, he DJs with an iPad. DJing is all about being innovative, creative, and different…but just like Kid Capri mentioned, in addition to doing that, you've still gotta bring something extra…I commend DJ Hohme. That was an app that he created and designed that manipulated the Serato interface, you know, the controls; but at the end of the day, there's still more than just doing that, especially to become a master of the mix.
Ifelicious: Win or lose this competition, what makes you master of the mix?
Dimepiece: I believe that the master of the mix is someone that does a little bit of everything. Someone that mix and scratch, rock a mic, and when I look at that I think, 'That's me.' I'm on radio. I also rock the mic at parties. I rock crowds. I come out with projects. I just feel like I have so many elements that make me more than just a typical DJ, and I love doing this…and I believe that I have a story. I have a struggle, so being on this show has more meaning to me than just going after a quarter of a million dollars…Just making it on the show, I feel like I've already won…I know it's real crazy because the way they edit it, they don't show our full set…but I can say, even with that, people can still see my personality and passion and desire every time I get on that stage, and to me that's what makes me a master of the mix.
Ifelicious: Yes, you can definitely see that so far. You mention that your parents have passed on. Do you mind me asking you to elaborate a little bit more on what happened to them?
Dimepiece: Even on the show and just personally, I don't [speak about the details]. It's only been a few years…I'm still grieving a little bit, so I don't really like to talk about the whole situation…I was very close with my mother, and one of the main reasons why I really really go so hard is because my father passed before in that same year my mother passed. On the day she passed, I had to actually go on the radio. It was the lowest point of my life ever. I remember it like yesterday. The only thing that I had to really carry on was to do my show. My boss was like, 'Hey, you know you don't have to come in today. This is tragic. Just a month ago, and now this. Please take your time,' and I was like, 'No, this is all I have.' Plus, she would want me to, and that literally got me through…I never gave up…DJing is literally a lifeline. It's kept me going.
Ifelicious: It's great to see someone dealing with adversity, whatever type it is, and saying, 'Look, I'm going to channel it and be successful because I ultimately believe in myself.' So, I think you have a good message there.
Dimepiece: Thank you.
WOMEN'S CONFERENCE AND D.I.M.E.S. NIGHT OUT
Ifelicious: What other projects do you have going on?
Dimepiece: I just held my first women's conference. I've always wanted to do something for the ladies. D.I.M.E. stands for Dedicate to Inspire and Motivate Everyday. It's crazy because throughout my career everyone always says, 'Oh, you're so inspiring and motivating.' I'm like, 'Oh, I'm just out here and not giving up and not using my adversity as an excuse'…I've lost a lot of weight within the past year, and people are like, 'Oh, you inspire me to want to work out and get out,' 'You inspire me to follow my dream,' or 'I lost my parents, and I thought my life was over. I wanted to do something to myself, or whatever, and you made me want to live on'…I'm more than what people consider a dime being cute on the outside. A dime should be a woman that is Dedicated to Inspire and Motivate Everyday even if it's just something small like smiling. The conference went really well. I'll actually be collaborating with Miss Jessie's and doing a DIME's night out next month here in Chicago.
RELEASE OF FIRST SINGLE
As we continued to talk about other projects Dimepiece has going on, she brought up the release of her very first single "Where My D.I.M.E.S. At?"
Dimepiece: I'm also releasing my new record. I'll actually be debuting it the week of April 22nd at the #MixShowLive. It's a DJ convention…in Las Vegas. So, now I'll be debuting myself as an artist in addition to as a DJ.
DIMEPIECE GEAR
As if doing the reality show, being a radio personality, and releasing her first single wasn't enough, Dimepiece also has her own branded apparel and accessories on Zazzle:
Dimepiece: You can see my branding on the show, like I'll have my Dimepiece necklace. I'll have my Dimepiece records. Dimepiece on my laptop, and now I have my own Dimepiece leggings, hoodies, sports bras, and bags. I'm just really trying to take it to the next level because I truly believe that anything is possible.
* * *
Cheer on DJ Dimepiece as she continues forward on "SMIRNOFF's Master of the Mix"  Season 3 by tuning in at midnight on Monday nights on VH1 ET/PT (11pm CT) or setting your DVR 'cause that's hella late for many of us. Check out her website DJDimepiece.com where you can download her mixes and find out about her latest projects. If you're in the Chicago listening area, check out DJ Dimepiece on WGCI 107.5 on Friday and Sunday nights.
= = = =
VIDEO: ThisIs50 interview. DJ Dimepiece talks Master of the Mix; Wants to be a global DJ
(click here to view directly on YouTube)
= = = =
Related Links