Who has 4 toes on his right foot because his adoptive Chinese parents bound his feet as a child, prefers to poop in the women's restroom, and can catch a fish with his bare hands? If you guessed the character Creed Bratton on NBC's "The Office" (read his character cast bio here), you get an Ifelicious gold star! In just a few weeks, we'll all be saying good bye to the quirky cast who somehow managed to keep Dunder Mifflin a reasonably viable paper business in Scranton, PA for 9 seasons all while being filmed for a documentary. Bratton, who is shares the same name as his character in real life, is one of original gems who has been there for all 9 seasons; yet, few know that it was Bratton who convinced the producers to shift him from the background to a speaking role that gave us memorable quotes like:
I'm not offended by homosexuality. In the '60s, I made love to many, many women, often outdoors, in the mud and the rain, and it's possible a man slipped in. There would be no way of knowing. -Creed, 'The Office' Season 3
He'll tell you that he'd be arrested if he were anything like his TV character, but I found his real life story absolutely fascinating. One of many colorful stories from Bratton's life was when he hitchhiked to Africa:
I tell everybody, 'Why would you ever go to Europe with only $25 in your pocket and then try to hitchhike down into Africa on foot. Why would you do that?…You could die!' I felt, at that time, that I was covered in life and I was surrounded by protection…I was going to be fine…I trusted my intuition, and I never over-analyzed it very much. I should write a book. All of my friends, all of my kids want me to. I just haven't gotten around to it. I look back and shake my head like everybody else, like wow, what a ride. -Creed Bratton in an interview with Ifelicious
In the first part of this 2-part interview series, Bratton and I talked about his life as a musician. He sang and played guitar for The Grass Roots, a rock band from the 60s who landed a gold record and top 10 Billboard hit with "Let's Live for Today." Bratton is still creating music and just released the first installment of "Tell Me About It" (find it on iTunes and Amazon). The entire album is being released in 3 acts with a few vignettes to tie it altogether into an audio-biography of Bratton.
For the second and final part of this interview series, I spent time talking to Bratton about what has become his greatest acting gig thus far as his namesake on the Emmy award winning mockumentary series "The Office."
* * *
Interview
THE OFFICE: ALPHA AND OMEGA
Ifelicious: You kind of bullied your way in, so to speak, into getting yourself a more significant part on 'The Office.'
Creed: I wrote my own part and submitted it to Greg Daniels and said, 'Here is what I can do.' That's what got me a shot because if I sat around in the background with all of those other talented people vying for attention, I would not have been given a shot.
Ifelicious: Here's a fan question from Seamus Cowan who asks, 'Which co-star's character is most like their real life personality?'
Creed: I would say John ("Jim Halpert") and Jenna ("Pam Beesly") are very close to who they are…Gabe [played by Zach Woods], his real personality is very similar to that personality. He's such a fun actor to work with.
Ifelicious: What should we expect from 'The Office' finale?
Creed: We're going to tie up all of the characters. We're going to complete the arcs. We're going to punch the buttons, and we'll tie a little ribbon around the whole thing, and people will laugh. They will get a little emotional, and it's going to be rather satisfying for sure.
= = = =
VIDEO: "The Office" – Classic Creed Moments
(click here to watch directly on YouTube)
= = = =
Ifelicious:  What will you be doing when the final episode airs? I know you've taped it already, but will you have a watch party?
Creed: No, we've already done that. We shot 12 hour days and working Saturdays and Sundays the last couple weeks [of taping]. We did a wrap party, and we all got together at a hotel with Greg and Stephen Merchant was there, and we all hugged each other, and said our good byes…and walked off into the sunset…Who knows? Greg Daniels may say, 'Come on over. We're going to watch it all together one more time. I, myself, don't have any plans.
We are all going together in Scranton on May 4th for the last convention party. That's to say good bye to the fans in Scranton…They're going to have an open convertible parade. They're going to have police escorts down main street Scranton. It's going to be a big to-do!
Ifelicious: You guys kind of put Scranton on the map with this show.
Creed: Well, I don't know if we put them on the map. We certainly gave them some publicity. Quid pro quo. We scratched each other's back, I would say.
ACCORDING TO CREED: ADVICE TO YOUNG HOLLYWOOD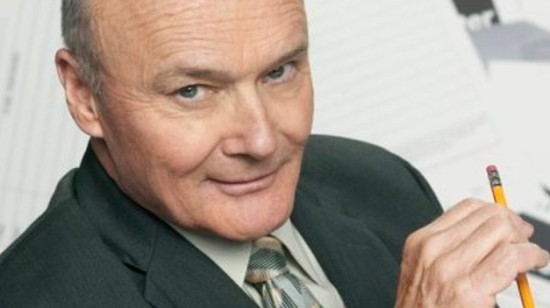 Ifelicious: I want to talk to you about people who are what I call 'just add water' fame. People who think that their only shot to be successful in entertainment is to make a sex tape or do a reality show and that's all they need. I was wondering what you thought of this newer generation…who are also fans of you and your role on 'The Office' and maybe even your music, too.
Creed: There's no shortcuts to this stuff…I think people should know their own voice, know what they have to offer, and spend quite a bit of time perfecting their craft, and then staying with it and not selling out…For me, it was the right place at the right time when this ('The Office') occurred, and if I had pushed it, if got up there and just leaned on it too hard, I could have alienated a bunch of people…and not ever got a shot…What you need will come to you when you need it, and I will stand on that. That's a fact, Jack!
= = = =
Creed, thanks for taking the time out of your busy schedule to talk to me. This was one of my most memorable interviews, and I want first dibs on writing your biography! May you give Betty White a run for her money, with regards to career longevity, as your career continues to soar. 😉
Find Creed Bratton online – CreedBratton.com and Twitter @CreedBratton.
= = = =
VIDEO: Screen Team Media – Creed Bratton "The Office" Season 9 Interview
(click here to view directly on YouTube)
= =
VIDEO: Viben on Films interviews Creed Bratton about the final season of "The Office"
(click here to watch directly on YouTube)
= =
VIDEO: I Am Stylin' interviews Creed Bratton at a SAG Awards gift suite (2011)
(click here to watch directly on YouTube)
= = = =
Related Links