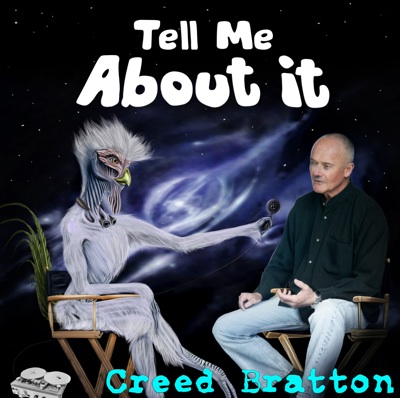 Besides playing spider solitaire and finding great joy in breaking the law as the character by his own name on NBC's hit comedy series "The Office," Creed Bratton in real life has been that of also a musician. Today, April 16, 2013 is the release date for Bratton's first of a 3-part album entitled "Tell Me About It." Each installment is called an "act" and follows a chronology of his life in a format that Bratton and his producers termed an "audio biography."
Tell Me About It

Act I – Let's Start Dancing
Act II – The Orange Juice Tastes Like Water (release date May 7, 2013)
Act III – A Funny Thing Happened on the Way to Obscurity (release date May 21, 2013)
Bratton recorded the album with his band mates The Rubbermen aka "3DVB." Throughout the album, Bratton speaks of his days on LSD, fancy cars and homelessness, and there's even a few comical vignettes with fellow original The Grass Roots band member PF Sloan and Rainn Wilson from "The Office."
"I approached my 6th solo album by writing with different writers I respected. So after The Rubbermen and I had started the album, Dave Way my producer said this is the story of your career. He said you should make this a concept album. He was right…..I hadn't even seen that side of it. So we went from there to approaching it that way. The 3 acts are like a play. It's a story that takes you along in a psychedelic way. 'Tell Me About It' …. an audio-biography indeed," says Bratton.
Bratton was one of the original members of the The Grass Roots, a 60s rock band that landed a top 10 hit with "Live For Today" originally released in 1967. Watch a video performance of the hit single.
Can you identify Creed Bratton in the video? I'm not sure I can. 😉
Does this song sound familiar to you? It did when I played it.
= = = =
= = = =
I recently sat down with Bratton and spoke about his music life and his TV life. Part 1 of 2 (1/2) here focuses on his music life.
* * *
Interview
= = = =
VIDEO: Creed Bratton sits with producer Dave Wade and talks about "Tell Me About It"
(click here to view directly on YouTube)
= = = =
ALIEN CHICKENS AND ALBUM COVERS
Ifelicious: Your 'Tell Me About It' album cover artwork caught my attention. What is the story behind that creature beside you?
Creed: We [humans] talk about aliens coming down…other life forms and such, and ask questions like…'How do you extend life? How many people are out there in the universe? How do you time travel?' Well, the question in the back of my mind was always, 'What does their chicken taste like?'…because you know how people say everything tastes like chicken.
Ifelicious: So what does an alien chicken taste like?
Creed: I do know what it tastes like, but I can't disclose that to you for contractual reasons.
Ifelicious: What? I'm confused.
Creed: (laughs) True story. I had gotten fixated about the concept of an alien chicken. One day, I had this walking daydream where I saw me sitting down, and I cook up this giant alien chicken, and it tasted like nothing I've ever had before. My album cover is just me doing an interview with this alien chicken from another planet, but in the back of my mind, I was just thinking that I couldn't wait to get him on a stick [to eat].
Ifelicious: Oh! That makes more sense, sort of. (laughs)
TOURING
Ifelicious: You've started a tour to promote 'Tell Me About It.' What songs do the audience seem to be the most connected to?
Creed: 'Unemployment Line'…'Heart of Darkness'…'When I Settle Down'…and 'Chemical Wings.' Also, there's also the first song that I wrote after leaving the Grass Roots which is not on the album, but I will probably release it as a single. The first time I performed that, the audience really seemed to like that, too.
IT'S PAST MY BEDTIME
Ifelicious: Based on that vignette I heard on your album with Rainn Wilson (aka 'Dwight Schrute'), when is the last time that you've hit up the awards after parties?
Creed: I don't drink. I'm not as crazy as the character I play [on 'The Office'], let's put it that way…I don't hang anymore. The longest I hung around was the night of the wrap party because I knew I was going to miss everybody.
= = = =
VIDEO: Snippet from episode of "The Office" where Creed shows off his guitar skills
(click here to view directly on YouTube)
= = = =
WHEN I SETTLE DOWN AND LEGACIES LEFT BEHIND
Ifelicious: I like that your third act of the audio biography closes out with 'When I Settle Down.'
Creed: It ties it all up, don't you think? It's kind of sad and it's also kind of positive, too, in it's own way.
Ifelicious: When I think of that song, I think of how you will be remembered. People will most likely remember you as Creed from 'The Office.'
Creed: Unless I get a 'Harry Potter' gig…That could happen, but you're right I'm always going to be Creed from 'The Office,' and that's a wonderful gift, isn't it?
Ifelicious: Yes, but I want to also know is what kind of legacy do you want to leave…when you settle down metaphorically speaking.
Creed: I'll probably work until I'm 85, maybe longer. You know, the human condition is an absurdity…I believe that through my music and the comedies I bring to people, I make them laugh, and I think that's a great gift, and I'm really lucky to be able to do it.
* * *
In the next and final part (2/2) of the interview series with Creed Bratton, I ask him about his 9 year run as an original cast member of NBC's "The Office."
Again, Act 1 of "Tell Me About It" is now available for download via iTunes.
Track Listing
= = = =
LISTEN to "Faded Spats" by Creed Bratton from "Tell Me About It: Act I"
FREE DOWNLOAD of this single via SoundCloud.
= = = =
Below is a track listing for the entire audio biography.
"Tell Me About It" by Creed Bratton
ACT I – Let's Start Dancing
1. One Guitar
2. Faded Spats
3. Chemical Wings
4. Yeah, Hi
ACT II – The Orange Juice Tastes Like Water
1. Pablo
2. PF Sloan
3. Unemployment Lines
4. My Name is Leon
5. Heart of Darkness
ACT III – Funny Thing Happen On The Way To Obscurity
1. Old Ruminations
2. Move to Win
3. Better on Top
4. Emmy Awards (featuring Rainn Wilson)
5. When I Settle Down
Related Links