"Blood Effects" Preview (as shown on Kickstarter)
***
Indie mockumentary thriller, presented as a film within a film, "Blood Effects" has launched a Kickstarter campaign, now through April 8, 2013, to raise the necessary funding needed for final editing. Featured in the cast and as a co-executive producer is Shar Jackson.  At the time of filming, she launched a production company called Phoenix Dragon with her dear friend actor/comedian Yvette Wilson ("Andell" on UPN's "Moesha") who passed away after losing her fight to cervical cancer last year. Many know Shar as the character Moesha's (singer Brandy Norwood) best friend Niecy on the UPN hit 90s sitcom "Moesha;"her relationship with Britney Spears' ex Kevin Federline that made tabloid fame; or on VH1's "Celebrity Fit Club" season 7. With "Blood Effects" being a film within a film, Shar plays herself and also the character Lisa.
"I consider this movie the horror version of 'Tropic Thunder,' a movie within a movie…I play Lisa.  It's kind of a play on 'Paranormal Activity' where there's this couple who are in this house and strange occurrences take place…We're kind of poking fun at it, but there's still some really scary stuff in it.  You have to follow it because when you watch 'Tropic Thunder' you can't look away, or you'll be confused.  You have to pay attention, and it'll take you on this journey that you didn't expect to be on," explained Shar in an exclusive interview.
Regarding Shar getting her "sea legs" as an executive producer, she shared:
"For a long time, I've wanted to get behind the scenes and be a part of that process as well. This is the first project that I actually do that. I'm an executive producer on it, so it was kind of sexy to switch hats from being an actress to a business person."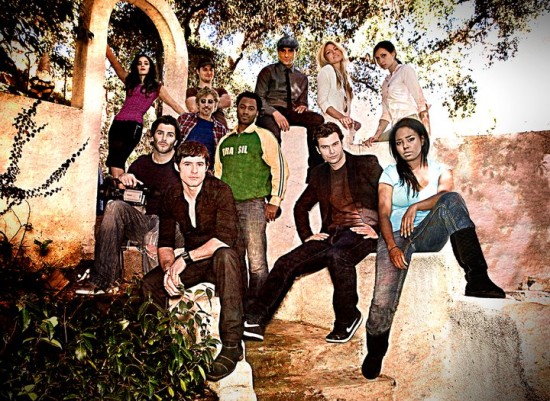 The script was written by artist/actor/writer/producer Kris Black who acted in and co-produced indie thriller flick "The House that Jack Built" released on DVD and soon to be filmed "Five Good Years" about a coal miner who turns to boxing in order help his mother suffering from multiple myeloma cancer.  In "Blood Effects," Kris also plays himself, an indie filmmaker, who is creating a thriller called "Dead Time."  I was surprised to learn that the content for "Dead Time" was based on a true story.  When asked what Kris's inspirations were for creating "Blood Effects," he replied:
"My inspirations for making the film are several. First, because I think with the success of 'Paranormal Activity' and 'Blair Witch,' people assume it's so easy to make a cheap horror film, so I wanted to make fun of that thought. Secondly, my sister, who the year prior to me writing the script had experienced intense paranormal activity at her apartment. Many of the scenes played out in the film actually happened to my sister. Lastly, I love the genre of mockumentaries. I'm a huge fan of Christopher Guest's and Wood Allen's styles of filmmaking."
"Blood Effects" was created via Four Two Five Films which is now under the umbrella of Broadway Media, a partnership with Kris Black and Bruce Reisman.  Bruce shares the co-executive producer credit with Shar and also appears in the film.
The rest of the main cast members are:  Jeremy Jackson, best known as Hobie on the 90s hit series "Baywatch" and on VH1's "Celebrity Rehab" season 5, as himself and Caleb- Lisa's husband; and Justin Shilton, best known as Josh in "Little Miss Sunshine," as himself and the character Sam.  For a listing the full cast, see the "Blood Effects" page on IMDB.
Again, the Kickstarter fundraising campaign for "Blood Effects" runs through April 8, 2013. Simply click on this Kickstarter page link or go to Kickstarter.com and search for "Blood Effects." They need to raise a total of $35,000 in order to make the film ready for release, and every dollar counts!