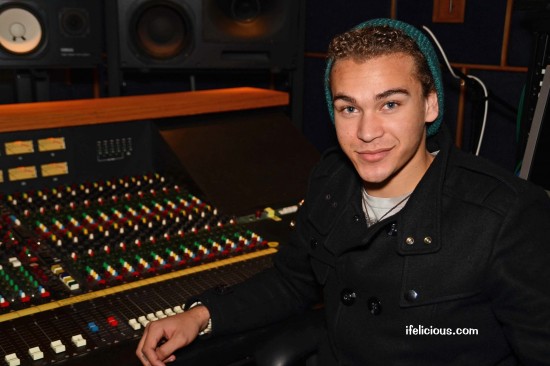 Hey DreDreamers!!!
If you follow my blog regularly, you'll remember that one of my favorite performances from the "American Idol" season 11 tour was DeAndre Brackensick's rendition of "Master Blaster (Jammin')" that he also rocked on Stevie Wonder night during season 11.  I was super hype when I ran into DeAndre trying to be inconspicuous at Turner Hall Ballroom in Milwaukee before the One Heartland "A Holiday in the Heartland" concert.  Naturally, I wanted to know what brought him to Milwaukee, in a snowstorm, when he lives in San Jose, CA.  It turns out that he'd been spending some time in Milwaukee recording music and came out that night to support fellow "Idol" alum and friend Naima Adedapo (season 10).  During the concert, Naima surprised us all by bring DeAndre onstage to perform a duet of "Jingle Bell Rock."
Ifelicious TV
DeAndre graciously agreed to AN EXCLUSIVE INTERVIEW!  I met him on a frigid Saturday afternoon at the recording studio where he'd be working for an on camera interview. In the video interview, DeAndre:
Answers fan questions submitted via Twitter from @withlove_KayKay and @DeAndresCurls,
Reflects on the "American Idol" season 11 tour,
Updates me on his current music pursuits,
Lets me know if he's still dating fellow season 11 "Idol" finalist Jessica Sanchez,
Discusses the new judge lineup for season 12, and
Offers advice to season 12 contestants.
See below… (click here to view directly on youtube)
Thanks to DeAndre and his management team for making this interview happen on such short notice and to you fans who sent in questions.  I'll be sure to keep you posted as I learn more about DeAndre's musical pursuits and whatever else may lie ahead for him.  I always thought that he had the perfect look to be on a Disney Channel or Nickelodeon program.
Read all of my American Idol blog posts, including interviews and concert photos — CLICK HERE.