Last night was not only the premiere for "Apollo Live" on BET, but it was also the second to last tour stop for BET's "Apollo Live" Lounge Tour.  Chicago's finest were brave enough to take the stage for a local edition of "Apollo Live" held at the Funky Buddha Lounge.  A total of 8 performers competed for a $250 American Express gift card based on an audience vote.  Performers also received constructive feedback from a panel of local judges that included 2 contestants will appear on"Apollo Live" this season .  If you stunk, the crowd booed and a Michael Jackson impersonator would dance you off the stage.  There were also a couple of featured performances from the judges' panel and BET trivia for drink tickets.  Speaking of which, congrats to those of you that mentioned my blog to event coordinator Tomika Hawkins and earned your 2 free drink tickets.  Hopefully, y'all will continue to show me love.  😀
Here's a recap of the night's festivities.  I apologize in advance if I've spelled someone's name incorrectly.  If you notice it, just let me know, and I'll make the correction.
The Performers
In the end, it came down to Mark Hood vs. Precious Smith.  My vote was for Mark who ultimately took the title, bragging rights, and AmEx gift card for $250.  Congratulations to Mark!!!
| | | | | | |
| --- | --- | --- | --- | --- | --- |
| | Name | Hometown | Song | Genre | Booed Off Stage? |
| 1.) | Caroline Davis | Roselle, IL | "I Refuse" (original piece) | R&B | YES |
| 2.) | Precious Smith | Chicago, IL | "Happy Place" (original piece) | R&B | NO |
| 3.) | Kenwood | Chicago, IL | "Cease Fire" (original piece) | RAP | NO |
| 4.) | Sheena G | Chicago, IL | "Cipher" (original piece) | RAP | NO |
| 5.) | Mark Hood | Chicago, IL | "Ordinary People" (John Legend) | R&B | NO |
| 6.) | Paris Louis | Chicago, IL | "Open My Heart" (Yolanda Adams) | GOSPEL | YES |
| 7.) | Larry Jones | Chicago, IL (suburbs) | "What's Going On" (Marvin Gaye) | R&B | NO |
| 8.) | Wendell Williams | Kansas City, MO | "A Song For You" (Donnie Hathaway) | R&B | NO |
The Judges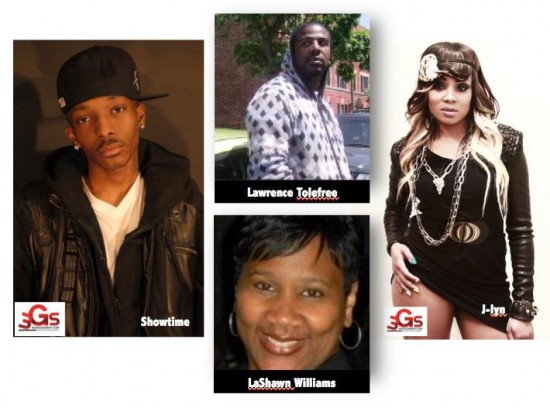 The judges' panel was made up of Chicago area celebrities including 2 who can be seen on this season of "Apollo Live."
"Binkey" (Lawrence Tolefree)
A poet, rapper, playwright, and actor who can be seen on the 2nd episode of BET's "Apollo Live."  He was also a featured performance for the night, hitting the stage after Paris with a freestyle rap over original vocally crafted beats.  It was pretty cool!  I have to give to Binky; he was a great crowd motivator who held no punches with his feedback to the competitors.  The crowd was a bit timid when it came to both applause, and booing and he used his confidence, wit, and willpower to keep it lively.  If an artist wasn't good, he didn't beat around the bush.
J-LYN (Twitter: @JLyn773)
A singer, model, actress that will also be featured on the second episode of BET's "Apollo Live."  She took the stage after Kennedy and sang an original piece about breaking up called "Loving You No More."  Even though she wasn't competing, I hope the competitors took notes because J-Lyn was hands down the best performance of the entire night.
LaShawn Williams (Twitter: @MsWilliamsWorld)
An Arts and Culture blogger for Gapers Block (GapersBlock.com) that covers a variety of topics and events celebrating Chicago living.  We exchanged a few tweets in the past few weeks before she revealed to me that she was a judge for the night's event, and I was glad to meet a fellow writer.  Her feedback to the contestants was honest but safe.
ShowTime (Twitter: @ShowTimeGMG)
A rapper signed to Twista's GMG record label.  He was there with another person from GMG who also served as a judge for the night.  The GMG squad, for lack of a better word, were at their best when giving feedback to the rappers who performed.
Photos
Here are a few photos I snapped with my iPhone at the event.  You can view more photos on the Apollo Live Lounge Tour Facebook page.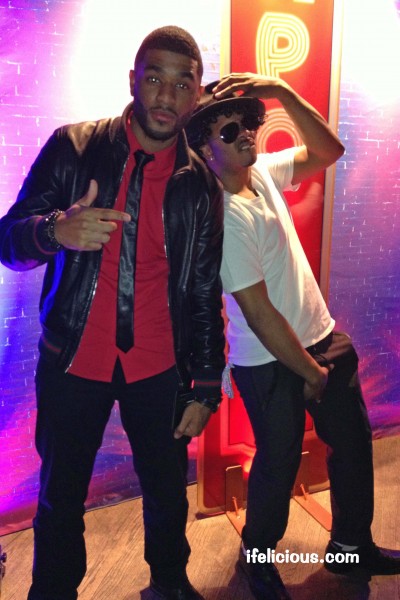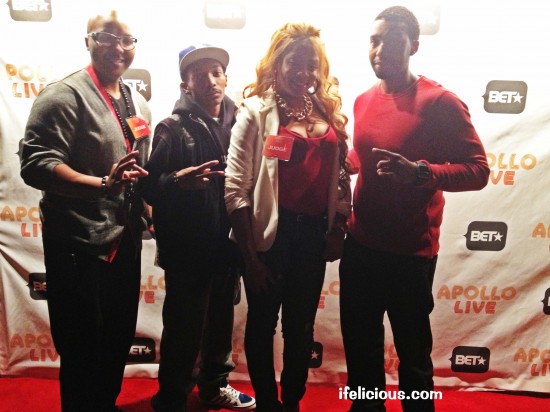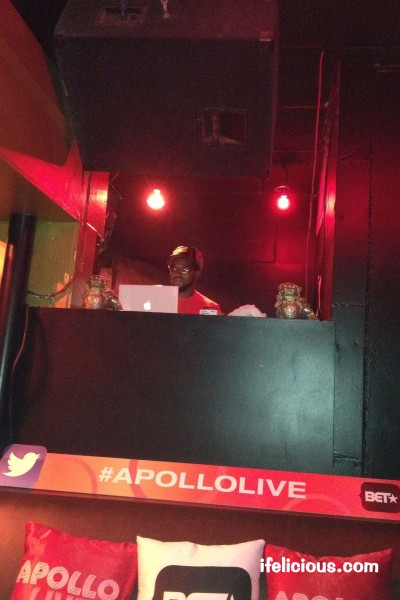 I haven't had the chance to see the first episode of "Apollo Live" because it also aired last night while I was en route to Chicago for the "Apollo Live" Lounge Tour.  I'm excited to watch it over the weekend and hope it gets good reviews and lots of internet buzz.  It would be nice for a show like this to get a revival.  I really enjoyed "It's Showtime at the Apollo" back in the day.
For more info on "Apollo Live" visit the show's website, follow @ApolloLiveTV on Twitter, and check out/use the #ApolloLive hashtag on Twitter.  "Apollo Live" is produced by Jamie Foxx, Marcus King, and John Weiner.  Tony Rock is the host.  Gladys Knight, Michael Bivins, and Doug E. Fresh are the show's judges.  "Apollo Live" will air 6 episodes on Thursday nights at 9/8c beginning November 29, 2012 on BET.
Related Links