The only thing I remember about "Saturday Night Live" growing up is that it came on before "It's Showtime at the Apollo" aired.  My favorite days were when Sinbad was hosting alongside the legendary Kiki Shepard.  It was every amateur's wish to avoid crowd boos that led to the signature siren sound followed by Sandman (RIP to Howard Sims) with his broom to sweep them off the Apollo Theater stage.  Not even rubbing the lucky wood from the Tree of Hope could save some of those folks, LOL!
Well, "It's Showtime at the Apollo" is back in a revamped format, sort of, and under a new show name "Apollo Live."  The first episode premieres TONIGHT (November 29, 2012) on BET at 8:00 PM/7:00 PM Central.  If you watch the "Soul Train Awards" this past weekend, a preview of "Apollo Live" aired right after the awards show.  To promote the show's revival, there's been an "Apollo Live" Tour  across major cities in the US featuring guest judges and local talent.  The talent is competing for a cash prize at the end of the night just as they would if they were on the actual TV show.  The show will also feature special guest performances.
GET FREE DRINKS at "Apollo Live" Lounge Tour: Chicago
TONIGHT (November 29, 2012), I will be checking out the "Apollo Live" Lounge Tour at Funky Buddha Lounge in Chicago.  If you'll be there, the first 3 people to find event organizer Tamika Hawkins and mention my blog "Ifelicious.com" will receive 2 FREE DRINK TICKETS!!!  I'm sure she'll be somewhere conspicuous, but here's her picture as a reference: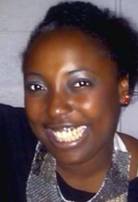 About "Apollo Live"
Comedian Tony Rock (yes, it's Chris Rock's brother) is the host for "Apollo Live."  The superstar judges/advisory panel is made up of Gladys Knight, Doug E. Fresh, Michael Bivins who will offer their feedback to contestants, but like the show's predecessor, it will ultimately be the crowd's response who will determine the night's winner.
Make sure to subscribe to this blog, follow me on Twitter (@ifelicious), and friend me on Facebook for a review of "Apollo Live" Lounge Tour: Chicago and of the new "Apollo Live" season airing on BET on Thursdays at 8/7c.  I'm excited to see how this show stands up against TV hits like "American Idol" and "The X Factor."
Did you see attend the "Apollo Live" Lounge Tour in your city?  How was it?
Have you seen "Apollo Live" on the BET Networks?  What do you think?
For more information about "Apollo Live," visit the show website and follow @ApolloLiveTV on Twitter.
Related Links