One of my favorite pop stars on the rise, Manika, has just released a video for her single "Good Girls" from her "Middle of Hollywood" EP.  Check out the press release below and watch her video. ~Ifelicious
VIDEO: "Good Girls" by Manika
(click here to view directly on YouTube)
Teen pop star Manika is one lucky girl, hot off the heels of a three month 20-date tour opening up for boy band sensation One Direction! The 18-year old artist just premiered her brand new music video for the single "Good Girls" from her new EP "The Middle of Hollywood" at AOL Music. The music video was shot by the man behind Justin Bieber's "Boyfriend" video, Director X, and features a cameo from Hollywood offspring and reality TV star Francesca Eastwood.
The show was great and Manika's set was fun… and I liked the Girl Power vibe…she's adorable. -People Magazine
Being on the road with One Direction exposed Manika to thousands of new fans and is stepping into the spotlight in a huge way. She's getting attention from major teen and mainstream media outlets like Seventeen, OK!, Just Jared Jr., AOL Music, Celebuzz, Buzznet, Twist Magazine, Popstar!, Girls Life and more!
Bringing a fresh, edgy vibe to mainstream pop and unafraid to boldly speak her mind, 18-year-old vocal powerhouse Manika released her new EP, "The Middle of Hollywood" on May 22, 2012, the same day her tour began with One Direction. Manika was discovered by the late Frank DiLeo, Michael Jackson's long-time manager, and revered-music coach CeCe Sammy of UK's "Pop Idol," who now manages her. Manika's mixed heritage includes Filipino, Japanese, Chinese, Malaysian and Spanish which brings intelligence, wit and tons of emotional life experiences to her songs.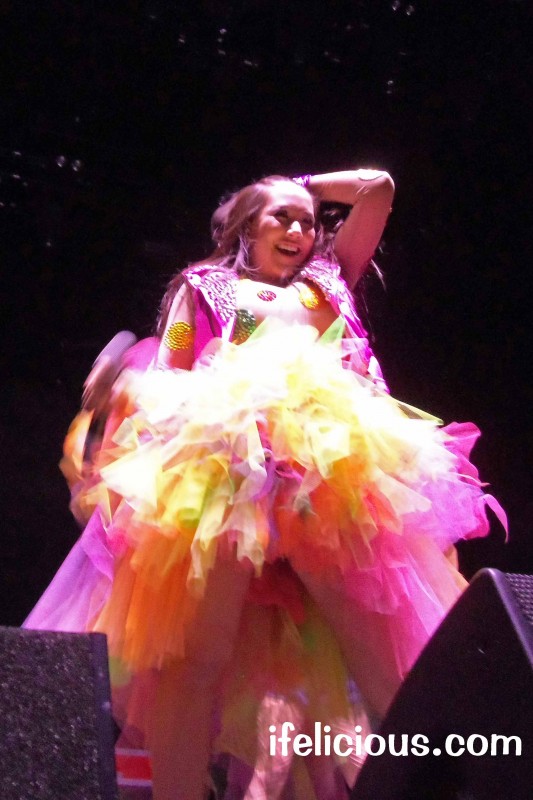 Manika is a style icon for young girls with her signature fluffy tutu, specially-made by celebrity stylist Brett Alan Nelson. The star also designs her own intricate nail art for each show done by nail artist to the stars, Kimmie Kyees (Katy Perry, Britney Spears) and bedazzles her own clothing so she rocks girl power head-to-toe.
(source: 'Stache Media)
Connect with Manika online: official website, Facebook fan page, and Twitter @ManikaOfficial.
Read all of my blog posts, including exclusive interviews and concert footage, with Manika — CLICK HERE.
Related Links