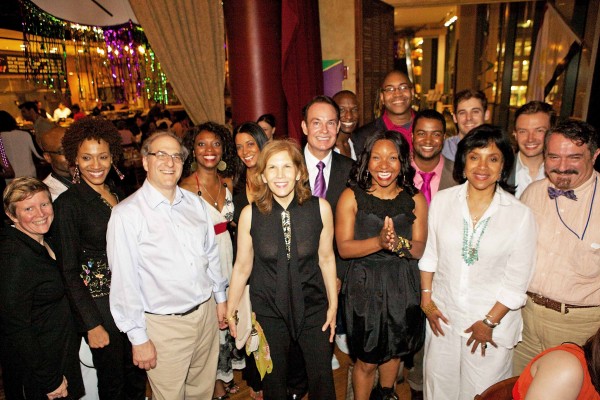 In "Immediate Family," playwright Paul Oakley Stovall depicts a typical black family forced to confront their not always so comfortable truths of sexuality, infidelity, and fertility that tests their value system with constructs in religion, tradition, heritage and Afrocentrism.  Painful truths come to light as the Bryant siblings and family acquaintances gather the day before a family wedding.  "Immediate Family" is currently showing at Chicago's Goodman Theater and will run through August 5, 2012.  It is directed by Phylicia "Claire Huxtable" Rashad, a two-time Emmy nominee and Tony Award winner and is one of the best contemporary plays that I've seen to date.  It is my personal hope that the show will get an opportunity to tour nationally so that even more people can bear witness to this very timely, relevant play for our current generations.
Playwright Paul Oakley Stovall masterfully uses humor to beam a critical spotlight on the aforementioned taboo topics with a cast of characters that represent the diversity of popular opinion within them.  It was somewhat reminiscent of how Tyler Perry has tackled aspects of the black family through the characters he's created in his plays, television series', and films without the degree of downright slapstick comedy or a cross dressing black man portraying the matriarch.  It also reminded me of Maurice Jamal's film "Dirty Laundry" in how he sheds light on similar taboo topics within a southern black family.  At the same time, it took me back to age old views that are still relevant today as there were in 1967 when the film "Guess Who's Coming to Dinner" was released.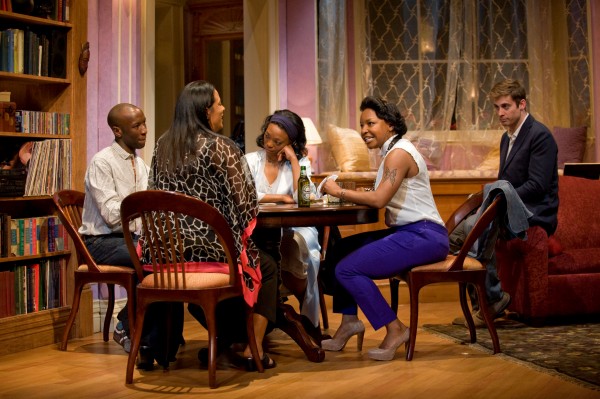 When I was told the play runs for 90 minutes without intermission, I was a little skeptical.  As soon as the first line was uttered, however, I was completely absorbed in the story without any regard to the time.  That says a lot for a play that's set in a fairly small theater with no set changes and very few moments of music accompaniment.  From my own critical vantage point, that's a true indication of a well written story brought to life by some damn good actors.  I also have a twisted kinship with productions highlighting family dysfunction, and the Bryants in "Immediate Family" were no exception.  My only criticism was that it took a while to figure out how the characters were related to each other which was distracting to the overall storyline.
The audience laughed hysterically as the "blemishes" inherent in many black families, let alone families of all backgrounds, were revealed against the backdrops of a game of bid whist, booze, original artwork, James Baldwin's "Giovanni's Room," a school black history lesson, and photographer friend of Jesse's named Kristian whose presence is the last fingernail swipe on the dangling scab covering the Bryant family wounds and secrets that causes it to fall away and bleed uncontrollably.  Nina Cole (J. Nicole Brooks), a family friend and out lesbian, provides a constant source of comic relief with her life-of-the-party antics and brutal yet witty honesty.  Similarly, groom-to-be Tony, the immature, presumably younger brother, provides levity along with some deftly honest lines that at times had some members of the audience audibly exclaiming "mm-hmm" as a natural reflex and reminder that even supporters of the arts can be homophobic.
Ultimately, it seems like Evy has the most room for growth when her beliefs, traditions, and values are challenged.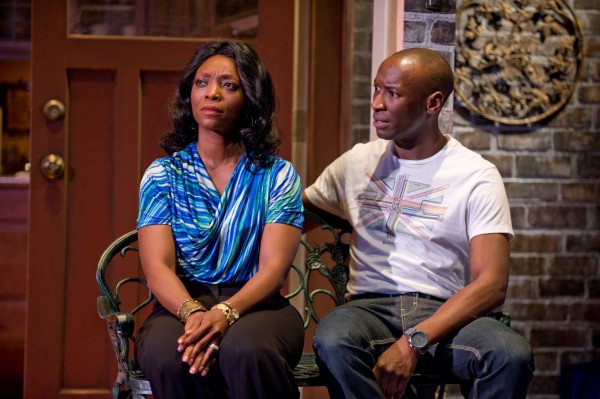 Evy — Shanésia Davis
Tony — Kamal Angelo Bolden
Jesse — Phillip James Brannon
Ronnie — Cynda Williams (although the night i viewed the play the role was played by understudy Kim Beavers)
Nina — J. Nicole Brooks
Kristian — Patrick Sarb
Playwright:  Paul Oakley Stovall
Director:  Phylicia Rashad
For the rest of the supporting production team, showtimes, and more information go to the "Immediate Family" official website.
VIDEO: Q&A with Director Phylicia Rashad and Cast of "Immediate Family"
(click here to view directly on YouTube)
VIDEO: ABC7 Interview with Phylicia Rashad About "Immediate Family"
(click here to view directly on ABC's website)
Related Links