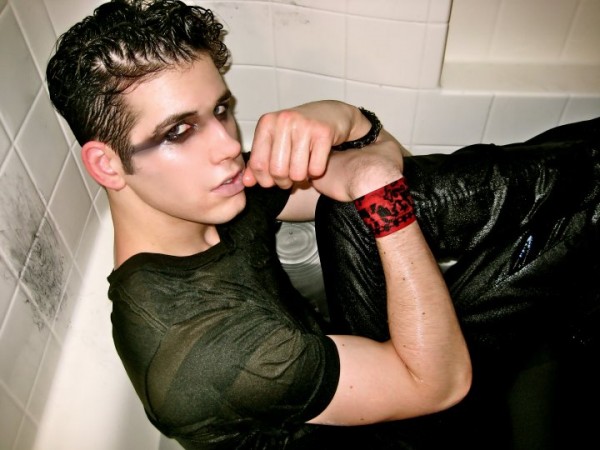 From the pop boy band-esque single "I Won't Let You Go" to a darker, more gritty rock/pop Adam Lambert-esque single "Like A Drug," Adam Tyler shows us his range on his debut album "Shattered Ice" released back in August 2011 (download via iTunes or his website).   Dance music fans can also enjoy a collection of "Like A Drug" remixes (download via iTunes or his website) that were released this past March.
VIDEO: "Like A Drug" by Adam Tyler
(click here to watch directly on YouTube)
VIDEO: "I Wont' Let You Go" by Adam Tyler"
(click here to watch directly on YouTube)
A Missouri native, Adam dropped out of the prestigious Berklee College of Music after a year, had an experience reminiscent of Tom Hanks' character in "The Terminal" when trying to move out to London, and ultimately wound up settling down in LA to launch his music career.  In this interview, Adam talks about his music career.
INTERVIEW WITH ADAM TYLER
GETTING STARTED IN THE MUSIC INDUSTRY

Ifelicious:  Why did you drop out of Berklee College of Music?
Adam:  I learned a ton at Berklee.  It's a phenomenal school, but I just felt, at the time, that I needed another avenue for me musically.
Ifelicious:  I also read about you moving out to London but getting stopped at the airport and having to go back to the US.  What happened?  Was it a visa thing?
Adam:  Yes, it was a nightmare, to be honest.  I was really young, and I was by myself, so I was kind of clueless as to how it would all work out.  I was going there because I had auditions set up with different music groups and managers…we planned on having me stay there for quite a while but not over the limit that you can stay in Europe.  I got there, and I guess they were suspicious of me getting work…So, they ended up flying me straight back [to the US] the next day.  They put me in this room for half the day. and then they took a bunch of us in this caged van to a, I don't even know what it was, it was like a holding chamber for people…I remember you got like one phone call and I was thinking, 'This is insane!  I feel like a criminal.  All I want to do is sing.'  I'm a firm believer that everything happens for a reason, so if that didn't happen I wouldn't have ended up going out to LA and meeting my producer from my current album.
Ifelicious:  Every success story has its hurdles and hiccups and random things like that.  This is just part of your story.  Your life mosaic.
SoundCloud Playlist: Sampling of Adam Tyler's Music
(click here to listen directly on SoundCloud)
Latest tracks by adamtylermusic
"SHATTERED ICE" ALBUM
Ifelicious:  Who's the producer on your 'Shattered Ice' album?
Adam:  Sky Felix produced most of the songs on my album and a producer that I actually met online.  His name is Trendsetter [aka Mark Holiday]…then we had one of Sky's friends…co-produce a couple of them, and then I co-produced a couple of tracks with Sky.
Ifelicious:  Did Sky also do the remixes for 'Like A Drug,' or was that someone else?
Adam:  No…there were a lot of different DJs and producers from around the world.  Like, Monikkr did the remix that's kind of 'dubsteppy.'  He's from New York…a couple of guys from Europe [named] Firebeatz did one that's really 'dancey.'
ADAM'S MUSIC STYLE
Ifelicious:  I really like the song 'Like A Drug'…It sounds like Adam Lambert…Has anyone else said that to you?
Adam:  Yes, I've gotten that comparison about 'Like A Drug.'  I think it's just for 'Like A Drug' because 'I Won't Let You Go' which is the single and video I released before 'Like A Drug,' it's much lighter…'Like A Drug' is very intense as far as how I command the song.  It's quite dark, and Adam Lambert also does the whole like eyeliner thing, and I've also been playing with face paint and makeup and kind of crazy looks like that for years, so I can kind of see that comparison, but I think Adam Lambert's probably one of the best male vocalists right now.  So, to be compared to him in any way is an honor.
Ifelicious:  The Adam I hear in 'Like A Drug' and 'I Won't Let You Go' are like two different Adams.  How do you help fans make sense of this?  Which space do you want to position yourself as an artist?
Adam:  As far as my album goes 'Shattered Ice,' it's quite all over the board as far as themes because there's songs about love, there's songs about hate and sex and life and music.  So, the album to me is kind of more of an introduction piece.
Ifelicious:  When I hear some of your slower songs, I hear kind of a boy band sound.  Have you ever considered joining up with a boy band, or do you want to remain a solo artist?
Adam:  The reason why I originally moved out to LA was to be in a boy band.  I auditioned online and then I ended up moving out there…I don't think they've done anything, but I was with them for a year, and we recorded a bunch of songs.  I loved the whole process and it was definitely my first foot into the music industry, so it was a great learning experience for me, but it got to the point where I kind of wanted to do my own type of music…I just wanted to do the pop/electronic music because that's what I'm so passionate about…Since I've been able to do the solo thing…I get to be who I want and I don't have to conform to an image of a group or anything.  I think I prefer that because it gives me more freedom as an artist.
NEW MUSIC

Ifelicious:  Are you working on any new music right now?
Adam:  Yes, well I'm always writing.  Even when the album was just released, I was still writing…I'm working on a couple of new songs at the moment.  One's going to be produced by Sky who did the album.  It's still pop, but it's a little more dance compared to the album which I think I'm just naturally moving towards because the [Winter Music Conference] in Miami influenced me.
* * *
Thanks, Adam, for the great interview!  You can check out Adam's upcoming performances, newly released music, and more by:
He's also gotten involved with one of the Raise the Roof projects that is raising funds to build the Barut Development Center that will function as a school and community center.  You can make a donation via Adam's personal fundraising site on Virgin Money Giving.  At the moment, he's doing a series of live challenges via Stickam to help raise awareness about this charity.  See his Facebook page and/or Twitter feed for more details.
Related Links