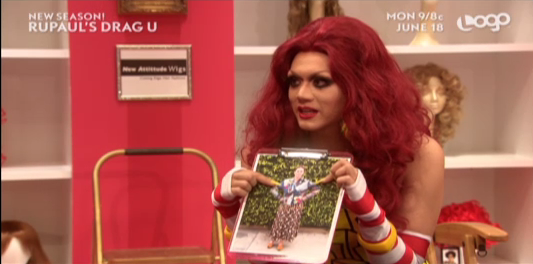 I know.  I know.  We've all talked about the programming changes at Logo, but one thing is for certain, "the house" that is RuPaul and her fabulous shows "RuPaul's Drag Race" and "RuPaul's Drag U" aren't going anywhere!  In fact, tonight season 3 of "RuPaul's Drag U" kicks off at 9 PM ET/PT on Logo.  "Knots Landing" actress Donna Mills is guest starring on the first episode and instructors include Miss Congeniality award winner and my personal fave from season 4 of "RuPaul's Drag Race" (RPDR),  Latrice Royale, along with alumni Manila Luzon (RPDR season 3) and Jujubee (RPDR season 2).
via press release…
Television's most fabulous makeover show is back…and totally revamped! The third season of "RuPaul's DragU" delivers more diva transformations, more drag queens and more surprises as biological women are treated not only to show-stopping makeovers, but also receive once-in-a-lifetime, real-world hair, makeup and fashion tips from the world's greatest drag faculty. This season continues to deliver fan favorite drag queens, more iconic celebrity judges and life-changing stories as eight new, one-hour episodes premiere on Monday, June 18 at 9PM ET/9 PM PT on Logo.
In the premiere episode, "Real Divorcees of LA County," RuPaul is joined by professors Latrice Royale, Jujubee, and Manila Luzon to teach drab divorcees how to sparkle by applying drag queen beauty secrets. Donna Mills guest stars.
Join RuPaul for a season of inspirational stories as women regain their self-esteem and develop the self-acceptance they need to jump to the head of the class. The season three faculty includes: Latrice Royale, JuJubee, Manila Luzon, Raja, Raven, Shannel, Alexis Mateo, Mariah, Chad Michaels, Willam, Morgan McMichaels, Pandora Boxx, Delta Work and Sharon Needles. And, of course, Lady Bunny returns as the "Dean of Drag" to dispense her "Lady Lessons." This new season also welcomes guest choreographers to take on the role of "Dean of Dance" including Candis Cayne, Jamal Sims, Adam Cook and Phlex.
This season will also feature visiting celebrity professors including: Brittany Show, Holly Robinson-Peete, Angela Kinsey, Joely Fisher, Tamara Taylor, Robin Givens and Tamala Jones.
Who are you excited to see this season?
Connect with RuPaul's Drag U online- Show Website: RuPaul's Drag U > Season 3, Facebook: RuPaul's Drag U, Twitter: @RuPaulsDragU and using the twitter hashtag #DragU.
Episode 1 Sneak Peek #1
Episode 1 Sneak Peek #2
Related Links