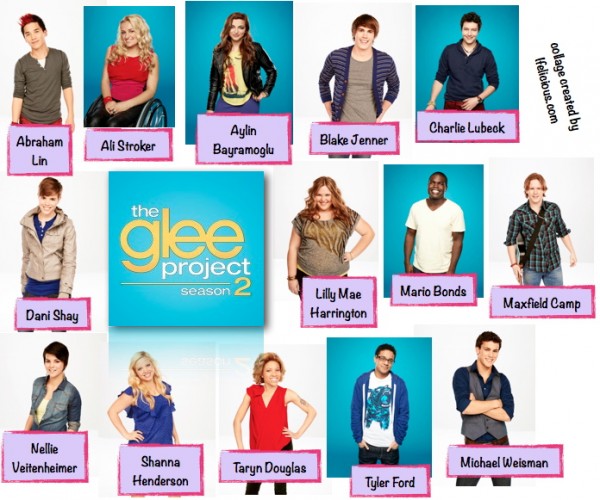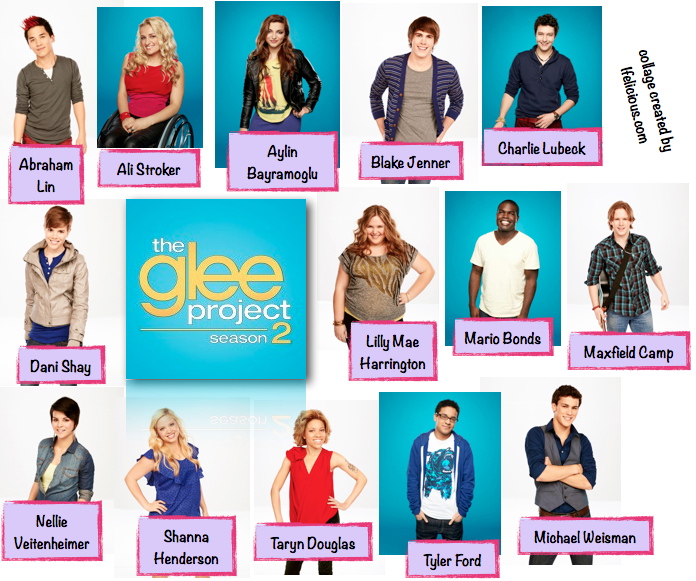 A second season of "The Glee Project" is now underway, on Tuesdays at 10:00 PM ET/9:00 PM CT on Oxygen, with a new cast of what began as 14 hopefuls vying for a guest role on the hit series "Glee." At the time of this post, an "American Idol"-esque casting special aired on June 2, 2012 followed by the first official episode on June 5, 2012 with the theme "Individuality."  Their first homework assignment was to perform Lady Gaga's "Born This Way" for Robert Ulrich and guest mentor Lea Michele from FOX's "Glee."  Their first group number was "Here I Go Again" by Whitesnake.  Shanna Henderson proved to be a strong contender out of the gate by winning both the homework challenge and the group performance.  Episode 1's bottom three were Tyler Ford, Aylin Bayramoglu, and Maxfield Camp.  Ultimately, Maxfield went home.
Episode 2's focus is "Dance-ability" so we'll see how this season's cast will shake their tail feathers under the choreography of Zach Woodlee and Brook Lipton.
The Glee Project, Season 2's first video: "The Edge of Glory"
(click here to watch directly on YouTube)
Not fully up to date on season 2 of "The Glee Project" just yet?  I've made a collage at the top of this post with all of the full names and faces from the season and put their hometowns and online info for each contestant below.
The Glee Project, Season 2 Cast
ABRAHAM LIM
Hometown-Queens, NY/San Diego, CA
Facebook- Abraham Lim
Twitter- @realabrahamlim
YouTube- therealabraham
ALI STROKER
Hometown- New York, NY
Facebook- Ali Stroker
Twitter- @ALISTROKER
Website- alistroker.com
AYLIN BAYRAMOGLU
Hometown- Chicago, IL
Facebook- Aylin Bayramoglu
Twitter- @AylinSings
BLAKE JENNER
Hometown- Miami, FL
Facebook- Blake Jenner
Twitter- @Blake_Jenner
Website- blakejenner.com
CHARLIE LUBECK
Hometown- Chicago, IL
Facebook- Charlie Lubeck
Twitter- @Charlie_Lubeck
Website- charlielubeck.com
DANI SHAY
Hometown- Orlando, FL
Facebook- Abraham Lim
Twitter- @danishay
Website- danishay.com
LILY MAE HARRINGTON
Hometown- Cape Cod, MA
Facebook- Lily Mae Harrington
Twitter- @lilymaeh
MARIO BONDS ("Arnauz")
Hometown- Lanham, MD
Facebook- Mario AKA Arnauz
Twitter- @Arnauz
YouTube- TheArnauz
MAXFIELD CAMP
Hometown- Nashville, TN
Facebook- Maxfield Camp
Twitter- @maxfieldcamp
ReverbNation- Maxfield Camp
MICHAEL WEISMAN
Hometown- Chicago, IL
Facebook- Michael Weisman
Twitter- @mfweisman
NELLIE VEITENHEIMER
Hometown- Tacoma, WA
Facebook- Nellie Veitenheimer
Twitter- @nellielisabeth
Tumblr- nva.tumblr.com
YouTube- NelliElisabeth
SHANNA HENDERSON
Hometown- Auburn, AL
Facebook- Shanna Henderson
Twitter- @ShannaHenderson
TARYN MYCHAL MAI
Hometown- Detroit, MI
Facebook- Taryn Mai Fan Club
Twitter- @TarynMychalMai
YouTube- TarynMai
ReverbNation- Taryn Mychal Mai
TYLER FORD
Hometown- Boca Raton, FL
Facebook- Tyler Ford
Twitter- @tywrent
Website- alistroker.com
Season 2 "I Am" Promo
(click here to watch directly on youtube)
Who are your Season 2 Favorites?
I'd love you to comment with your season favorites so far.  As of episode 1, I'd say I have my eye on Abraham Lim (Twitter hashtag #teamABRAHAM), Mario Bonds (Twitter hashtag #teamMARIO), Ali Stroker (Twitter hashtag #teamAli), and Blake Jenner (Twitter hashtag #teamBLAKE).  I'm raising an eyebrow for Shanna Henderson (Twitter hashtag #teamSHANNA) and Aylin Bayramoglu (Twitter hashtag #teamAYLIN)- meaning there's something about them, but I think there's more to be revealed as the season develops.  Aylin belted hell out of ballad version of David Guetta's "Without You" for Ryan Murphy, but I'm not sure about this flirtiness to her personality is going to work well in her favor as the judges seem to be thinking.  We shall see…
Connect with The Glee Project via Social Media- Facebook: The Glee Project, Twitter: @TheGleeProject (hashtag #TheGleeProject), Website: thegleeproject.oxygen.com, YouTube: TheGleeProject, and Tumblr: TheGleeProject.tumblr.com.
Trailer for "The Glee Project" Season 2
(click here to watch directly on youtube)
Related Links
Read all of my blog posts related to "The Glee Project" – CLICK HERE and "Glee" – CLICK HERE.
Bonus Footage!!!

Fellow Gleeks, shut the front door! Oh yes I did get red carpet interviews with Damian McGinty, Cameron Mitchell, Lindsay Pearce, and Bryce Vine from "The Glee Project" Season 1 at the 2012 NewNowNext Awards. *sassy black girl neck roll* LOL! Check them out below:
The Glee Project Season 1 Interview with Cast Members at the 2012 NewNowNext Awards
(click here to watch directly on youtube)
The Glee Project Season 1/Glee Season 3 Interview with Damian McGinty
(click here to watch directly on youtube)