As promised, I checked back in with pop singer Manika when she toured through Chicago with One Direction and Olly Murs.  The "Manikans" (fans of Manika) continue to grow with the release of her first EP entitled "The Middle of Hollywood of EP" on Wamaframa Records/CCA Entertainment on May 22, 2012.  Just last night, for example, Milwaukee fans voted overwhelmingly on 97.3 Radio Now to hear her Manika's "Good Girls" play on the radio.  "Good Girls" follows her debut single "Just Can't Let You Go" that featured rapper Lil Twist of Lil Wayne's record label Young Money Entertainment.
INTERVIEW
Ifelicious:  When I first learned you that were touring with One Direction, I was thinking about last summer when you were doing the Shop Til You Rock tour.  This is a far cry from mall tours to playing in sold out arenas.
Manika:  I know!  My first big arena tour is with One Direction.
Ifelicious:  What was that moment like when you first learned that this tour was definitely going to happen?
Manika:  I was in Starbucks when I got the call.  I was freaking out, jumping up and down, and screaming.  People were looking at me, but I was like, 'You guys just don't understand!'  When my cousins found out, they range from 8 to 17, they were all calling me literally balling their eyes out…because they're huge One Direction fans.
Ifelicious:  I got the same reaction when I said I would be covering the concert.  I had to clarify that I was there because of you, but once you mention One Direction, everybody gets super excited.
The last time I interviewed you was while you were in Milwaukee last fall.  I know lots has happened since then, so tell me and your fans what you've been doing.
Manika:  I've released 'The Middle of Hollywood EP'…It's amazing how much momentum it's gaining.  I've actually got this billboard in Times Square…of my EP.  Now it's in Walmart…Best Buy.  It's crazy!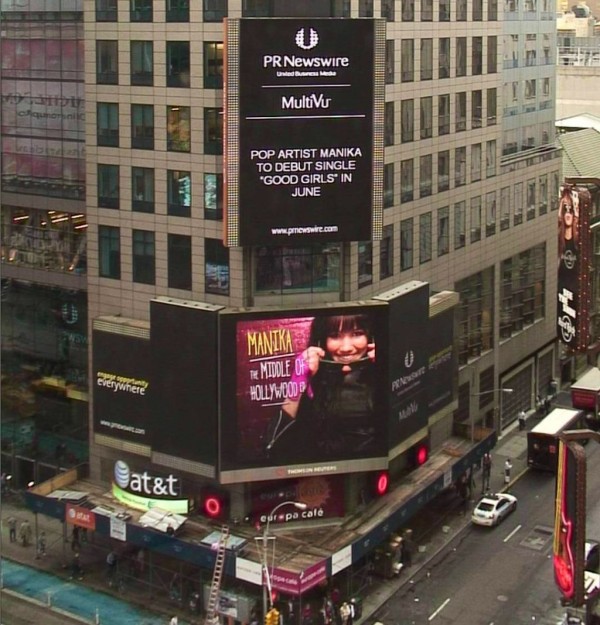 Ifelicious:  You just released the single 'Good Girls.'  Are there plans to do a music video for it?
Manika:  Yes, I actually have a few days off from the tour and will be shooting a music video for it very soon.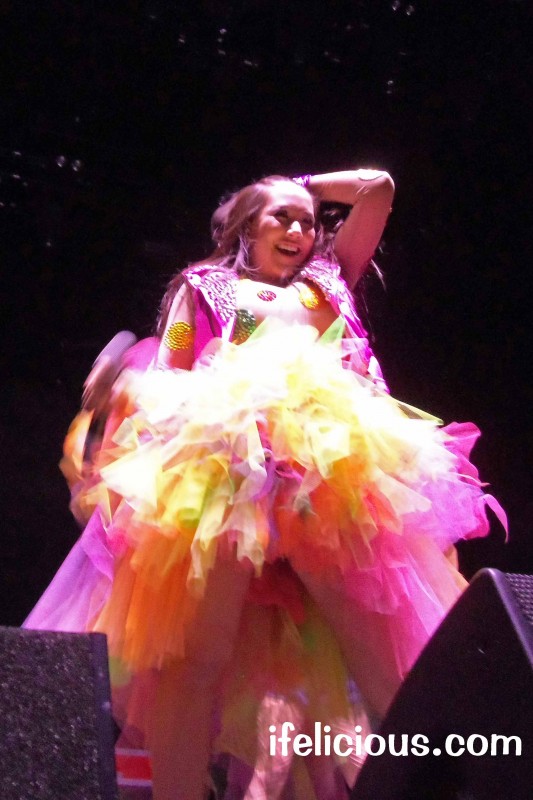 Ifelicious:  The outfit you wore on stage was amazing!  Is it a two-piece?  Who made it?  How did you decide on it?
Manika:  Well, I love fun, funky stuff…I love vintage Madonna, Janet Jackson, Cyndi Lauper, 80s style.  The tutu is actually a tear away and then it's just some high waisted jean shorts and this crazy sparkly shirt.  It was made by Brett Alan Nelson.  He designs a lot of stuff for me.
Ifelicious:  Do you get to hang out with One Direction while you're touring?
Manika:  Yes.  They're all such sweet guys…Actually, at yesterday's show [in Chicago]…they got these golf carts, and then I have this mini scooter.  It was kind of scary.  I didn't do it because I was scared of like breaking my leg, but they were driving the golf cart while some were riding on the back on the scooter holding on…They also like to throw water so I almost got wet.  I was like, 'You guys, my hair does not get water poured [on it].'  And they have these Nerf guns, and you'll be trying to do sound check, and they'll be shooting them in the background.  They're a bunch of fun, like really really sweet down to earth guys.
Ifelicious:  A lot of the songs that have gotten into mainstream pop or hip hop aren't necessarily songs that I'd want a five year old singing along to, but yours are very clean while still covering real issues.
Manika:  Well, thank you!  Actually, 'The Middle of Hollywood' is about my story being 17 years old and moving out to Hollywood by myself and all of the experiences that I've gone through.  I just put myself out there so that any girl can relate to it, you know?
Ifelicious:  What's your favorite song to perform on stage?
Manika:  'Good Girls' is really fun…Probably because all of the girls, they really get into it.  They start jumping in the air, fist pumping, screaming 'I'm a good girl! Ya!'
Ifelicious:  What's the most inspiring fan compliment that you've received so far on this tour?
Manika:  There's this girl.  For 12 days she was making this huge sign for me with all of these crazy cut outs, glitter, and sparkles.  Everyday she would tweet me the progress of her sign.  Come to find out that she didn't even have a ticket, and she was waiting for me in Detroit for 12 hours outside my tour bus…Well, I gave her a ticket, of course, because I thought that was just the sweetest thing…and it was raining out, too.
Ifelicious:  What's the most fun part of touring, and what's the most difficult part of touring?
Manika:  The most fun part is definitely performing.  That's just what I love doing…The grueling part would be the hours.  Your sleep schedule gets all messed up because you'll finish a show, and then you'll have to drive somewhere…and the time changes…Some days you won't sleep, and then some days you'll get a lot of sleep.
Ifelicious:  Anything you would like to say to your fans?
Manika:  Thank you!  They have been amazing…I'm doing this for them…and that's what makes it all worth it.  The long hours, I get no sleep sometimes, but it's the fans that keep me going.
Thanks again, Manika, for making time for this interview!
Read all of my blog posts mentioning Manika – CLICK HERE.
Follow Manika- website, Facebook, Twitter, Tumblr, YouTube.
Related Links