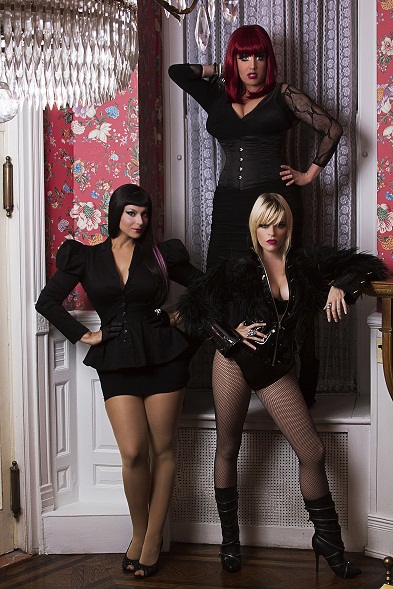 A straight gal, a sexuality ambiguous gal, and a drag queen walk into a karaoke bar…  Sounds like the beginning of a joke, right?  What happened in a karaoke bar in New York City nearly two years ago was no joke at all; rather, it was the beginning of what would become the all girl mega pop band XELLE.  Under the direction of producer Zach Adam, the ladies of XELLE – Mimi Imfurst ("RuPaul's Drag Race" Season 3), JC Cassis, and Ronny G – have leaped onto the pop/dance music scene with their first single "Party Girl" whose accompanying video more than 330,000 views on YouTube.  They are currently working on their first full length album entitled "Queens," and in the meantime, have also released "Invincible" which has a more serious message about self love and another party track "Hologram" (download them all via iTunes or Amazon).  In a recent interview, I talked about the band's roots, celebrity cameos in their soon to be released "Hologram" video, random moments along the East River, and reality TV hopes.  The interview is presented below.
Make sure to also check out my blog post "Mimi Imfurst and her XELLE band mates speak out about 'Invincible' and bullying."
INTERVIEW
YOU DON'T SAY 'NO' TO A DRAG QUEEN
Ifelicious:  I read the bio on your website, and it says that you all met at a karaoke bar.  How did things going from that meeting to becoming the group XELLE?
JC:  We were all active in the New York nightlife scene whether it was going out or hosting events or any of that kind of stuff.  That particular night, Mimi was hosting a karaoke party, and Ronny and I went up [to the stage] separately…When we finished singing, Mimi said that 'you two girls have to come up and sing with me.'  She put on a song and didn't tell us which one it would be.  It turned out to be the Spice Girls 'Wannabe'…We all took on our different Spice Girl roles and sang the song together.  It was so much fun!…Our producer Zach Adam was there that night and…he thought we would be awesome as a group, and he asked if he could write a song for us…We thought we would break up the typical pop scene by having an all girl group with a drag queen in it.
Ronny:  A girl group with a little something extra!
Mimi:  They all agreed to sing with me onstage because you never say no to a drag queen with a microphone.
WHAT'S IN A NAME?
Ifelicious:  How did you come up with the name XELLE?
JC:  We love word play in this band…especially our producer, Zach Adams, is like the king of word play.  We were talking about how we could encapsulate everything that we are in one name.  XELLE came up, and it was a great fit because we love big fashion, big music, and big voices, and big personality.
Ronny:  Everything big!
Mimi:  What can we say?  We like big things!
Ifelicious:  Is there an album title and release date yet for your album?
JC:  The album is going to be called 'Queens,' and again it's about word play.  Many of us live in Queens.  We do a lot of our work in Queens.  We have a drag queen.  We feel like queens when we're on stage.  So that's the title, and the release date is probably going to be sometime later this year.
HOLOGRAM AND CAREER HIGHS
Ifelicious:  You have another single 'Hologram.' Has the single been released, or will the single and video come out together?
Ronny:  The single has been released, but we're working on the video right now…that has a concept that hasn't been done before.  We're actually really excited.  It's meant to come out, hopefully, in late June.
Ifelicious:  What's been the highlight of your career so far?
Ronny:  I think my favorite moment so far has been filming the 'Party Girl' video.  It's absolutely insane how everything came together and the fun that we had on the subway doing it.  It was just an amazing feeling in the middle of the night with a whole group of people working together to create this new piece of music…and to get the response that we got for it was just incredible.
JC:  One of my favorite moments recently was we had a lot of celebrity cameos in the 'Hologram' video.  We can't tell you exactly who, but there was one person that did a cameo that I've been a fan of for 20 years.  He's a legendary sketch comedian, and I love his work, and if you were to ask me a couple of years ago if you think that you will be working with this person…I would say you're crazy, and then we were standing on set with him doing a scene…Anytime that happens, I think of myself as a five year old watching MTV and admiring certain people.  There's so many people now that I've met through working with XELLE.  We opened for C&C Music Factory last summer.  These acts, the people, and their songs just make up a part of my soul and to work with them and meet them is like magic.  I love that!
Mimi:  One of my highlights definitely for me has been we got to do a show with Salt-n-Pepa.  That was in Milwaukee, actually.  They are so iconic, and one of the bands that I remember blasting their tunes in my car growing up, and here we are sharing a stage together.
Ifelicious:  Oh ya, that was at Milwaukee's Pride Fest last summer!  I missed that concert.  Y'all have to come back so I can meet you in person.
Video: XELLE Party Girls Ep. 7- XELLE Opens for Salt-n-Pepa in Milwaukee
REALITY TV PITCH AND SUICIDE AVERTED ON THE EAST RIVER
Ifelicious:  A year from now, if we were talking, what would you like to be telling me and telling your fans?
JC:  I would love us to have our own reality show and be making a tour all over the world.  I don't know if that's possible in a year, maybe, but…there's so many moments where somebody we're working with says something hilarious or outrageous or like things happen that you can never forget.  Like, one day on the 'Hologram' shoot…someone ran right through our set and threw themselves into the East River and tried to drown himself…It's funny because we were sort of running late that day…and then this happened…but then we realized that if we hadn't had all missteps leading up to that moment, we might not have been there to actually save him and call the police and get him fished out of the river…You can't make these things up.  I would love our fans to be able to see these as we experience them on a reality show.
Ifelicious:  That's a great idea!  I love to watch people's journeys to stardom play out on TV.
Thanks to Mimi Imfurst, JC Cassis, and Ronny G for doing this interview with me.  I loved Ronny's witty one liners, Mimi's bigger than life personality but also willingness to be vulnerable when we talked about bullying, and JC who seemed to pull all of the thoughts together on behalf of the group.  Best of luck to each of you and as the band XELLE.
Check out XELLE's tour schedule, follow them on Twitter (@XELLEMusic), "Like" their Facebook fan page, and subscribe to their YouTube Channel (XELLEMusic).
Related Links