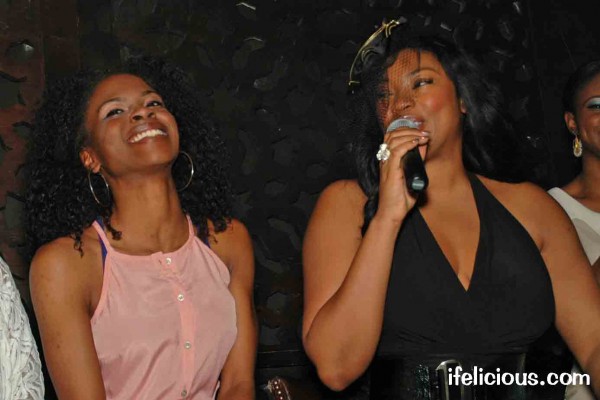 Miami born, Erica Appleby took New York by storm with her mixture of her paintings and Miami culture titled "Pandorah" in 2008, now with her Spring/Summer collection, "Mosiac", flooded with bright silks, organza's and leathers…Erica describes her collection "as a Middle Eastern and geometric inspired collection with fun colors and lots of flow." (source: press release)
On April 29, 2012, NYC fashionistas gathered at Katra Lounge in New York City for the unveiling of ETA Luxe's Spring/Summer 2012 collection entitled "Mosaic" created by up and coming designer Erica Appleby. Her line is described as:
"We are a Woman's Ready to Wear line that dedicates ourselves to blending the arts and fashion together. Inspired by everyday woman that are not afraid to go against the grain and embrace fashion on their own terms, we help that woman to bring her artistic manifestations to life."
Model Liris Crosse hosted the event and has also served as a mentor to Erica as she navigates her own space in the fashion world. I spent a few minutes speaking with them at Katra Lounge, and this is what they had to share:
Interview with Erica Appleby of ETA Luxe and Model Liris Crosse
(click here to watch directly on youtube)
Here are some photos taken at the ETA Luxe "Mosaic" unveiling. She's definitely a young designer, but she had several pieces in her collections that I would consider ready-to-wear. To be honest, my favorite pieces were the peach spaghetti strap dress worn by Erica, the black wide legged pant jumpsuit she created for Liris, and the high waisted pant with fluorescent yellow top from her actual Mosaic collection. Erica's challenge will be further refining her style while still pushing fashion boundaries in new directions. It's a saturated market, and new designers like Erica need to make wearable and memorable pieces. Erica is well on her way, and I wish her well as she navigates her space in the fashion world.
Photos
For more information about Erica Appleby, her ETA Luxe clothing line, and/or her Mosaic spring/summer 2012 collection, check out her Tumblr page, "Like" her ETA Luxe fan page on Facebook, and follow her on Twitter (@Ms_ETALuxe). Stay up to date with Liris Crosse by following her on Twitter (@LirisC), "Like" her Liris Crosse fan page on Facebook, and check out her work with QristylFrazierDesigns.com.
Related Links