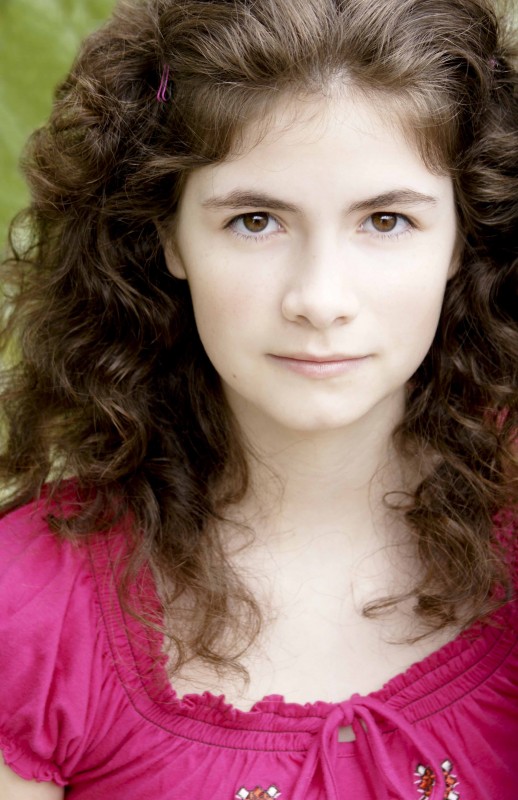 Katlin Mastandrea is a brilliant young actress who's landed roles on two major hit TV series:  as "weird" Ashley on ABC's "The Middle" and as the role of Olivia on the much talked about Charlie Sheen scripted comedy "Anger Management" premiering on FX June 28, 2012 at 9:30 PM ET/PT.  A gal who walks the eccentricity line on screen and off, I talked to her about "weird" Ashley's big moment as Axl's prom date for a second year on episode 22 of "The Middle" entitled "The Clover" airing TONIGHT, May 9, 2012 at 8:00 PM ET/PT on ABC.  We also chatted it up about "Anger Management" (Twitter hashtag #AngerManagement) and what it's like working with Charlie Sheen since falling from grace on CBS's "Two and a Half Men" and the mumbo jumbo that followed that gave new meaning to words like "winning" and "warlocks" in the world of pop culture.
INTERVIEW
Katlin as Weird Ashley on "The Middle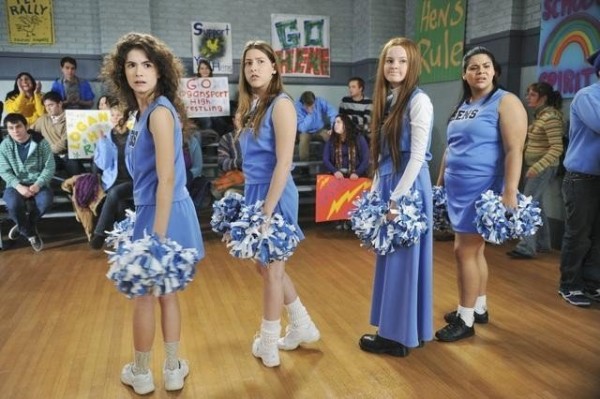 Ifelicious:  I don't normally watch "The Middle," but I happened to catch the episode "The Sit Down" online, and that's the one where you sort of trap Axl into going to prom again with you this year.  What happened at last year's prom?
Katlin:  They didn't show the prom last year, so basically, the plot was that Axl accidentally asked 'weird' Ashley out to prom and he was about to ditch her, but in the end, he did the good guy thing and took her to the prom…This year they actually show the prom.
Ifelicious:  So this is a lot bigger deal for Weird Ashley's character this year in that we'll actually see her and Axl at the prom…Is there any chance that Axl might develop feelings for you this year?
Katlin:  You're going to have to watch it, but I hope so, so that [my character 'weird' Ashley] can come back.
Ifelicious:  I see that 'weird' Ashley is this sort of nerdy, geeky girl but with a lot of confidence.  Tell me about her, in your own words.
Katlin:  Well, she's definitely the odd girl at school to have obtained the name 'weird' Ashley.  She thinks a lot differently than all of the other kids, but to her, she's completely normal.
Katlin as Olivia on "Anger Management"
(Mario Lopez, host of "Extra," interviews Charlie Sheen about his new show "Anger Management")
Ifelicious:  Congrats on landing the role of Olivia in 'Anger Management.'  I just read that  Charlie Sheen has wrapped up taping the first 10 episodes.  How did your role come about? Also, I sense, from what I've read so far, that the character you play is quirky on this show as well.
Katlin:  Yes, I play an awkward kind of character.  That's all I can say for now.  Once the show airs, I can say more about it.  There is a lot of similarities like that it's a comedy…One of the other similarities is that the casting director for 'The Middle' is also the casting director for 'Anger Management.'  He liked me on 'The Middle' and asked me to try out for a part on 'Anger Management.'…I got the part, and I thanked him very much, and said 'Oh, thank you!  I'm going to hug you now.'
(Trailer for movie 'Anger Management')
Ifelicious:  Did you see the movie 'Anger Management' on which the show is based?
Katlin:  Yes, I did.  I'm a big Adam Sandler fan so I watched it many many times before [the TV show 'Anger Management'] even came up.
Ifelicious:  I'm not sure I can tell, from what I've read online so far, how much the movie is paralleled in the TV series. How does it roughly compare?
Katlin:  The basic stuff…that Charlie is an anger management therapist.  I don't know if I can talk more about it until it actually airs.  Sorry.
Ifelicious:  It's nice to see Charlie Sheen bounce back after the crazy year he had in 2011.  What was it like working with him?
Katlin:  I wasn't worried about it.  Professionally, the man's career is very good, and he does good work.  I don't imagine him screwing up his own show…He's so funny, and just very nice.  No matter how small your part is, he comes over, says 'Hi!' and shakes your hand…Just watching him work is wonderful to be honest.  I recently did a scene where it's my character and a bunch of friends and he's interacting with us, and on the set, he has so many ideas and just bouncing them off the director…and then they calm down and start joking around again waiting for the next shot to begin.  He's very nice, very relaxed.  I mean, he's cool.
Katlin's Ambitions
Ifelicious:  Do you see yourself doing comedy in TV or film or if you've even thought of doing standup?
Katlin:  I'm planning on doing stuff in both film and TV and being more creative like directing or producing or something like that.  As for standup comedy, I have been taking improv and sketch writing classes from UCB.
Stay up to date with Katlin Mastandrea on Twitter (@KatlinMastandre), watch "The Middle" on ABC Wednesday nights at 8:00 PM ET/PT, and look for her as Olivia on FX's "Anger Management" premiering Thursday, June 28, 2012 at 9:30 PM ET/PT.  It's a family affair, too.  Katlin's younger brother Christopher Mastandrea has guest starred on "Hot in Cleveland."
Related Links