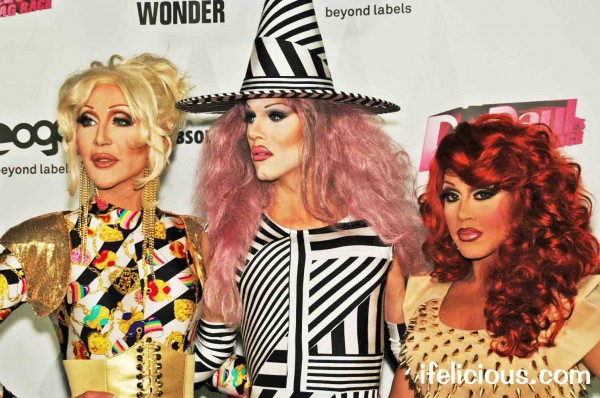 Season 4 of "RuPaul's Drag Race" has officially come to a close, but I'm giving you one last look at the cast that we've come to love, criticize, opinionate (i know that's not a word, lol), and hate on Monday nights on Logo.  In celebration of "RuPaul's Drag Race: REUNITED" and the official crowning of Sharon Needles, Logo invited select members of the press out to NYC at XL Nightclub to meet up with the finalists Chad Michaels, Sharon Needles, and Phi Phi O'hara for photo opps and interviews before the official airing of the Reunion.  Many other season 4 drag queens were there as well such as Willam, Latrice Royale, Dwayne Milan, Madame LaQueer, The Princess, Jiggly Caliente, LaShauwn Beyond, and Milan.  The press event was followed by a party at XL that was open to the public and hosted by none other than Shangela.  Party-goers got watch the Reunion on the big screen, enjoy live performances from season 4 drag queens, play dress up and take photos at the Dirty Sugar photo booth, and mingle with their favorite drag queens.
You know how I do, I hopped a plane from Milwaukee to NYC so I could bring you coverage Ifelicious style!  In this blog post, you'll find photos taken throughout the night including at Bar-Tini Ultra Lounge where many of NY's finest drag queens took the stage with season 4 drag queens who ventured over there in the wee hours of Tuesday morning.  I will also have some video interviews, but they will get posted in mid-May thanks to what you'll read in "Video Camera-Geddon."  As a backup, I got some audio interviews, and they'll get posted as soon as I get them edited down.  If you've been following my extensive coverage from season 4, you know I have interviews and photos with just about everyone from the cast from attending the season 4 premiere party in LA and at the 2012 NewNowNext Awards that you are super welcome to peep those until I post my new ones here.  I've even created a playlist on my Ifelicious YouTube Channel with all of the interviews I've ever conducted with contestants from Drag Race, judges, and RuPaul himself.  CLICK HERE to check them out!
Highlights
OMG!  What will we do with Willam?  I really want to hate her, but she has a knack for playing to the press, even yelling "Hey, Ifelicious!" as I walked past.  Flattery gets you everywhere for this one gal celebrity blogger on the rise, and name recognition is what I aim for every interaction I get with celebs.  True to form, she was the loudest drag queen in the room, flirting, making random remarks, anything to get people to turn heads.  You'll also see that she changed outfits a million times just like she did at the NewNowNext Awards.  Just as people want to write Shangela off, Willam is here to stay.  Oh, and we waited with baited breath to know what rule she broke, and it was because of her boyfriend??  Anyway, I keep forgetting to Google why she threw up onstage, though.  Please leave a comment if you know why.
Speaking of Shangela, I gotta give it to her.  She did a fabu (thanks for that word, Phillip from A-List: Dallas) job hosting the Reunion party.  I got a little one on one time with her as well, but it wasn't recorded.  In short, last year at the press event for the season 3 finale, I was just about to interview her when they ended the press interview time.  So, to me, she's kind of the queen that got away, but I still love me some Shangela!
Latrice "Jesus is a biscuit" Royale looked stunning, and I'm glad I saw her perform at the party.  I didn't get an interview this time, but her Congeniality Award was super well deserved.  Like Shangela and Willam, Latrice ain't going nowhere!  I'll be watching Drag U just for Latrice this summer.
Chad Michaels has my heart.  Of the final three, I was quietly rooting for Chad, especially after my internal conflict about Sharon (read below for what I mean about that).
I generally don't like Phi Phi, but I like her when we get to sit down and do interviews.  Phi Phi's also going places.  She's just gotta get some more exposure under her skirt to develop her drag persona to one that where her fans just barely edge out her haters.  It's a delicate balance when that's your style, but it can be done.
We all know that Sharon Needles likes to push boundaries and comfort zones with controversial statements.  Case and point, she ended my interview with her at the NewNowNext Awards with "Hail Satan!"  I'm not gonna lie, as a God fearing Christian, it threw me off my game.  Then, I read about her racist status that showed up on Facebook.  As an African American, I felt compelled to ask her about the situation and have her explain it directly to me, not to some publicist who's doing damage control with a scripted statement released to some major entertainment outlet.  As I should've predicted, a Logo rep cock blocked that question as soon as Sharon began to respond.  The Logo rep said something to me like, "She's already made her official statement on the situation."  I have it as one of my recorded interviews so you'll get to read/hear it for yourself.  If you have no clue as to what I'm speaking of, check out this article in the Huffington Post written by Zach Stafford.  Sharon, now that the season is behind you and you're already wearing your crown, I invite you to an interview with me so we can talk about this specifically.  We'll keep it direct, factual, and classy.  Holla!
Ok, if there was someone who left season 4 too soon, it was The Princess.  She gets my versatility vote, hands down!  Her range of looks from event to event and within events varies so much that it's really hard for me to peg her without hearing her speak.  That Sharon Needles-esque wig she had on during the press interviews and the big frame glasses was so captivating that it had me staring at her more than I was at anyone in the the room.  Here's a link to a photo of I took of The Princess rocking her naughty librarian/Goth look.  It's also in the slideshow below.
Photos
Here are photos that I took during the press event, reunion party, and at an after after party at Bar-Tini Ultra Lounge where many of this season's contestants showed up to perform as well as some of NYC's finest drag queens.
Other places to view photos online

Video Camera-Geddon
So, midway through conducting my on camera interviews, someone bumped into my video camera and light source sending them both and their stands flying across the floor.  The light source still works but my video camera is broken.  It was an accident, and I was more in shock than I was mad at the situation.  As a result, my video interviews that I normally post will be delayed at least 2 weeks because Best Buy's Geek Squad is sending my broken video camera out to some place in Kentucky to unload the footage for me for the whopping price of $250.  Go ahead and say it with me…DAMN!!!  I have to give a shout out to Melissa who works at Best Buy in Menomonee Falls, WI and Mitch who works for the Geek Squad located in the same store who talked me down from a ledge, patiently troubleshooted my video camera situation, and presented me with as many options as possible.  It just sucks that my broke ass now needs to purchase another video camera  😥
So the night of Video Camera-Geddon, I drowned my sorrows by ordering a couple of Absolut Wild Teas (you know, Absolut is the official sponsor for "RuPaul's Drag Race") on the rocks between the end of the press event and before the party started up.  If you haven't tried it before, you should.  Super yummy, and they did not pay me a single penny to say that.
On Camera Interviews with Drag Race Contestants
(coming in mid-May, see above for explanation. check time stamp below to know if anything has been updated.)
LAST SAVED MAY 3, 2012 AT 12:00 PM ET.
Audio Interviews
(coming as soon as i edit and/or transcribe them. check time stamp below to know if anything has been updated.)
LAST SAVED MAY 3, 2012 AT 12:00 PM ET.
Final Thoughts
If you want even more of an inside scoop and first looks at events I cover, follow me on Twitter (@ifelicious) and friend me on Facebook.  I always put my sneak peeks and commentary that sometimes doesn't even make it to blog posts on my social media sites.
Also, thank you Logo for having me as a featured celebrity blogger each week for the live chat (logotv.com/talk) held during the airing of "RuPaul's Drag Race."  It was a blast, and I got to talk to so many wonderful fans of the show as well as connect with other featured bloggers, cast members, judges, and fans.
Related Links