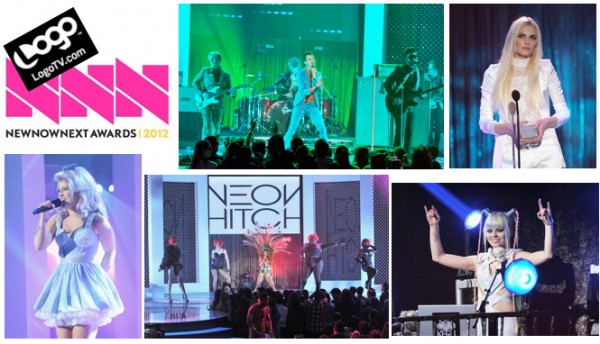 The NewNowNext Awards is quickly positioning itself to be one of the awards shows of the year to see and be seen.  On Thursday, April 5, 2012 celebrities from television, music, and film flaunted their Sunday best on the red carpet and enjoyed a night out at the Avalon in Hollywood for the taping of this year's NewNowNext Awards.  The show will air on Monday, April 9, 2012 at 10/9c on Logo, and I flew out to cover the event so I could bring you a first look at the night's festivities.  My footage includes photos from the entire evening; red carpet interviews with many of the night's guests including finalists from "RuPaul's Drag Race" Season 4, contestants from "The Glee Project" Season 1 including co-winner Damian McGinty, Matthew Fahey ("Ricky Schwartz") from "Awkward.," Eden Wood from "Eden's World," and more!  In addition, I've added in my observations from the evening by way of "Highlights," "Random Observations," and "Celebrities Noticeably Absent."
I'll be updating this post until all of my footage goes online, so be sure to check the last saved time stamp below in order to know if there's been more additions.
Last update: April 9, 2012 at 9:35pm ET — COMPLETE!!!

My approach this year was to give you an insiders look from a fan's perspective of the night's events from red carpet to backstage to the after party, and my goal was to bring you the most comprehensive coverage that you'll be able to find online.  Unlike many of the popular news outlets, I am a one woman operation, fan, and supporter of Logo's programming and entertainment as a whole.  This post serves to celebrate all of those aspects.
I didn't get to see the show while it taped like I did last year except for a few glimpses at a flat screen TV from the backstage press area, so I'll be watching it for the first time with you all on Monday night as well.  Here's a link to the post event press release from Logo.  Caution!  It also names the winners.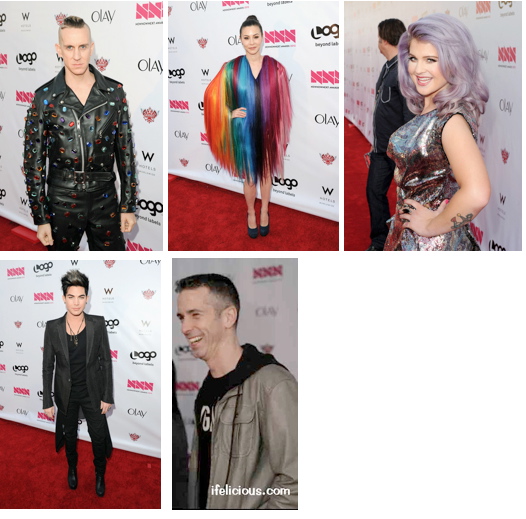 Highlights
Being the only small media outlet in a very exclusive set of press selected to cover the "NewNowNext Awards" in the backstage press room (AKA "The W Hotels Backstage Lounge") where winners headed for interviews and photos.  I was right next to Perez's team, VH1, NewNowNext, Logo TV and maybe a few others…that's it!
The realization of Adam Lambert's extremely large and loyal fan base when tweeting a cell phone pic of Adam backstage.  Within seconds, fans were retweeting it.  Man!  They're as fierce as Lady Gaga's Little Monsters.
Trying to get Willam Belli and judges Michelle Visage and Billy B. to slip up and tell me why Willam was disqualified from "RuPaul's Drage Race" Season 4.
Red carpet interviews with Season 4 "RuPaul's Drag Race" finalists Sharon Needles, Latrice Royale, Chad Michaels, Phi Phi O'Hara.
Meeting Season 1 "The Glee Project" contestants Bryce Vine, Lindsay Pearce, Damian McGinty (season co-winner), and Cameron Mitchell.  They also threw me off when they seemed excited about my blog name "Ifelicious" as opposed to promoting themselves when I started talking to them on the red carpet.
During my red carpet interview with Eden Wood of "Toddlers and Tiaras" and "Eden's World," I learned that she is dying to meet Selena Gomez.
Seeing TJ Kelly from "The A-List: New York" doing his thang as a red carpet celebrity host for "TJ's Fashion Corner" on behalf of Macy's Bar III fashion line
UPDATE APRIL 12, 2012: *BONUS* Here's TJ's Corner
Having Milan from Season 4 of "RuPaul's Drag Race" halt on the red carpet to blow me a kiss before rushing inside. If you've followed me on Twitter, I had to deal with someone maliciously flagging my interview with her as inappropriate on YouTube.  At first, YouTube agreed and took it down, but I appealed and they released the video.  We bonded over that moment, and she's going to forever be one of my favorite drag queens.
Cock blocking one of Adam Lambert's many make-out sessions with his boyfriend Sauli Koskinen to get a "do-over" photo with him at the after party.  The photo I took last year was crappy.
Catching a quick glimpse of Dan Savage (It Gets Better Project and "Savage U") sneaking in late to walk the red carpet after most people had left.  That's an interview I wish I was able to get, but maybe another time.
***JOIN ME FOR THE LIVE CHAT ON MONDAY NIGHTS DURING THE WEST COAST AIRING OF RUPAUL'S DRAG RACE ON LOGOTV.COM/TALK. I'M ONE OF THE FEATURED GUESTS EACH WEEK. MAKE SURE TO SAY HELLO! 🙂 ***
Random Observations
Sharon Needles was the most stunning of the Season 4 "RuPaul's Drag Race" cast members to walk the red carpet.  From makeup to the outfit, she was flawless!
Latrice Royale's next audition needs to be for the NBA.  I needed a ladder to climb up to her height for the interview.
I couldn't keep my eyes off androgynous model Andrej Pejic.  His eyes are captivating and he can definitely werk the high fashion when styled as a woman.
Those who watched both seasons of "The A-List: New York" and were perplexed by Rodiney Santiago and Reichen Lehmkuhl being on "Couples Therapy" still have the right to feel that way.  You'll have to watch in my interview with Rodiney and Dr. Jenn Berman, but I asked about Rodiney and Reichen's relationship status.  I also asked him about "The A-List: New York" being picked up for another season.
Renee Olstead rocked my fave shoes of the night.  I would die for those…and the ability to walk in them!
My how things change in Logo's programming over the course of a year.  At last year's NewNowNext Awards, I remember interviewing the cast from "Pretty Hurts," and that was one of the shows getting ready to debut on Logo at the time.  This year, it was all about Eden Wood and her new series "Eden's World."
The growth of the NewNowNext Awards between last year and this year.  It's a larger production this year with more staff and more celebrity attendance.
Adam Lambert wasn't under the lock and key of his publicist, at the after party, cordoned off VIP section like last year, but the cast from "The Glee Project" was very much under lock and key of their publicist.  I didn't see them at the after party which is probably a good thing considering their ages.
Being positioned by WetPaint to my right and HollyWire (or a name close to that) on the red carpet, and how many celebs walked by and said how much they love WetPaint.  I want that to be me/Ifelicious one day!  😀
Had a side conversation backstage with Lindsay Pearce wondering if she'll be back on more episodes of "Glee," and she didn't think that would happen.  Something about her seemed sad which either had to do with her whole "The Glee Project" and the "Glee" 3 episode arc experiences or something else had her mind preoccupied that night.
Willam seemed less sassy than I remember her being at the "RuPaul's Drag Race" Season 4 premiere party and on the show itself.  Maybe it is all for television.
Celebrities Noticeably Absent
The cast from "The A-List: New York" and "The A-List: Dallas" did not walk the red carpet.  It was this time last year, that I learned "The A-List: New York" had begun taping season 2.  This does not bode well for either show, in my opinion.  In my experience, Logo doesn't usually put out a statement when show is not returning, rather, they'll let you know when a show is returning.  My theory is that they're either going to ditch the series altogether or launch it in another city as the next move.

Side Note: Ashley Kelly and Chase Hutchinson from "The A-List: Dallas" attended but did not walk the red carpet.  TJ Kelly and Rodiney Santiago from "The A-List: New York" were also present but were there working and promoting other projects.

Naya Rivera who was a nominee in the "Cause You're Hot" category.  I would've donated a kidney and bought her a puppy (rescue, of course, LOL!) for a chance to see her in person.  I won't dish any spoilers here, but you can go over to my blog post "Logo's NewNowNext Awards 2012: nominees and Ifelicious picks…and winners" that's been updated with the actual winners.
Photos
Below are photos taken throughout the evening at the NewNowNext Awards.  Some were taken by me using my cell phone or point and shoot digital camera;  some were taken by Vincent Sandoval Photography enlisted by Ifelicious.com (i.e. Me!) for the evening; and others were taken by photographers working for Getty Images.  In the set of slides you'll see what the Avalon looks like, the celebrity trailers, red carpet, the backstage press room (formally titled The W Hotels Backstage Lounge), of the NewNowNext Awards in progress, and at the after party also held at the Avalon.
More pics to be added soon! — Last update April 8, 2012 at 2:37pm ET
(link to collection on images on Picasa- click here)
I cannot thank Vincent Sandoval of Vincent Sandoval Photography enough for taking amazing quality images on the red carpet and backstage on behalf of Ifelicious.com.  He's a true gem and artist whose talent extends far beyond event coverage.  Be sure to check out his website VincentSandoval.com to see the range/style of work he's capable of doing and tell him Ifelicious sent ya if you hire him.  Thanks again, Vince!
Red Carpet Interviews
I'll upload these one by one until I have them all on my YouTube Channel.  Meanwhile, you can also click here to go to the playlist on YouTube that's being updated with all of the red carpet interviews from the evening.
Last updated April 9, 2012 at 9:35pm ET — COMPLETE!!!

Playlist with all interviews
Interview with Dida Ritz, The Princess, and Phi Phi O'Hara from RuPaul's Drag Race Season 4
(click here to watch directly on YouTube)
Interview with Chad Michaels from RuPaul's Drag Race Season 4
(click here to watch directly on YouTube)
Interview with Willam from RuPaul's Drag Race Season 4
(click here to watch directly on YouTube)
Interview with Latrice Royale from RuPaul's Drag Race Season 4
(click here to watch directly on YouTube)
Interview with Sharon Needles from RuPaul's Drag Race Season 4
(click here to watch directly on YouTube)
Interview with Michelle Visage and Billy B., judges from RuPaul's Drag Race Season 4
(click here to watch directly on YouTube)
Interview with Dr. Jenn Berman and Rodiney Santiago from VH1 "Couples Therapy"
(click here to watch directly on YouTube)
Interview with Eden Wood from "Eden's World"
(click here to watch directly on YouTube)
Interview with Damian McGinty from Season 1 "The Glee Project" (co-winner) and "Glee"
(click here to watch directly on YouTube)
Interview with several cast members from Season 1 "The Glee Project"
(click here to watch directly on YouTube)
Interview with Matthew Fahey from "Awkward."
(click here to watch directly on YouTube)
Related Links