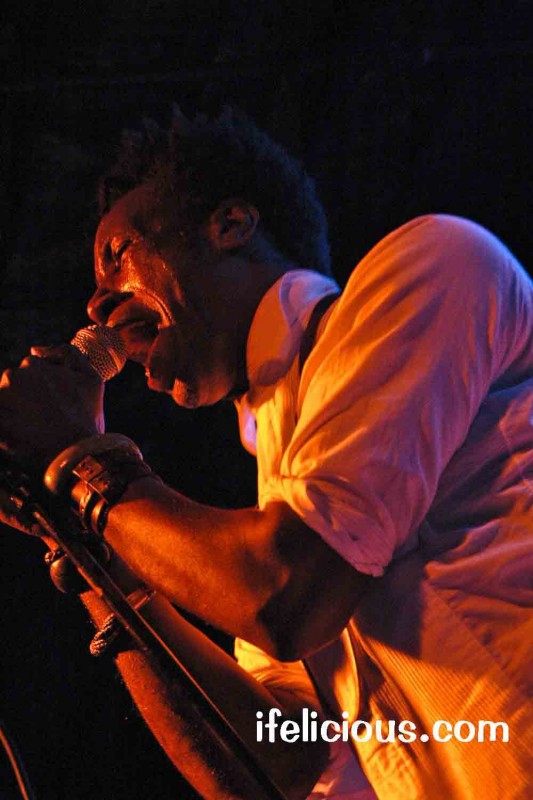 Saul Williams (website, Facebook fan page, Twitter, YouTube) fans flocked to Chicago's Bottom Lounge on Tuesday, March 20, 2012 during his "Volcanic Sunlight North America Tour" stop.  The beauty of his show is that there's not a barrage of opening acts followed by a 30-45 minute set by the headliner.  Butt crack obsessed, DJ/Producer/Vocalist CX KiDTRONiK of Stones Throw Records and Atari Teenage Riot played "hype man" as the opening act spinning a wide array of tracks from hip hop classics to punk rock.  I particularly enjoyed his set of artists who had songs with the name "jump" in the title that included hits such as: Pointer Sisters "Jump For My Love," Kris Kross "Jump," House of Pain "Jump Around," Aretha Franklin "Jump To It," and Van Halen "Jump."  I also enjoyed his leaps off the stage and into the audience to rock it out with the crowd.
Chicago's own MC Zulu made a surprise appearance onstage to get some live video footage for his track "Crankasaurus."
About an hour later, Saul Williams- drum in hand, white button down shirt, tail coat with gold buttons, ankle high leather boots, exotic print loose pant, and handmade jewelry marched on stage with with his band mates Julien Chirol (trombone, percussion, synthesizer) and Pegasus Warning (percussion).  "It's getting hard to maintain!"…we felt every word…"Patience over anxiety…"  Right away, I knew we were in for a show that would put most popular mainstream artists to shame.
Saul has range.  At any given moment, you'll hear punk, afro punk, death metal, hip hop, spoken word, lyrics about love and social consciousness, etc.  Plus, this New York native now living in Paris can carry a tune on the tracks that sport more melody.
About 1 hour and 45 minutes later, Saul and his crew walked off, the lights dimmed, and the crowd roared for more.  An encore was certain, and he put on another 15 minute set that kicked off with some spoken word followed by a few more tracks from his albums before finally leaving the stage around midnight.  Saul's concert was worth every penny dug out from under the couch cushions and the sleepy hangover the 9-to-5ers surely felt en route to work the next morning.
Saul Williams Performance at Chicago's Bottom Lounge: Set List
I struggle with covering concerts between taking photos, trying to keep track of all of the songs, and actually enjoy the show without help, but here's a good snapshot of Saul's set list from his Bottom Lounge show (mostly in order):
| | | |
| --- | --- | --- |
| | Song | Album |
| 1. | Patience | Volcanic Sunlight |
| 2. | Explain My Heart | Volcanic Sunlight |
| 3. | Look to the Sun | Volcanic Sunlight |
| 4. | Grippo | Saul Williams |
| 5. | DNA | The Inevitable Rise of Niggy Tardust |
| 6. | Give it Up | Volcanic Sunlight |
| 7. | Volcanic Sunlight | Volcanic Sunlight |
| 8. | Surrender (A Second to Think) | Saul Williams |
| 9. | Sha-Clack-Clack | Slam (movie soundtrack) |
| 10. | Diagram | Volcanic Sunlight |
| 11. | Triumph | Volcanic Sunlight |
| 12. | Control Freak | Saul Williams |
| 13. | Coded Language | Amethyst Rock Star |
| 14. | Black Stacey | Saul Williams |
| 15. | Untimely Meditations | Amethyst Rock Star |
CONCERT PHOTOS
Here are the photos I took the evening of Saul's concert at Bottom Lounge…
(click here for the link to the images directly on Picasa)
Here's a link to photos that Soundfuse Magazine took at the same event – CLICK HERE.
VIDEO: DNA/Coded Language
Saul tweeted about this video that Southern Souls just made of Saul and his band performing "DNA/Coded Language" in Toronto on March 26, 2012.
Saul Williams – DNA / Coded Language from Mitch Fillion (southernsouls.ca) on Vimeo.
VIDEO: Saul Williams on how his music can blast hyper consumption and still be featured in Nike ads
Related Links