I really enjoyed season 1 of "The Glee Project" that aired on Oxygen last summer. Unlike many reality talent competitions out there now, these contestants received true critical feedback and let us see what it must be like to actually experience the casting process for an award winning series like "Glee." With success and praise comes criticism and Ryan Murphy has certainly had his share. Despite it all, Ryan has managed to turn a TV series where song meets those classic teenage years into a phenomenon with a concert tour that's sadly not happening this year and "The Glee Project." Get ready for "The Glee Project" to return for a second season on Oxygen this summer. ~Ifelicious
VIDEO: Trailer for "The Glee Project" Season 2
(click here to view the trailer on YouTube)
NEW YORK – January 17, 2012 – Oxygen has picked up a second season of the critically acclaimed competition series "The Glee Project" for a summer 2012 debut. The spinoff competition series, which awards one winner a seven episode arc on "Glee," will return with Ryan Murphy and Dante Di Loreto continuing as executive producers along with series executive producers Michael Davies and Shauna Minoprio of Embassy Row. "The Glee Project" will air on Oxygen this summer with 14 contenders — two more than season one — additional themes and all new music. Second season casting recently wrapped up, with thousands of hopefuls auditioning online and in a multi-city casting tour. Murphy will once again join casting director Robert Ulrich, choreographer and "Glee" co-producer Zach Woodlee and vocal coach Nikki Anders in the final deliberations of each installment of the series.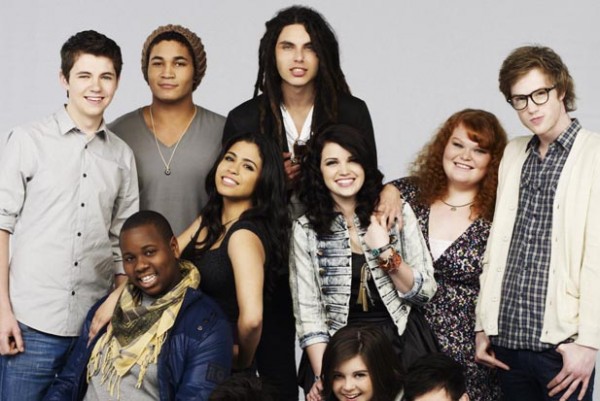 "The Glee Project," whose first season galvanized "Gleeks" around the country, averaged more than one million total viewers (1.191 MM) linearly over the course of its summer run, according to Nielsen. Two lucky winners (Damian McGinty and Samuel Larsen) each won seven episode arcs at the end of the competition and two of the final four contenders (Lindsay Pearce and Alex Newell) were awarded two-episode guest starring roles in the current season of "Glee" on FOX. McGinty is currently appearing in "Glee" and Pearce recently wrapped up her guest starring stint; Larsen and Newell will feature on the series later this season.
"'The Glee Project' is a special show that has tapped into a desire in our culture to watch people go for and achieve their dreams," said Jason Klarman, President, Oxygen Media.
The series recently landed on several "Best Of" lists for 2011 and garnered attention for its social/multiplatform success, including winning a Media Vanguard Award for "Best Social-TV Mobile Engagement Innovation" and the "The Glee Project" OxygenLive finale won Outstanding Achievement in Marketing from the Interactive Media Council.
Murphy was recently honored with an Emmy® Award and two Golden Globes® for his work on "Glee." He also is co-creator and executive producer of "American Horror Story," which recently garnered Golden Globe® nominations in the Best Drama and Best Supporting Actress categories. Di Loreto serves as president of production for Ryan Murphy Television. He has produced original series for cable and broadcast television, and a variety of films, including the Emmy® award winning "Temple Grandin" and "My Lousiana Sky."
Davies, best known for bringing the Emmy® Award-winning series "Who Wants To Be A Millionaire" to American television, is president of Embassy Row. Recent credits include "Watch What Happens Live," "The Substitute" and "The Talking Dead." Emmy® nominated executive producer Minoprio joined Embassy Row in October 2010 as executive producer and runs the company's Los Angeles office and operation. She has produced some of the most successful and innovative reality shows on television including "Top Chef," and "Undercover Boss."
On air Source: Nielsen Media Research; LS and L7.
About Ryan Murphy Television
Ryan Murphy Television is the creative force behind some of today's most groundbreaking television. Responsible for the Primetime Emmy® and Golden Globe® winning series "Nip/Tuck," "American Horror Story" and "Glee" which has become a cultural phenomenon, RMTV strives to bring fresh perspectives to television audiences the world over.
About Embassy Row
Embassy Row is a New York City-based global format and digital production company dedicated to developing original concepts and adapting international formats for television networks, online and wireless distribution in the U.S. and around the world. We specialize in the genres of games, comedy, reality, factual, sports and food and are pioneers in the fields of brand-supported and digital content. We are a creative company, led by hands-on producers always on the lookout for the next breakthrough idea. Since 2008, Embassy Row has been a part of the Sony Pictures Television company.
About Oxygen Media
Oxygen Media is a multi-platform lifestyle brand that delivers relevant and engaging content to young women who like to "live out loud." Oxygen is rewriting the rulebook for women's media by changing how the world sees entertainment from a young woman's point of view. Through a vast array of unconventional and original content including " The Glee Project," "Bad Girls Club," "Hair Battle Spectacular," and "Tori & Dean: Home Sweet Hollywood," the growing cable network is the premiere destination to find unique and groundbreaking unscripted programming. A social media trendsetter, Oxygen is a leading force in engaging modern young women, wherever they are, with popular, award winning features online including $2, the real time social viewing party that is also available as an app for the iPhone and iPad, as well as innovative tools shopOholic and makeOvermatic. Oxygen is available in 77 million homes, and can be found online and on mobile devices at www.oxygen.com. Follow us on Twitter at http://www.twitter.com/OxygenPR. Oxygen Media is a service of NBC Universal.
Read all of my blog posts related to "The Glee Project" – CLICK HERE and "Glee" – CLICK HERE.
Bonus Footage!!!

Fellow Gleeks, shut the front door!  Oh yes I did get red carpet interviews with Damian McGinty, Cameron Mitchell, Lindsay Pearce, and Bryce Vine from "The Glee Project" Season 1 at the 2012 NewNowNext Awards. *sassy black girl neck roll* LOL!  Check them out below:
The Glee Project Season 1 Interview with Cast Members at the 2012 NewNowNext Awards
(click here to watch directly on youtube)
The Glee Project Season 1/Glee Season 3 Interview with Damian McGinty
(click here to watch directly on youtube)