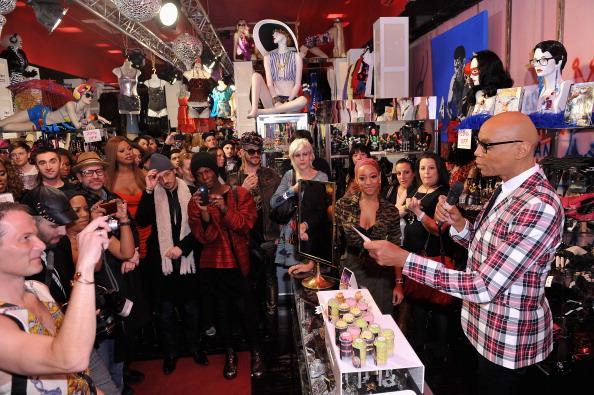 Logo TV partnered with Patricia Field (Twitter, Facebook, Tumblr), a boutique in New York City, on Wednesday, January 18, 2012 for a private shopping event and party to celebrate the launch of "RuPaul's Drag Race," season 4 (RDR4, Twitter, hashtag #dragrace, Facebook).  Celebrities in attendance included hosts RuPaul and Pat Field along with Lisa Sherman (EVP of Logo), John Polly (NewNowNext), Mimi Imfurst (RDR3), Manila Luzon (RDR3) and partner Sahara Davenport (RDR2), Sharon Needles (RDR4), Phi Phi O'Hara (RDR3), Mike Ruiz (celebrity photography/The A-List: New York) and partner Martin Berusch, Ryan Nickulas (The A-List: New York), TJ Kelly (The A-List: New York), and several other noteworthy guests.  Below are photos and links to coverage from the event.
I will be covering the LA premiere screening party for "RuPaul's Drag Race" season 4 on Tuesday, January 24, 2012 so be sure to check back to Ifelicious Thoughts for exclusive event coverage!
Photos
More photos have been posted at the following sites:
NewNowNext– NOW: RuPaul and Pat Field at 'Drag Race' NY Premiere (includes red carpet video interview)
World of Wonder– RuPaul's Drag Race Launch Party
The Vancouver Sun– Photos: Drag queens dazzle at RuPaul premiere
Zimbio– Photos: RuPaul's Drag Race Premiere Party
VIDEO: NewNowNext reporter Rory Rockmore interviews RuPaul and Pat Field
Read all of my blog posts for RuPaul's Drag Race – CLICK HERE.