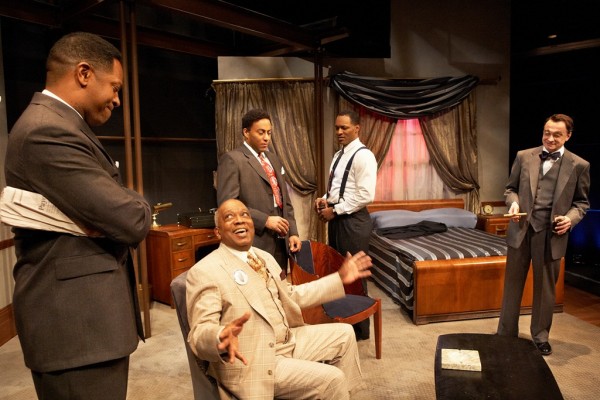 Saturday, January 14, 2012 was the press opening for Ed Schmidt's play "Mr. Rickey Calls a Meeting" ("Mr. Rickey") directed by J. Nicole Brooks.  As soon as you walk into the 2011 Tony Award winning Lookingglass Theatre's reception area, you are taken back to the year 1947 in which the play is set.  There are ugly but honest reminders of our nation's segregated past along the wall as well as more fun reminders of when baseball was truly the all American pastime.  As you enter the theater, the stage is deftly set up as a New York hotel room atop of a baseball diamond, a thunderstorm outside becomes the soundtrack, and stadium lighting provides ambiance and drama.
Below are some photos I took the night of the event.  Nothing fancy, just taken with my cell phone camera so you could get a feel for the vibe of the evening. (link to view photos on Picasa)
I walked into this play not having done much research mainly so I wouldn't spend the entire performance anticipating certain scenes.  I'm not a baseball fan either, but it didn't matter because "Mr. Rickey" was not about home runs and batting averages, while they do become part of the story; rather, it was about the complexities when a white man, Branch Rickey (played by Larry Neumann, Jr.) General Manager of the Brooklyn Dodgers, decides to make an unprecedented move in baseball by promoting Jackie Robinson (played by Javon Johnson), who started with the Kansas City Monarchs in the Negro League, from the Montreal Royals minor league to the Brooklyn Dodgers.
The play is 90 minutes in length (with no intermission and you don't feel like you needed one) and literally depicts a meeting between Mr. Rickey, Jackie Robinson and legendary black (or shall I say "negro" or "colored") athletes of the time: Joe Louis (played by Anthony Fleming, III), Paul Robeson (played by James Vincent Meredith), and Bill "Bojangles" Robinson (played by Ernest Perry, Jr.).  In the play (not in actual history), Mr. Rickey carefully selects leading negro athletes of the time hoping to gain consensus and endorsement of his decision to make Jackie Robinson the first negro to play in the major leagues.  As long as you watch the play with an open mind, the cleverness of the writing, direction, and talented cast will leave you questioning your own convictions as a tug of war ensues between the position presented by Mr. Rickey and the strong opposing argument presented by Paul Robeson an athlete/activist and to some a communist.  Just as the tensions rise, we are greeted with some comic relief courtesy of the overzealous bell hop Clancey Hope (played by Kevin Douglas) and gregarious laughter of Bojangles.
Is Mr. Rickey's signing Jackie Robinson to the Brooklyn Dodgers a self serving one or because he truly opposed segregation?  Was is it the right approach to move one player at a time into the major leagues?  Was it fair for Jackie Robinson to be expected to maintain a code of silence and non-reaction for the racial hazing that was sure to greet him in the majors?  Would this move jeopardize the future of the Negro Leagues putting dozens of black athletes out of work?  Actual history tells us the answer, and "Mr. Rickey."
I applaud J. Nicole Brooks for bringing a play that tackles race, and it's not even Black History Month, to Chicago area theater-goers.  Take a Xanax beforehand if hearing the word "nigger" bothers you because it's sprinkled throughout the script but in an honest/purposeful way.  While all of the cast was amazing, I think James Vincent Meredith's portrayal of Paul Robeson was most poignant with Ernest Perry, Jr.'s portrayal of Bill "Bojangles" Robinson being a close second.
This is a play worth seeing during its run in Chicago.  Oh, and I nearly forgot to mention that the cast is full of hot black man candy so pack some Kleenex or grab those plastic spit basins from the nursing home to wipe that drool off your face before the show's end.  😉
Dates, Ticket Information, and More
"Mr. Rickey Calls a Meeting" is running now through February 19, 2012.  See the calendar on Lookingglass Theatre's website for specific dates and showtimes.  It looks like the show is running on Wednesdays through Sundays with showtimes at 3:00 PM and 7:30 PM on most days.  Ticket prices range from $20 to $68 and may purchased:
online- www.lookinglasstheatre.org,
by phone (312) 337-0665,
or at the Lookingglass Theatre box office located inside Chicago's historic Water Tower Water Works (821 N. Michigan Ave. at Pearson St.).
There are designated lots where you can obtain discounted parking.  CLICK HERE to be taken to that part of the Lookingglas Theatre's website.
Group discounts are also available.  CLICK HERE
ABC7 Chicago news story on Mr. Rickey Calls a Meeting
Related Links