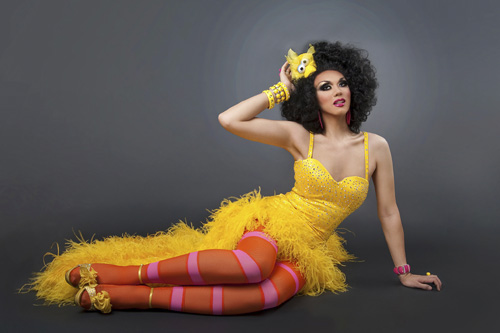 "Fanilas" fell in love with Manila Luzon during season 3 of "RuPaul's Drag Race" on Logo and scowled when she came just shy of winning it all in the finale to Raja. Around the time of Manila's release of her debut single "Hot Couture" (available on iTunes and Amazon), I checked in with her. We talked about "Drag Race," Halloween and the holidays, and what's next.
Listen to "Hot Couture" (link to lyrics on SoundCloud)
Hot Couture | Manila Luzon by Adrian Ross
Manila's video promo for "Hot Couture"
Manila Luzon's debut single "Hot Couture" from manila luzon on Vimeo.
Interview
"Drag Race" Past and Future
Ifelicious: We're getting ready for 'RuPaul's Drag Race' season 4. Do you have any advice for the contestants?
Manila: Enjoy the ride because it's over quickly and then there's a season 5 and people aren't going to remember who you were. It's an amazing experience [though].
Ifelicious: With your partner Sahara Davenport competing on season 2, did you think you had an unfair advantage while you were competing on season 3?
Manila: I might have had an advantage because I might have heard stories about behind the scenes goings on, but it wasn't really much of an advantage because all of the contestants were different, all of the challenges were different. Except for Michelle, Santino, and Ru, all of the judges were different… was a little more mentally prepared than some of the other girls when it came to what to expect from like sitting in a hotel by yourself, or how many hours it's really going to be on the runway, or that kind of stuff.
Ifelicious: Where do you get your confidence? Have you always been this way?
Manila: You know, it's really interesting. Watching the show, I did have a lot of confidence, and you know what? I was second guessing myself all the time in the competition but I wasn't going to let anyone see that.
Ifelicious: You know how to put on the game face.
Manila: I do know how to put on the game face, and you know what? I think it worked to my advantage. No one knows what's going to happen next. No one knows what someone else is going to throw at you. You just have to be like, 'You know what? I'm going to be able to deal with it. I've been able to deal with it before, and I'm going to roll with the punches and I'm going to look fabulous while doing it!'
Ifelicious: I know you've received criticism from the Asian community during different points of your season of 'Drag Race,' and I'm sure at times in your career. How do you respond to that?
Manila: The response I got from what some people would've considered offensive, my portrayal of Asian stereotypes on 'Drag Race,' is that I found that much of the Asian community was unbothered by it…I found that most people who seemed to be offended by it were the people who were not Asian…After all, I am a drag queen. I am a man in a dress, and no one's saying that I'm being offensive to women by portraying a woman in a possibly stereotypical fashion. I always wear corsets and sequined gowns and gigantic hair. I'm not getting any hate mail from feminists. It's all in good fun. It's all an homage. It's all humor.
Drag Queens and Halloween
Ifelicious: What were you for Halloween. What does that even mean for a drag queen?
Manila: Halloween is a drag queen's worst enemy. It's also where I think a lot of us drag queens get our start because the first year we put on a dress for Halloween…and then we say, 'I'm going to do this all the time now.' The thing about Halloween is that when you are a person who gets dressed up every day of the week, every week of the year, it's kind of like the day you want to take off because when a person gets put into a costume, they can let their inhibitions run wild…People literally will feel invincible. So you have a bunch of people running around with super powers, and it's like Superman with Dr. Krypton and everyone can shoot laser beams out of their eyes and fly around blowing like wind. Your powers [as a drag queen on Halloween] are rendered completely useless. Everyone has them. So normally I like to lay low. I mean I did go out to a party the day before Halloween, and I went out as Brett Michaels from Poison.
Holiday Fab Fashion Advice
Ifelicious: For those who need extra confidence to get through the holidays with our crazy families, do you have any fashion advice that will help?
Manila: Well, my favorite part about the holidays is that the stores are filled with these sparkly garments. You'll see gold sequins, silver sequins, red sequins everywhere. You need to pick yourself up a sequined outfit around this time, and you can put that in the corner of your closet and you can pull it out whenever you need to feel like fabulous.
Why Drag?
Ifelicious: I've been going back and forth about whether or not to ask you this question, but I'm just going to ask it. Why choose drag as opposed to being transgender or anything else?
Manila: It's a big misconception that people that are drag queens want to become women. It is a logical step for someone who does feel like a woman and wants to transition, but that's not my case. I just enjoy dressing up in costumes of any sort, and I'm a femmie boy, and it just makes sense to me. I love doing it. It makes me happy. I don't want to be a woman. No offense to women. It seems like it would be very difficult, especially when I've been walking in heels all night but I get to take them off during the day and wear some sneakers…No, I don't want to be a woman, just play one in a nightclub and on TV.
"Hot Couture" and the Future
Ifelicious: What other projects do you have going on?
Manila: Well, I have the single 'Hot Couture' which I'm hoping is going to blow up huge. I have another song that I'm going to be releasing later on. I have some TV projects I'm working on, so maybe you'll see me on TV again. I don't really know what's next. Maybe another season of 'Drag U,' who knows? I'm shooting the music video for 'Hot Couture'…so there will be a video for 'Hot Couture' coming out.
Ifelicious: What are 3 things on your bucket list?
Manila: I don't have a bucket list…Right now, I'm just enjoying life as it's playing out right now, and trying to keep it going as long as I can. Who knows? Maybe as I get older I'll have more of an idea of what I'll want to be doing when I'm 50, 60, 70 years old or however old Raja is.
Thanks for the great interview, Manila! I can't wait for the "Hot Couture" video to be released. Over the holidays, Manila and Sahara got together and shot a video to go with the classic tune "Baby, It's Cold Outside." It's super cute! Watch below:
And here's an interview that was just posted to NewNowNext's blog "Where the frock are they: Manila Luzon."
Keep up with Manila Luzon online via her website, Facebook, Twitter, and YouTube.
Season 4 of "RuPaul's Drag Race" premieres on Jan 30, 2012 at 9/8c on Logo.
Read all of my blog posts for RuPaul's Drag Race – CLICK HERE.
Related Links