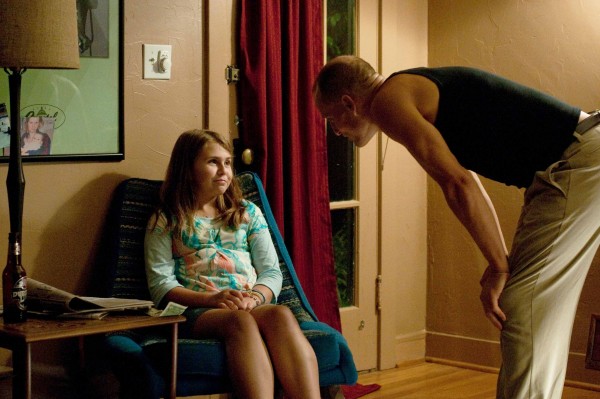 Sammy Boyarsky plays "Margaret Brown," one of the daughters of a corrupt police officer Dave Brown (Woody Harrelson) in the movie "Rampart" out on limited release, via Millenium Media, in theaters today (Wednesday, November 23, 2011) in time for Oscar contention.  The movie is inspired the the actual Rampart police scandal that hit the Los Angeles Police Department in the 1990s.  The movie is directed by Oren Moverman from the screenplay written by James Ellroy and has an all star cast including:  Robin Wright, Sigourney Weaver, Ice Cube, Ben Foster, Ned Beatty, Steve Buscemi, Sigourney Weaver, Cynthia Nixon, and Anne Heche.  "Rampart" originally debuted at the Toronto International Film Festival (TIFF) this past September where it received positive reviews.  I recently interviewed Sammy Boyarsky about her experience working on "Rampart" and have posted it below, but first, take a look at the trailer.
TRAILER FOR "RAMPART"
INTERVIEW
"Rampart"
Ifelicious:  Tell me the general story behind Rampart and where your character fits in.
Sammy:  The movie is about a rogue cop in the Rampart Police Division in 1998, and I play his daughter, Woody Harrelson, the main cop, and it is about his struggle to be able to have a family life as well as trying to save his reputation as a cop.  I'm really the only family member left that still has faith in him.
Ifelicious:  What was your most memorable day while filming?
Sammy:  There was actually one scene that we did in one take, and after the scene, Woody Harrelson actually came up to me with roses.  That was definitely something that I'll never forget as you can imagine.  Just being told by Woody Harrelson that I was a great actor really just makes me feel really good.
Ifelicious:  Has he become another dad slash mentor for you in real life?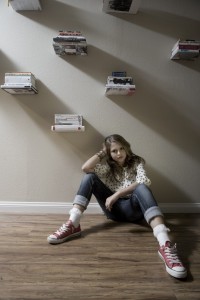 Sammy:  He'll always hold a part of my heart because he was the person I was closest to during the scenes and the whole movie.  I had the most scenes with him and my sister Brie Larsen.  I'll always think of them as my family because they were my first family on set.
Ifelicious:  When did you first get to see the final cut of the movie?
Sammy:  At the Toronto Film Festival.
Ifelicious:  So how'd you feel about it?  What was it like to see yourself on screen?
Sammy:  I've been asked this question, and honestly, I don't like seeing myself on screen.  I mean, imagine laying all of your heart into something and then showing it to everyone.  You know what I mean?  It's not just for you.  It's not a personal moment.  Everyone sees it.  It's kind of weird.  Like, I catch myself mouthing along with the words when they're on screen which is also funny.
Ifelicious:  How are you different than your character Margaret Brown in real life?
Sammy:  She is probably stronger than me.  Like, I don't know if I would be able to keep it together if I saw my dad like that.
Ifelicious:  Was any of your family at the TIFF premier?
Sammy:  My sister and both of my parents.  It was great just having everyone that was really close to me there.
Ifelicious:  What was their reaction besides being supportive and proud?
Sammy:  There was one really emotional scene, and my mom was crying through it.  I didn't really see how anyone else besides me could cry about it or my sister.  It was a personal thing.  You're like, 'Why are they crying?  They aren't even feeling it?' and then you realize that you did that.  The emotion that you brought into the scene did that.
Life as an 8th grader
Ifelicious:  That's amazing!  What are you working on now?
Sammy:  I'm trying to enjoy 8th grade.  It's my last year in middle school.
Ifelicious:  Are you involved in any school activities outside of your acting life?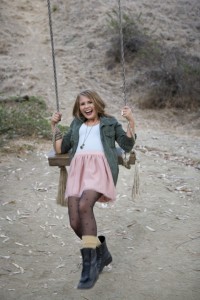 Sammy:  Yes, I am in journalism [writing] for the school newspaper.
Ifelicious:  So you may have some writing in your future in addition to acting?
Sammy:  Yes, I love writing.
Nancy Drew and "Breaking Dawn"
Ifelicious:  What do to you enjoy writing about?
Sammy:   Mysteries…I'm obsessed with with Nancy Drew.  Mysteries and vampires.
Ifelicious:  So are you a 'Twilight' person, too?
Sammy:  Oh yes, I've read each book four times.
Ifelicious:  Are you team Edward or team Jacob?
Sammy:  It's complicated.  I'm team Edward in the book, but I'm team Jacob in the movies, and that's because in the book, Edward seems like the sweet one and Jacob seems like the mean one, but in the movie it kinda seems like Jacob is the sweet one and Edward is the mean one.
Ifelicious:  I know 'Breaking Dawn' is about to come out (at the time of this interview).  Are
you planning to see it?
Sammy:  Opening night!
Thank you, Sammy, for taking the time to speak with me. Congratulations on your role in "Rampart," and I look forward to seeing your career continue to grow. Thank you Vincent Sandoval for your continued partnership and amazing photography work that accompanied this and many other stories I've written.
BONUS FOOTAGE
VIDEO: Editor's clips from "Rampart"
SLIDESHOW: Images from "Rampart"
Related Links