From press release…

Couture has a new face, and she's hot!!! "RuPaul's Drag Race" season 3 finalist Manila Luzon's "Hot Couture" will be released on iTunes and Amazon on Tuesday, November 8, 2011.
Check out the teaser video for "Hot Couture" below
Rhinestone, feathers, and a whole lot of hair are what took New York City drag starlet, Manila Luzon, straight to the top on groundbreaking Logo TV reality series "RuPaul's Drag Race" (Season 3). Luzon's performance was both campy and crafty enough for the queen to strut her stuff all of the way to the finale of the series- capturing the runner-up spot. Since then, Luzon has not let up on the competition in regards to face or fashion. To prove that she is still in the race, Manila has teamed up with Grammy Award-winning producers Brian Kierulf and Joshua Schwartz of KNS Productions for her latest single "Hot Couture." The pop/dance song is best described as an upbeat ode to fashion, dance, and drag. In the track, Luzon takes you on a night on the town with her from start to finish while donned in nothing but couture…and it's hot! It's sure to be an A-List adventure, all in three and a half minutes. The catchy hook "Hot Couture" definitely has "the crack," and will leave everyone within an ear span hooked. The dance track has a beat that will have gays, straights, and everyone in between dancing and feeling hot!
Manila Luzon's Orbitz commercial
Manila Luzon first garnered America's attention as first runner-up on hit Logo TV series RuPaul's Drag Race (season 3). Notorious for her comedic timing, outrageous costumes, and big hair, Miss Luzon's popularity led to her being cast as a mentor on "RuPaul's Drag U." As a result of her success on the competition series, Luzon has also appeared in commercials for Orbitz, Gilead and soon her very own Absolut Vodka commercial. She has also been noted as a spokesperson and representative for companies such as DKNY, GLAAD, Instinct Magazine and AIDS Service Center NYC. Miss Luzon also regularly appears at universities across the nation discussing gender issues and raising awareness for issues such as HIV/AIDS and gender equality.
For more on Manila Luzon check out her website, Facebook, Twitter, and YouTube.
Read all of my blog posts for RuPaul's Drag Race – CLICK HERE.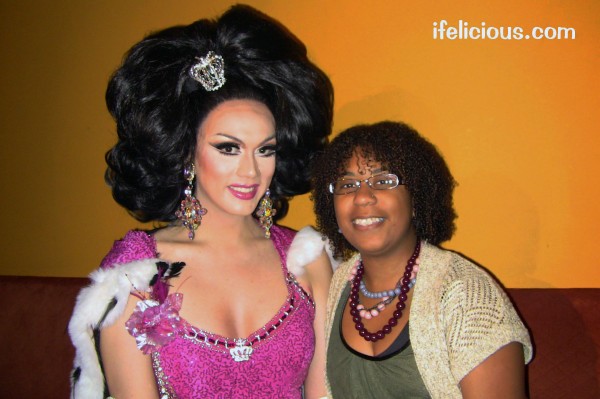 My interview with Manila Luzon at the RuPaul's Drag Race season 3 finale party
(1st half of the video…2nd half is with Alexis Mateo)

Gilead HIV/AIDS Awareness with the ladies from RuPaul's Drag Race season 3
Related Links