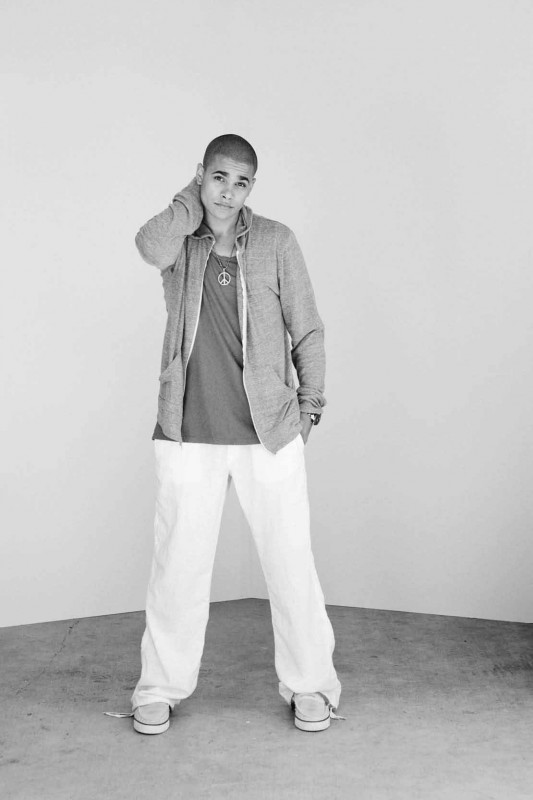 Jonathan "Lil J" McDaniel (website, Twitter, Facebook) is probably most widely known as Raven's boyfriend Devon Carter on the hit comedy series "That's So Raven" on the Disney Channel.  Part 1 of my interview with Jonathan focused on his experience as one of the lead actors in Robert Townsend's latest movie "In the Hive" (official release date pending at the time of this post).  In part 2, Jonathan talks about being a part of young Hollywood, his other projects, and girls.
Interview
PART 2: YOUNG HOLLYWOOD, OTHER PROJECTS, GIRLS
Ifelicious:  You're a part of that young Hollywood, and, boy it's tough at this age and this stage of your career to stay out of the tabloids or to get sidetracked.  I don't see negative things pop up about you, so how do you manage that?  I know the more famous you become…people start looking for things to bring you down.
Jonathan:  I learned a lot that from my good friend, one of my best friends in life, Raven Symone…I really love what I do for a living.  I'm very passionate about it, and it's a blessing to be able to do something that you're passionate about in life and get paid for it and make a living at it and be able to take care of your family and different people.  You know that's a blessing that a lot people take for granted…and I really appreciate all my fans…I just like to stay out of the limelight as much as possible.  I do my red carpets. I do my interviews and things, but other than that, I don't go out looking for the cameras or looking for the moments. I really stay more focused on my work.
Ifelicious:  Let's talk about what's next for you.  I read about that Genius brand clothing line.  Did that launch?
Jonathan:  It's actually in the works right now.  My co-creator and cousin Livio has been working on a lot of pieces and we really are just taking our time with it…It's all a part of my genius child movement.  My company is called Genius Child so it's all a part of the entity that I'm trying to create.
Ifelicious:   I saw on your website some clips of 'The J Show.'  Is that older, or is that something that you've done fairly recently?
Jonathan:  That's the pilot episode that you saw.  Currently, what we're doing with that is  that we're actually in negotiations with a couple of different production companies that would like to take it and move forward with it on certain networks and different things…We shot the pilot on our own dime just to show people that this is something else that I can do.  It's a part of my talents…There's no really young hosts for their own talk show like that right now and it kind of gives and outlet to the younger individuals that aren't able to get on Jimmy Kimmel or they can't get on Conan…because they're not the bigger actor in a movie or they're not really as known or they just don't have the certain type of demographic on those shows.  So it's just another outlet for people to be seen and be heard and talk about their projects.  At the same time, we have other parts to it that really help talk to the kids and really help them understand what's also going on in the world.
Ifelicious:  What other projects are you doing that I may not have asked you about?  I know you also rap so perhaps you have something going on with that, too.
Jonathan:  I'm working on my next mixtape ['A Genius Can Never Be Cloned']…I also have a couple of films that I already in pre-production getting ready to shoot with a good friend of mine and director who did a film called 'Kill Kitty Malone'…a scary film.  Besides that…I just really want to focus on this message that 'The Hive' is really trying to convey and to push out there.  I'm really excited to be a part of it and I hope that from this my other projects surface in a way where people look and understand me as a person and they can see what I'm trying to accomplish, also.
Ifelicious:  I'm really impressed by you.  You seem really focused and I hope you never lose that.
Jonathan:  Thanks so much.  I appreciate it.
Ifelicious:  The ladies will kill me if I miss asking this question:  Do you have a girlfriend?  Are you dating now?
Jonathan:   No, I'm just focused right now on my career and not really worried about too much, but the energy (i.e. the openness to have a girlfriend) is out there.
 VIDEO: Clever TV red carpet interview with Jonathan McDaniel at "Aim High" premiere
Related Links