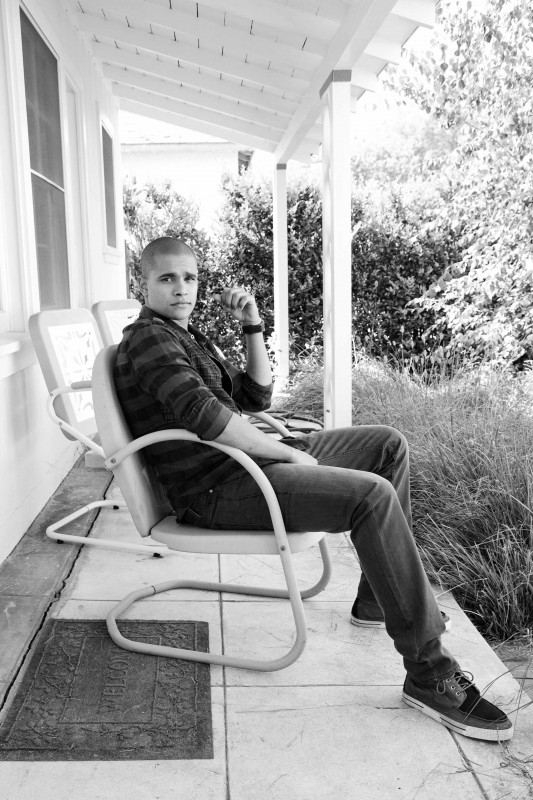 Everybody loves an inspirational film that restores our faith that there are great people out there in the world making a difference.  Rather than bring us another great white hope story featuring a fragile blond who descends upon the hood and saves some at risk black kids, Robert Townsend ("The Five Heartbeats", Twitter: @Robert_Townsend) put his energies behind directing "In the Hive."
It's based on a true story about this woman in North Carolina named Vivian Saunders, who basically without really any formal education, started an alternative school for all these boys who were being kicked out: gang bangers, drug dealers…The Hive was created to provide a safe place for troubled boys to get a second chance at an education, learn about technology and also about breaking the cycle of living life on the streets, in gangs, and in jail. (source: BlackFilm.com)
The storyline is woven around Xtra Keys (Jonathan "Lil J" McDaniel– website, Twitter, Facebook) an ex-gang member, teen dad, and whose own father is incarcerated.  Despite the odds being stacked against him, he shows promise that is nurtured by Mrs. Inez (Loretta Devine– "For Colored Girls") and Mr. Hollis (Michael Clarke Duncan, "The Green Mile").
Trailer
VIDEO: Vivian Saunders and One Economy- A Hive of Miracles (short documentary)
"In the Hive" is scheduled for a Los Angeles and New York release in December 2011 with a wider release nationwide in 2012.
You may recall Jonathan as the character Devon Carter from the series "That's So Raven" or as "London Girl" rapper "Lil J."  I spoke with Jonathan about his break out role in "In the Hive" (link to his fantastic demo reel), staying out of the fast lane in young Hollywood, and his other projects in the works.  This is part 1 of a two part interview series and focuses on Jonathan's involvement with "In the Hive."
Interview
PART 1:  IN THE HIVE
Ifelicious:  What was the crowd reaction after "In the Hive" debuted at the American Black Film Festival?
Jonathan:  We got a standing ovation at the end of the film…It was exciting to see so many people come out and support Robert and support the film.  The American Black Film Festival has been so instrumental to black films for the past 15 years…so to have it there on opening night…you couldn't ask for a better beginning for a film to start getting promotion and start getting seen.  It was great!…We've had so many individuals that have given their testimony at the screening and told us that the characters are really true to life and really touch on real subjects that have happened to real people in their life.
Ifelicious:  Is there a wider release date set as of yet, or is that still in the works?
Jonathan:  I know that they're definitely looking for some type of release either by the end of the year or by the first of the year (2012).  I know we would definitely love to [debut it] in time for the awards season.
Ifelicious:  How did you get the role?
Jonathan:  Through a friend of mine who knew the casting director…I actually came in on the last day of auditions…I really wanted to impress Mr. Townsend…so I just did my best…I worked with him for about five hours that day, and we just went through so many different scenes with so many different actors and actresses…He finally released me…I got a call the next day saying that Robert wanted to see me again.  I thought I was coming back for another audition…He personally told me and some of the rest of the cast that we were his final choices for the movie.  It was an amazing day to receive that type of news from such a person of his stature.
Ifelicious:  You worked alongside Robert Townsend who's been touting you as an actor to watch as well as Hollywood veterans Loretta Devine, Michael Clarke Duncan, and Vivica Fox.  Were you starstruck at all when you got to the set?
Jonathan:  Oh my gosh!  Being alongside these phenomenal phenomenal actors and actresses, I can't even explain it. It was like a dream come true for me…I really wanted to…stay focused on learning from them and paying attention to what they do and how they do their thing and how they bring their magic to screen.
Ifelicious:  The story is based on the actual school called the Hive run by Vivian Saunders.  Did you get a chance to meet her?  Did you do any of the filming in North Carolina?
Jonathan:  I got a chance to meet her on the set of  'In The Hive'…and a few of the students.  Some of the boys were featured as extras [in the film]…I actually didn't get a chance to go to North Carolina.  I really wanted to.  I was out of the country right before we started filming, and I got back and had to go right into production…I know Robert went when he was doing some of the research for the film…It was a blessing to have them come out here and be a part of it because it helped…me and the other actors to really understand these boys on a whole other level.  It's one thing to think about the story or to watch the documentary…but until you really get a chance to really come face to face with them and have a conversation with them, and just see how excited they were to even just get out of North Carolina for the first time and to fly somewhere else.  They've never been on an airplane before in their life and there I am, I travel two, three times a month…Vivian Saunders is deserving of so much praise and other individuals around the world who are really putting their lives on the backburner and just come in full force just trying to make a change and make an effort to help these kids no matter what it is.  Vivian was right on point when she used technology to help these kids when a lot of the times a lot people would try to help them a different way. They don't realize that these kids have been raised up with technology.
Ifelicious:  You play the character Xtra Keys.  Was that based on an actual student or was that just for movie purposes?
Jonathan:  It wasn't an actual student…It was a collection of different personalities that Robert and the writer Cheryl Lee West had really just collectively put together in their heads.
Ifelicious:  Tell me about some of the other characters in relation to your role as Xtra Keys.
Jonathan:  'Rack Robinson' (Percy Daggs III) is the drug dealer slash flashy one, and then the young angry kid that always gets pushed around…and always treated like…he doesn't know anything.  It's all because he hasn't really had to had the chance to let his personality shine, and then you have 'Xtra' or you have 'Que' (Tre C. Roberts) who moves from foster home to foster home and never had anyone that's really truly cared about him enough to help him and to let him know that it's ok to not know some things…They all still want something bigger and better, but they just don't know how to go about it.
Ifelicious:  I can feel your passion about this film which makes me even more excited to see it.  You play a pretty tough character which I would presume is very different than who you are in real life.  Was there a scene that was particularly hard for you to do, and how did you push through it?
Jonathan:  There were two scenes in particular…There's a scene where me and Michael Clarke Duncan, who plays Mr. Hollis in the film, we're sitting there fishing for the first time I've ever been fishing…and he tells me that…I've been excelling and have done some of the greatest work in the class.  It makes me feel good, but to know that my father doesn't really care about that really hurts my feelings…Also, there's a scene where I go visit [my father] in the prison…and I'm just tired of his mind manipulation…thinking that he knows what's best for me, but he doesn't even know what's best for him.  Then, he tells me to do some evil things to my brothers and sisters all just to get the money and all just to take care of him in prison…That really hurt my feelings, and I really had a chance to explode on him and give him a piece of my mind which I've never done in my whole life because I was scared of him…It really was hard for me to do because I have a little bit of a true connection to that.  My real father had some setbacks in life and was a victim to the drug world and different things in the street life…and was in and out of prison during my whole time of me becoming a man and growing up.  I had to be raised by a single mother myself.  Luckily my mother was as strong as she was and was very smart and knew what she wanted to do and knew what she wanted for her kids.  She was willing to sacrifice everything so I would have the opportunities that a lot of people who are placed in my circumstances don't have being raised without a father.  Being able to use that connection I have in my own life with my real father to get to that emotional point to pull out that scene, I think it's one of the truest moments in the movie.
Ifelicious:  On the flip side, I know you guys had some fun on set.  What were some of those fun times?
Jonathan:  You know there's some funny moments as far as the comics starting up.  Loretta had some great moments and a couple of other cast members had some funny moments and some embarrassing things that really helped break the ice, but I think it was just our own relationships and friendships.  I loved the cast members…We had so many fun times just like playing pranks on people and just having fun, cracking jokes on everybody.  Knowing that Robert was a true professional, he expected nothing less from all of us.  I feel like everyone came prepared so that when it came time for us to be able to joke around and laugh and play around on set, it wasn't already a problem for us to do that because we all came truly prepared and ready to work every day.
In Part 2 of the interview, Jonathan shares his other projects and talents – to be posted soon!
Teen Diaries Blog Talk Radio interview with Jonathan McDaniel
VIDEO:  The Daily Buzz interview with Jonathan "Lil J" McDaniel
VIDEO: Politic365.com interview with Rey Ramsey, Executive Producer for "In the Hive"
VIDEO:  Politic365.com interview with Robert Townsend and Jeff Johnson
VIDEO: NBC 6 Miami interview with Robert Townsend
View more videos at: http://nbcmiami.com.
Related Links