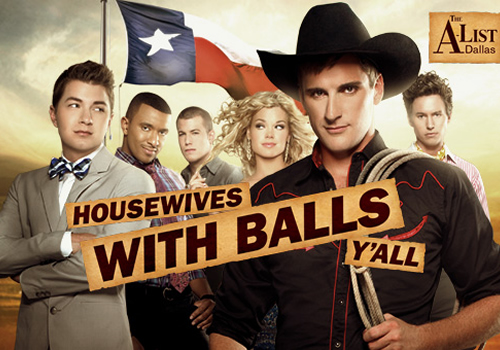 Phillip Willis (Facebook, Twitter) is Logo's "The A-List: Dallas" cast gossip making him someone you either love or hate.  Either way, keep your business at arm's distance because this town crier will make sure word gets around.  He is close friends with Levi Crocker who is equally a target for a little Phillip manipulation as we saw on episode 1 when he invited James to the rodeo with them and forced the two to talk about their hookup.  My interview with Phillip took place before episode 2 aired, but as we all know now, there was that heightened drama at Taylor Garrett's pool party where Phillip is so annoyed at James Doyle's behavior and/or presence, leading him to take matters into his own hands.  He punches James and closes with a threat, "Mark my word.  This is not over!"  Oh, Phillip.  I was happy to see him dating Leo, though, and could totally understand being attracted to his Burberry swim trunks as I'm a Burberry fan as well. 😉
As you read this interview, you'll see some of what we've come to expect from Phillip as well as a little more when it comes to discussion about his family.
Check it out:
Ifelcious:  What was your reaction to seeing the first episode.  Did you feel that was an accurate representation of you?
Phillip:  You know, I felt good.  My thing is with everybody is that I'm a part of the b.s., but I'm not in the b.s.  I mean, somebody has to call it out.
Ifelicious:  Did you know any of the cast going into the show?
Phillip:  I knew James through like different social circles, but me and Levi, the cowboy, like he is like my bff.  That's my buddy throughout this whole season.
Ifelicious:  Oh wow.  I can tell already that that's going to be a good pairing this season.
Phillip:  Ya.  The reason why he and I click so well is because we are totally totally totally opposite of each other, and there's just like no competition between us because…we have a totally different taste in guys, we don't really like the same things, but we support each other.
Ifelicious:  Who should we expect you to have the most beef with?
Phillip:  I would say most of the drama either comes from between me and Taylor or me and James.  Those two I have the most problems with this summer.
Ifelicious:  Was it like oil and water?  You guys just didn't mix well?
Phillip:  More like frenemies.  One day we're friends.  The next day we're not…What you'll see is that I'm not one to piss off.
Ifelicious:  Oh right!  They showed a preview clip of you throwing a punch at the end of episode one.  Who was that [directed at]?
Phillip:  That was James, but it gets even worse watching that drink get thrown in my face…It was so good!  It makes for really great TV.
Ifelicious:  Were you a fan of 'A-List: New York' before you did this show?
Phillip:  Oh my gosh!  Yes!  I was a huge fan…I always said to myself if they came to Dallas, I would rock it.  I would rock my audition.  I would put 100% towards it, and like, you know, pray that I was on it.
Ifelicious:  Outside of doing 'The A-List' was doing reality TV something you wanted to do?
Phillip:  I mean, I'm a reality junky.  All I watch is like 'Jersey Shore' and 'Housewives,' 'The Hills,' 'Laguna Beach'…It's so crazy that it happened.  It was like dream come true.
Ifelicious:  There was some mention, I think it was towards the end of episode 1, where you say that you hadn't seen your dad in like eight years.  Is there some reunion coming up?  What was that all about?
Phillip:  Me and my father, we haven't spoken in about eight years.  Like I haven't seen him…We had a falling out when we were younger.  He was in a bad place…He would say things to me like that were mentally abusive…and so I just separated myself from him, and recently he would call me…and would try to like talk to me and get back into my life and he was like, 'you know I really want to see you right now,' how he's a changed person.  I was like kind of on the fence about it…He's like a stranger to me, you know?  So, I just thought about it…There's a camera following me.  This would be the perfect opportunity to maybe reach out to others because I'm sure that others are going through the same exact thing I'm going through like not speaking to their fathers or family…so we had the reunion on camera.
Ifelicious:  Are you still in touch?
Phillip:  Oh ya.
Ifelicious:  Was it a good or bad or lukewarm reunion?
Phillip:  It's not like we talk every single day…I know he loves me.  He's changed a lot so it's a growing process.
Ifelicious;  Where do you like to hang out in Dallas?
Phillip: Well, I really like the finer things in life…My mom raised me, and her family like didn't go to school, didn't really have goals…So my mom raised me to be the best I can be.  So I like to surround myself with nicer things…people with a little bit of money, designers.  I like to hang out with more refined, upscale type things with people.  I know it sounds like I'm a bitch and an asshole.
Ifelicious:  Ya, it sure does!  My gosh!  Alright, well it is what it is.
Phillip:  Ya, it is what it is.  That's what I like.  Some people in my cast get kind of annoyed that I like to talk about designer fashion, but I'm in fashion so I can't help but to like certain fashions.
Ifelicious:  Ya, in any industry you get an appreciation for what's the best of the best.
Phillip:  Exactly!  And some people are like, 'all you talk about is designers.'  I love designers.  They're like artists.  They make beautiful clothes like artists make beautiful artwork.  Like that's what they are to me so I can't help but to like them and talk about them and stuff because they're an inspiration to me.
Ifelicious:  Do you style a lot of men?  I know you mention on the show you style a lot of the women socialites.
Phillip:  I do style some women on the side because I have an eye for fashion so what makes me happy is whenever I can make someone else happy as well. <– (yes, i realize he totally skipped the part about styling me, lol!)
Ifelicious:  Well, you mentioned that it was on the side.  I thought you were a full time stylist.  Do you do it for a different set of clientele normally?
Phillip:  Right now it's small.  I usually just do some friends, and I have a few clients, but it's not like my full time ordeal, but with the show I'm really trying to like really break off into that and tell people that I am talented.
Ifelicious:  So you just have loot to toss around, I'm thinking.
Phillip: Ya.
Ifelicious:  Must be nice!  Will we see you dating this season at all?
Phillip:  I don't really date a lot on this season.  I'm actually really shy when it comes to boys, to be honest.
Ifelicious:  Really?
Phillip:  I know you're like 'ya, right I don't believe you.'  I am really shy when it comes to boys.  I really don't approach them…I mean I'd love to have a partner or significant other, but I just don't.
Ifelicious:  So have you ever really been in love?
Philliop:  Oh ya!  I've been in love once before when I was like 19.  It was a beautiful feeling.
Ifelicious:  That's too bad we won't get to see that aspect, but I'm sure we'll get to see a lot of you this season.  Any hints on what to expect this season?
Phillip:  Our dynamic is so crazy.  We're like a family some days and some days…it's just like a roller coaster.  I mean do you have TiVo?  I think you'll be rewinding a lot.
Thanks, Phillip, for the great interview.  He was the last cast member I got to speak with prior to the airing of episode 2, but not to worry, interviews with Levi and James are definitely coming soon.
Read all of my blog posts about "The A-List: Dallas" including all of the cast interviews – CLICK HERE.
Also, check out all of my posts about "The A-List New York – CLICK HERE. For my YouTube interviews with "The A-List" series- CLICK HERE.
Related Links