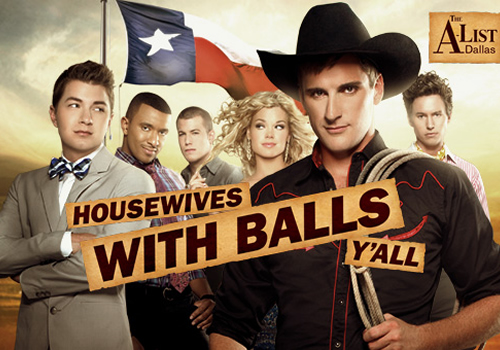 Nyasha Zimucha wasn't the only new thing to Logo TV's "The A-List" this year. Now, there's a brand new cast, in a brand new city, for a brand new series called "The A-List Dallas." After seeing the first episode, I found the cast full of wonder bread, middle America Reichens' and a "Carlton" as the eye candy, that depict a completely different sector of the gay elite…and so far me likey a lot! Unlike 'New York,' the guys and gal aren't only in fashion and entertainment, which is welcomed variation to the series.
Sadly, I didn't get to chat it up live and on-camera with this cast as I have in the past with "The A-List: New York," but I've been having some quality phone chats that I want to share with you. So far, I've spoken to Taylor Garrett, Ashley Kelly, Chase Hutchinson and Phillip Willis. Oh, and don't worry, I'm actively working on getting a hold of James Doyle and Levi "cassanova" Crocker real soon, so make sure to subscribe to my blog to keep up with the latest on "The A-List." (UPDATE 10/19/2011: I interviewed James and Levi today so their interviews will also be included in this series.  The folks at Logo rock!)
First in this interview series is my interview with Taylor (Facebook, Twitter). You gotta love this walking contradiction of sorts with his strong Christian faith and passion for politics of the republican kind. In the first episode, we saw Taylor reading the Bible from his iPad, being prayer partners with Ashley, and catching feelings again for his ex-beau/sex beau Levi.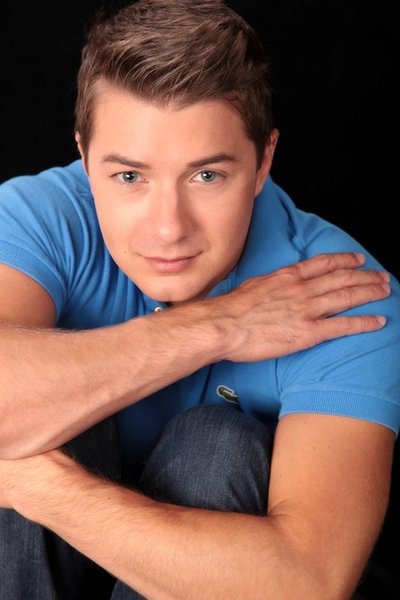 Here's how our conversation went:
Ifelicious: What was your impression of episode 1 of 'The A-List: Dallas?'
Taylor: I was very pleased with episode 1. I thought it had a good mixture of drama. Reality tv sometimes has the bad rep of not really representing who we are. Logo has done an amazing job of it representing all of us to the T, and they never missed a mark on the first episode… James crying all the time when he gets drunk. That is exactly James. Me being nerdy reading my Bible iPad app. That's me, unfortunately, I am very nerdy in that way sometimes.
Ifelicious: Well, that's what makes you you. I mean they do play up the stereotypical Bible Belt and southern thing to a degree, but I also think that it's also an element that's missing in reality TV, particularly reality gay TV…You kind of play the anomaly- gay, Christian, Republican.
Taylor: On the Christian religious aspect, coming out to people down here, it's really hard because it is the Bible Belt. Even if they don't go to church, often people claim to be religious, so coming out down here I think is much harder than like New York or Los Angeles…Every one of us on the cast have parents that have been religious or from a small town…so for Logo to be able to show our religion, I think it's important.
Ifelicious: Will we see anything play out regarding your political views this season?
Taylor: I had a sit down conversation with Ann Coulter, a lunch conversation, and we talked a lot about politics. I don't agree with any of her gay positions- about gay marriage or Don't Ask, Don't Tell, but I support her on her abortion views and other viewpoints within the Republican party. Then, there's a scene where me and Chase kind of go at it about politics. I think that's later on in the season.
Ifelicious: I do remember the Ann Coulter thing being mentioned because I got some info about that from Logo a few weeks ago, and I know I saw some tweets from people saying, 'boycott the episode.'
Taylor: I don't think the gay community realizes what she was trying to do. She was trying to show people that she didn't agree with, that she still respects people, and she'll sit down and have a lunch with us. So many people think just because they don't agree with Don't Ask, Don't Tell or having gay marriage that they're bigots and that's not the case. That just means they have a different viewpoint, and people need to really learn to accept or respect other people's viewpoints, in my opinion.
Ifelicious: Do you think you would run for office someday? And, if so, do you think doing a show like this would help or hinder it?
Taylor: I've been true to myself through this whole thing, and I think it could only help me… I would like to [run for office] and actually I've been thinking about that maybe being the next step. I'd have to run for city office, like run for mayor, because there's really no districts around here that would elect a republican gay man to office, unfortunately, at this time.
Ifelicious: Do you kiss, or do anything more, with any other guy than Levi before the season ends?
Taylor: No, I don't kiss any other guy before the season ends, but I can guarantee you that I'm not the only guy that Levi kisses. Everyone here in Dallas has a Levi story. He's touched quite a few people's lives here in town.
Ifelicious: I found the fact that he had an actual long term relationship with you to be surprising based on how we see Levi introduced in episode 1. It naturally made me wonder how healthy that relationship was, like was he faithful?
Taylor: When the show came into our lives, it had been a year since we had dated. He had been with other people, then the cameras started rolling and that's when the sparks started flying again.
That's it for my chat with Taylor. Next up in "The A-List: Dallas" introductory interview series, check out my interview Ashley Kelly; and remember, that the rest of the cast will also be posted online, too!
Read all of my blog posts about "The A-List: Dallas" including all of the cast interviews – CLICK HERE.
Also, check out all of my posts about "The A-List New York – CLICK HERE. For my YouTube interviews with "The A-List" series- CLICK HERE.
Related Links